Michigan Initiatives Clash on How to Stop GOP's Election Deniers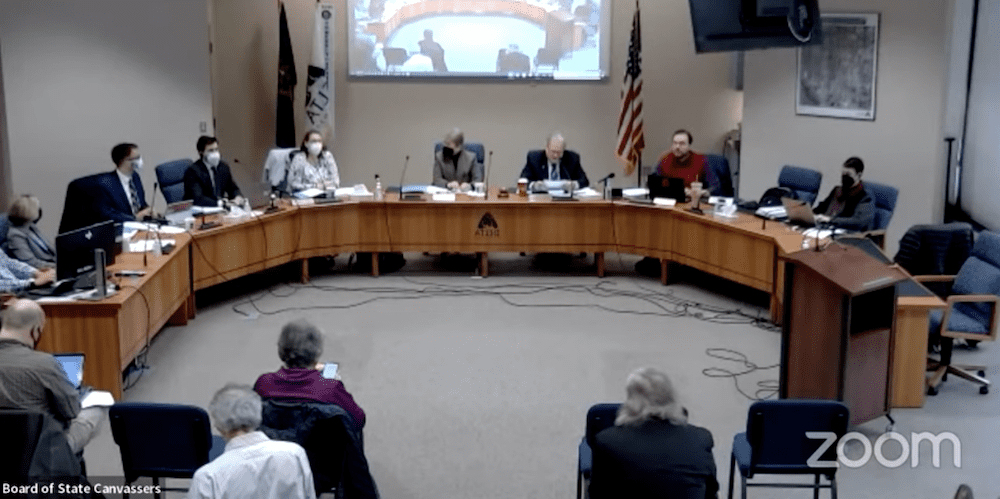 (Michigan Board of State Canvassers meeting, February 11, 2022. YouTube image by live stream.)
A new front is opening in Michigan's voting wars that raises fundamental questions about how far defenders of fact-based elections and representative government must go to protect voting rights in an era marked by Republicans who deny results and spread lies about elections.
Republicans have launched ballot initiatives to bypass a gubernatorial veto and enact laws that would complicate voting, and sanction outside inquiries into close results. Voting rights groups and Democrats, in turn, are using the initiative process to amend Michigan's constitution to close the veto loophole, and to affirmatively enshrine voting rights and balloting options.
There are three pro-voter proposed amendments. The first would close the veto dodge. The other two, affirming voting rights and options, would, if passed, lay the groundwork to strike down the GOP's initiative-sparked legislation. But the latter two proposed amendments go to different lengths to block legislators and even the courts from rolling back voting rights.
"They're all interested in what the ground rules all are," said Sean Morales-Doyle, acting director of the voting rights and elections program at the Brennan Center for Justice at New York University School of Law, speaking of Michigan's five competing ballot initiatives to enact laws or amend its constitution. "They're also all interested in how these different political actors have power relative to one another, and how to restrict or expand that power."
Michigan's initiatives are responses to ongoing fights over its 2020 election, where Joe Biden officially beat Donald Trump by 154,000 votes out of 5.5 million cast. On February 11, its Board of State Canvassers finalized the 100-word summaries describing the latest measures to initiate legislation or amend its constitution. The next step is gathering signatures by July 11 to advance the GOP's proposed laws or to put the amendments before voters in November.
The initiatives are part of a surge of more restrictive or permissive voting measures that have flooded state legislatures since the 2020 presidential election. But unlike states such as Arizona and Nebraska, where single ballot measures have emerged in addition to many bills proposed by legislators, Michigan offers the broadest spectrum of ballot initiatives that may complicate elections or construct guardrails against antidemocratic power grabs.
The faction seeking more onerous rules for voters, led by pro-Trump Republicans, wants to adopt legislation that was vetoed last October by Gov. Gretchen Whitmer, a Democrat. They have turned to Michigan's ballot initiative process, where signatures from 8 percent of the votes cast for governor (340,000) would refer the measure to the GOP-led legislature, which could then enact the law. (Laws initiated this way are exempt from vetoes.) A second potential law proposed by Trump allies would empower private contractors to audit election results, like Arizona's much-maligned 2020 review that concluded Biden won after spending months casting doubt on the election's results.
The GOP proposals have been met by countermeasures to amend Michigan's constitution from proponents of more expansive voting rights. Amending a state constitution supersedes new law and establishes a basis to challenge existing laws. (The amendments need 425,000 signatures to get on Michigan's November 2022 ballot.) Center-left groups are behind the three proposed amendments. The first would close the veto loophole. The other two proposals overlap in their enumeration of voting rights and voting options, but they differ in how far each goes to restrain conspiracy-driven legislation and courts from upholding laws based on unproven threats.
These differences may confuse voters as signature-gathering efforts start. The authors of the competing proposals talk about them in very different ways.
How Far to Go?
"The Promote the Vote (PTV) proposal is about moving the state forward," said Sharon Dolente, an attorney and senior adviser to Promote the Vote, a coalition that includes Michigan chapters of many voting rights groups such as the ACLU, League of Women Voters, and NAACP, and has been endorsed by the chair of the Michigan Democratic Party. "The voters of Michigan are tired of talking about November 2020… Now, how do you do that?" continued Dolente. "You do that by creating [affirmative constitution-based] policies that make your system, your voting system, more accessible and more secure. People want both."
"It's not just about the mechanics of voting, because that's not the only part of what makes your system accessible and secure," she added. "For example, voters in Michigan don't want there to be any risk that they are able to cast their ballot, but then their vote doesn't count. You saw after the 2020 election [various pro-Trump] efforts to subvert the votes."
The competing amendment is from MI Right to Vote (RTV), a coalition of grassroots ballot campaign activists led by a retired longtime election official. It also affirms a fundamental right to vote and enumerates pro-voter options in the Michigan constitution. But it requires that legislators and courts use strict evidence standards when writing or reviewing voting laws. Its authors emphasize that such specifics are needed to block laws based on unproven threats.
"That's the heart and soul of our proposal," said Fred Green, an attorney with RTV, during the Board of State Canvassers meeting on February 11. "The fundamental right to vote, alone, is not effective. The Michigan Supreme Court provides that unless a restrictive law is severely restrictive, the court will allow the restriction. Our amendment will change the constitution so that any law that unduly burdens or limits the right to vote will require a compelling state interest. If there is no compelling state interest, the law will fail."
MI Right to Vote also drafted a constitutional amendment to close the veto loophole.
Both pro-voter groups say that they were unaware of each other's effort to draft constitutional amendments. Each group also played pivotal roles in the passage of constitutional amendments in 2018. MI Right to Vote helped create the state's independent redistricting commission, which has been meeting and has been praised as a model to hedge against gerrymanders. Promote the Vote drafted a successful amendment expanding voter registration, including same-day access to a ballot, and ended the "excuse requirement" to receive a mailed-out ballot.
Ballot initiatives to adopt laws or amend state constitutions are not new in the voting sphere, Morales-Doyle said. However, the specificity of these proposals, especially RTV's language that legislators must establish a factual record of illegal voting before passing new restrictions on voters, and its requirement that courts follow the strictest judicial scrutiny and evidence standards when evaluating election laws "is not something that I would say I've ever seen written into a constitution."
"There are 18 states that can follow what we are doing," said Jan BenDor, co-founder of MI Right to Vote and former election official. "We are trying to get them to follow our lead."
Responding to Republicans
Twenty-six states have ballot initiatives, where petition drives can change the law. Of those, 18 states including five presidential battlegrounds—Arizona, Florida, Michigan, Nevada, and Ohio—allow measures to amend their state constitutions.
Michigan's accessible voting options were attacked by Trump and his allies during and after 2020's election. Efforts to roll back these options and impose restrictions by its GOP-majority legislature were vetoed by the state's Democratic governor last fall, leading Republicans to draft a ballot initiative with the same changes.
Their measure, put forth by "Secure MI Vote," a GOP front group, would require that voters produce additional identifying information when registering to vote, signing in at polls, and applying for a mailed-out ballot. It also would bar officials from proactively informing voters about voting by mail, from widely using absentee ballot-return drop boxes, and from taking foundation grants to help pay for running elections.
"Secure MI Vote is committed to increasing confidence in the results of Michigan elections by expanding voting opportunities and making it harder to cheat by, for example, implementing real signature verification and prohibiting special interest funding of the conduct and administration of elections," Robert Avers, its attorney, told the Board of State Canvassers in emailed comments on Promote the Vote's petition summary language.
At its February 11 meeting, Avers criticized the more inclusive ballot measures, saying that it was "unnecessary" to affirm the right to vote in the state's constitution, as other federal and state court rulings have already done so. "It is not impartial [wording]," he said, referring to the 100-word summary voters will read. "It would work to essentially make the public want to sign the petition. Because who doesn't want to establish a fundamental right to vote?"
A second Republican-based proposal, from "Audit MI," would initiate legislation authorizing outside contractors "to carry out a systematic or formal inquiry to discover and examine the facts of the November 2020 general election or any other future statewide or federal elections so as to establish the truth."
These inquiries have failed to find any evidence in any state that Trump did not lose but created fodder for pro-Trump media to report for months that the 2020 results were illegitimate, which a majority of Republicans now believe. In essence, the representatives of the GOP-based proposals said that they did not trust local election officials to run elections.
The state board, with two Republican and two Democratic members, rejected these criticisms and approved the summaries for the measures from the pro-inclusion groups, MI Right to Vote and Promote the Vote.
A Deeper Look
Promote the Vote's proposed constitutional amendment declares that Michigan voters have a "fundamental right to vote" and bars "any harassing, threatening, or intimidating conduct"—a nod to recent right-wing protests in Michigan. It states that voters can present a wide range of ID or sign an affidavit attesting to their identity if they lack ID. If a voter's signature does not match a state record (as signatures change over time), they have time to cure that discrepancy. It states that mailed-out ballots will be sent with prepaid return postage, requires localities to deploy one drop box for every 15,000 voters, and states that once a voter has applied for a mailed-out ballot that they will not have to reapply for "any future elections."
The measure also bars election audits by nongovernmental officials, including political parties, and states that election officials can accept grants "to conduct and administer elections." It also says the legislature "may by law establish boards of county canvassers," and clarifies the role of the State Board of Canvassers, which is ministerial and to certify results.
"We don't want to address each and every effort [to roll back voting rights] every two years," said Dolente. "This is developing future infrastructure to avoid these problems."
MI Right to Vote has two proposed amendments. The first would bar ballot initiatives from referring laws to the legislature that were exempt from a gubernatorial veto. The second would establish voting rights and enumerate voting options. Like Promote the Vote, it requires the use of drop boxes and prepaid postage for absentee ballots, denotes a wide range of acceptable voter ID, creates a permanent absentee voter list, and allows local officials to accept foundation grants.
Where their proposal differs from Promote the Vote is it specifically seeks to hem in legislators who want to intentionally complicate the voting process, and similarly creates higher burdens of proof for courts to keep judges from issuing rulings that thwart voters and voting options.
"While there are many areas where the proposed constitutional amendments of MI Right to Vote and Promote the Vote are in agreement, we have been asked by many people to include what we have determined are some of the significant differences," RTV's website said.
The RTV proposal makes the right to vote "a fundamental enumerated right by putting it in Article I of the Michigan constitution," the website said, whereas the PTV measure puts it in Article II. The RTV proposal also "[r]equires that any proposed law limiting the right to vote shall require the strictest judicial scrutiny… [and] be necessary and narrowly tailored to achieve a compelling state interest," which is not in PTV's measure.
BenDor said that provision was intended to challenge a 2007 Michigan Supreme Court advisory opinion that held the possibility of voter fraud, even unproven, justified tougher voter ID requirements. Similarly, the proposed amendment stated that "any proposed [new] law [from legislators] restricting voting based on fraud must be based on clear evidence of fraud, not on the mere assertion of possible fraud," RTV's website said.
BenDor also criticized one line in Promote the Vote's proposal, "The legislature may by law establish boards of county canvassers." She said that language was a "Trojan Horse" that could allow a GOP-run legislature to replace local canvass boards (now with two Democrats and two Republicans) with Republican majorities, which has been seen in Georgia where legislators purged Democrats on some county boards after passing legislation in 2021. Dolente replied that BenDor was misreading that language and called her charge "disinformation."
The likelihood of any of these measures moving onto the next stage—either the GOP referring their proposed laws to the legislature or the voter advocates' constitutional amendments being on the fall ballot—depends on raising the funds to underwrite signature-gathering campaigns.
But what is intriguing about the pro-voter measures is how far they go to address what their authors distrust about those who would suppress votes in Michigan and in the institutions overseeing Michigan's elections. In that respect, the Brennan Center's Morales-Doyle said the proposals are grappling with the same question that hovered over the federal election reforms that recently died in the U.S. Senate and shadowed the drafting of the federal Voting Rights Act of 1965—which is how to stop power brokers from disenfranchising voters and subverting election results.
"The Voting Rights Act of 1965 was aimed at particular practices. It said, 'You can't have literacy tests. They can't have certain tests of devices that are used to discriminate,'" Morales-Doyle said. "The call that President Johnson made for its passage said, 'We also need something to protect against ingenious discrimination.' Basically, it was passed with this recognition that no matter what rule you can't have, these states and localities are going to figure out ways to accomplish the ends of race discrimination in voting by different means. They're very creative. They'll find another way to do what they're trying to do. And we need to have a system in place to prevent that."