Georgia To Recount Presidential Race, As Audit Turns into Full Hand Count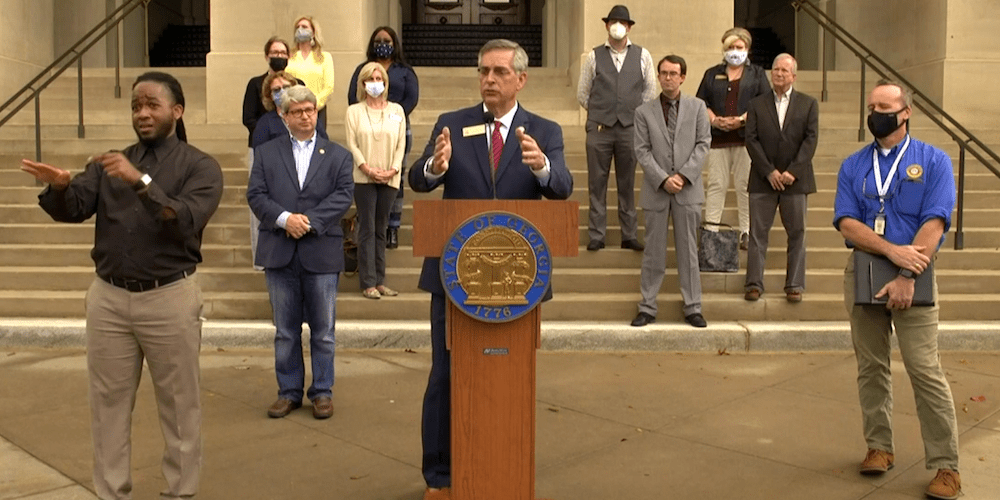 (Photo / Georgia Public Broadcasting screenshot)
Georgia's Secretary of State Brad Raffensperger announced Wednesday that the state's 159 counties would do a full manual recount of its 2020 presidential ballots, where former Vice President Joe Biden was ahead of President Trump by 14,101 votes as of November 11.
"This race has national significance, national importance," said Raffensperger, surrounded by a dozen county election officials. "We follow the process and we understand the significance of this—for not just Georgia, but for every single American. At the end of the day, when we do a hand count, then we can answer the question of what was the final margin in this race."
Raffensperger's announcement diverged from what state election officials and their advisers were discussing earlier this week, when they were preparing for the next step in Georgia's vote-counting process. That step was a statewide statistical-based audit of a down-ballot race—such as public service commissioner—based on retrieving and counting randomly sampled ballots across Georgia to assess their new voting system's accuracy before certifying winners.
The full hand count would begin as soon as this weekend, Raffensperger said, and continue until the state's certification deadline on November 20. After certifying the results of all 2020 contests, the Republican secretary of state said that any candidate who was behind by less than 0.5 percent could then file for a recount under Georgia election law. That statewide recount, should it occur, would be done by scanning all of the paper ballots.
"We're doing this because it is really what makes the most sense," he said. "With the national significance of this race, and the closeness of this race, we have to run a statewide audit. This is the race that makes the most sense… We'll be following the process on that."
Georgia's election system has come under the national spotlight since 2020's Election Day due to Biden's surprising unofficial victory over Trump and because its two U.S. Senate races did not have a winner with more than 50 percent of the vote, which triggered runoffs to be held on January 5, 2021. If the Democratic candidates win, the U.S. Senate's majority will revert to Democratic control, giving Biden a path to pass laws instead of issuing executive orders.
But before looking to who assumes power in 2021, Georgia—like most states—has to wrap up its 2020 election. That process involves several little-known steps, where local election officials reconcile vote totals and approve or reject problematic ballots to finalize their results. (That's called the canvass) Local results are reported to state officials, who certify the winners.
In 2019, Raffensperger—in part pushed by a federal court order—replaced his state's old voting system that was increasingly criticized for being unreliable because it left no paper record of votes cast apart from its electronic memory. The state's new in-person voting system relies on touch-screen computers that print out a paper summary card of a voter's choices as text and QR (dot matrix) codes, which an electronic scanner then reads to count votes. The state also uses hand-marked paper ballots for its absentee voters. In 2020's general election, three-fourths of Georgia's 4.9 million presidential ballots were the computer-printed cards.
At the same time that Raffensperger replaced Georgia's voting machinery, he pushed the GOP-controlled state legislature to update its election laws to add another step between the canvass and certification by county election boards. That additional step was counties must conduct a specific type of audit of their voting system to assess its vote-counting accuracy (called a risk-limiting audit or RLA). The audit must occur before finalizing the county's results.
In races with wide margins, an RLA is a streamlined process that can review a small number of randomly selected ballots because it relies on a probability-based formula to assess the tally's accuracy. RLAs typically look for 90 or 95 percent confidence levels in the reported results. But in races with very close margins, the volume of sampled ballots skyrockets, requiring what is essentially a full manual recount. That is the scenario that has unfolded in Georgia.
To date, Georgia has conducted four RLA pilots—small-scale test runs to fine-tune the process. One RLA was after the 2020 Democratic Party's presidential primary in Fulton County, a metro Atlanta suburb where Biden had 84 percent of the vote and his top challenger, Bernie Sanders, had 10 percent. Thus, the math involved only required examining 27 ballots in a race with 160,000 votes to achieve a 90 percent confidence level in the reported results.
But when the margins are close, such as Georgia's presidential election where, as of Thursday, Biden was ahead of Trump by 14,101 votes out of 4.9 million cast statewide, the audit becomes a manual recount—even though a recount is another legal stage in the process regulated by state law. On Wednesday, Raffensperger said that Georgia's RLA requirement meant that a complete hand count was necessary in the race that was drawing the most scrutiny—the presidential election.
"It is actually an audit," he said, responding to a reporter's question. "It's all in one. It an audit, a re-canvass and a recount, all in one, because it will be just really be a process that gets it all."
Georgia was moving through its post-election process like other states, Raffensperger said, but was under the national media's glare because of Trump's apparent loss and the U.S. Senate runoffs.
"We're in the same place that Florida is, North Carolina [is], Texas [is]," he said. "The thing is, in those races, it's [the initially reported results are] not real close. In our case, there's 14,101 votes right now that separate the top [candidate] from number two. So therefore, all eyes are focused on that… but the other states are out there tabulating their absentee ballots."
Election experts said that hand count would fall along two lines: counting the presidential choice printed on 3.75 million ballot summary cards from in-person voting locations and counting an additional 1.1 million hand-marked absentee ballots that were sent to voters via the mail.
On the ballot summary cards, the voter's choices are printed in dot-matrix QR codes and human-readable text. The human-readable text on the cards will not be ambiguous—although anti-computer voting activists have said that it was possible for hackers to change what's counted after a voter uses a touchscreen voting station and reviews their printed ballot. In contrast, local canvass boards would assess absentee ballots with problematic marks—such as crossed out votes or ovals that that were sloppily filled out to determine voter intent.
While Trump's campaign is expected to deploy observers to possibly challenge some of the canvass board determinations, it was unlikely that a manual hand count would result in changing the state's presidential election outcome—even though some discrepancies were likely to occur between the hand counts and previous computer counts, said David Becker, executive director of the non-profit Center for Election Innovation and Research.
"A 14,000-vote margin has never been overcome in a recount in American history," he said. "I don't think a 1,400-vote margin has been overturned in a recount in American history. 'Unprecedented' would be a kind was of talking about it [overturning the results], but it's well within the rights of the secretary of state, and the rights of the Trump campaign, to request [a recount], and it can be very valuable from a transparency perspective."