Grassroots Outreach is Frontline in Turning Out Votes for Georgia Runoff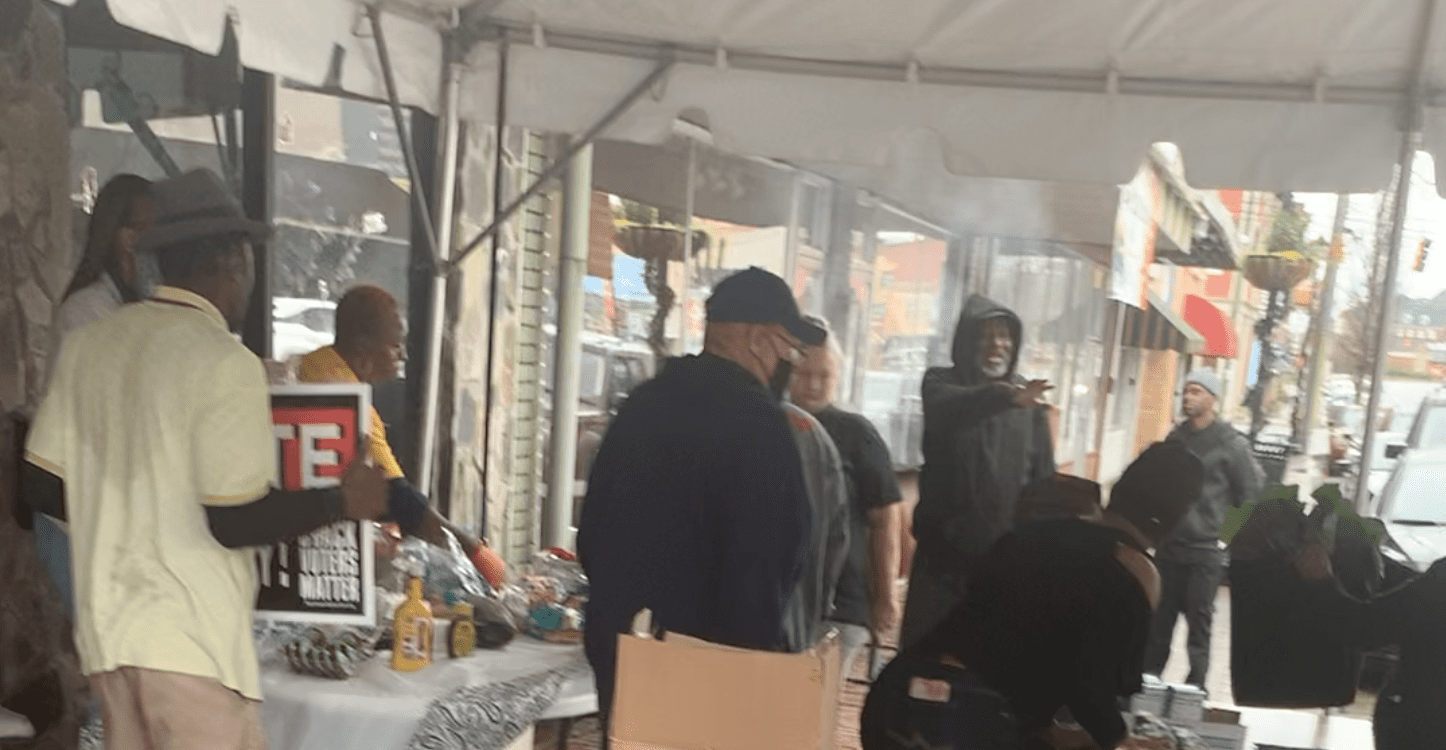 (Photo: Julius Johnson)
With two days of early voting left before Georgia's Senate runoffs conclude on January 5, the handful of volunteers trying to turn out 1,300 voters of color in rural Pulaski County got on Zoom on Tuesday night to assess their progress.
For the past 10 days, the team, led by Julius Johnson, who created a Black history museum in Hawkinsville, the county seat, and his college-age son Mohammed, and four older women, all friends—Kim Aquamina, Karen Burks, Jacquelyn Finch and Danielle Coticchio—had been calling and knocking on hundreds of doors. Pulaski County was in the state's "Black Belt," where the residents were split evenly between whites and non-whites, but few Blacks held elected office.
Organizers in Georgia and from out of state have eyed overlooked pockets of voters of color as one factor that could tip the Senate runoffs in Democrat's favor. If Rev. Raphael Warnock and Jon Ossoff won, the Senate majority, like the House, would be in Democratic hands, enabling President-elect Joe Biden's agenda.
The runoff's frontlines were Georgia's registered voters. Beyond the billboards and yard signs, flyers filling most mailboxes, nonstop loud TV and radio ads, and unsolicited phone calls and texts, all urging people to vote, were several million Georgians. What were you hearing, Julius Johnson asked his crew? Did anyone mention the pandemic stimulus checks, which were stalled in the Senate?
"I'm not sure," said Aquamina. "But I'm sure everyone's watching. Everyone wants the check to come through, for sure. But I think people know they must vote in January. They see what's happening. They know they've got to vote."
But others on the team were more cautious. Their goal was contacting 1,302 voters who lived in 816 households across the county. They had been making lots of calls and had knocked on three-fourths of those front doors. But not everyone was answering their phone or opening their door.
Were people asking about candidates? No. Were most people trying to get off the phone as fast as possible? Yes. Were most saying they had voted or were planning to vote? Yes. Did anyone say they wouldn't vote? A few. Were people a bit more patient when the team said that they were calling for the Newberry Foundation, which created the museum and were offering rides to the polls? A bit.
"It's hard to gauge how important this is to people," Mohammed Johnson said. "But people are voting. It seems like the majority have plans to vote."
"It's almost the same with me," Burks said. "You can tell that they really don't want to be bothered. But I just go ahead and ask the questions."
What are you doing with the voters you did not reach, asked Julius Johnson?
"That's why we're meeting tonight," replied Aquamina, who created a list of the streets where clusters of the hard-to-reach voters lived. Perhaps a third of their targeted voters had not answered their phones or opened their front doors.
"We want to go to those streets tomorrow, with me being the getaway driver and Karen and Mohammed jumping out," she said. "Some of the places you pull up you don't even want to get out of the car. You're not trying to get out, walk to these houses and be chased by a big country dog."
If Georgia's two Democratic candidates win their runoffs, that victory would be due to many gritty and unglamourous volunteer efforts across the state, such as the get-out-the-vote campaign in Pulaski County. How many teams were doing this kind of grassroots work in overlooked communities of color?
"We are hoping that we will find out," said Andrea Miller, whose Virginia-based Center for Common Ground, gave the Hawkinsville team its list of 1,300 voters of color in Pulaski County. By Thursday evening, early voting's last day, 2,791 of the county's 6,204 registered voters had voted—either in person or by absentee ballots. The turnout was 45 percent, which was higher that the statewide average of 38.8 percent for the runoffs, the U.S. Elections Project reported (which updates county and state data daily).
Miller hoped that Georgia would follow in Virginia's footsteps, where pockets of voters of color in that state's red counties started voting in numbers that changed its political complexion from red to purple to blue. That came to pass in Virginia, she said, after organizers branched out from cities and towns into rural areas.
"Let me give you an insight I got this morning from Augusta," Miller said, referring to the inland city near the South Carolina border. "The folks in Augusta are doing lots of events. Their goal right now is moving outside the city limits. They're going to be working to move to more rural areas and the surrounding county."
Miller's efforts are not unique. Across the state, there are many groups working to contact and turnout various slices of the electorate. So far, Georgians outside of Atlanta, with a few exceptions, appear to be making and following their plans to vote in the runoffs, other seasoned organizers said.
"We haven't had any problem for people who gave us their plan. When the day of their plan [to vote] came, we sent a reminder text,'" said Debra Kozikowski, who runs a small PAC, Left of Center, which is part of a "Together for 2020" coalition targeting 100,000 voters under 30 and Black women in rural Georgia.
"We've only come across a really small number of people who didn't follow through on what they said they were going to do," she said.
Seasoned organizers like Kozikowksi and Miller are cautiously optimistic. There is no precedent—or comparable statewide election—to asesss the runoff's turnout, they said, because there's never been a special election in Georgia with such high national stakes—coming right after a surprise presidential election victory.
In 2020's presidential election, 4 million Georgians voted. Two-thirds voted using absentee ballots and at early voting sites. The other third voted on Election Day. As of Thursday morning, 2.8 million Georgian's voted early for the runoffs—either in person or with an absentee ballot. (By Thursday night, 3,001,017 Georgians had voted early). Of the runoff voters, 104,000 did not vote in November; some are newly registered.
Other groups headed by younger organizers have been making more exuberant pronouncements in their briefings that the runoffs will herald a new era in their state's politics. But there still are regions of the state where the runoff turnout has not met their expectations.
"There is a dip in turnout among Black voters under 30 in southwest Georgia," said Nse Ufot, New Georgia Project Action Fund CEO, comparing the runoff to the presidential election. "Whereas in southeast Georgia, in the metro Savannah area, there has been an increase of Black voters under 30."
Francys Johnson, board chair of the New Georgia Project, thought that contrast was due to the fact that in southeast Georgia two district attorneys, who were seen as hostile to communities of color, were voted out of office this fall.
"There were several communities in Georgia who experienced victory and what a successful drive toward building power can look like when you can achieve political defeat of an opponent who was oppressive in your community," he said. "They saw what that looked like on November 3, and they are looking forward to seeing it again on January 5."
Republican Organizing
Back in Pulsaki County, which is in the center of the state near Macon, groups like Black Voters Matter have put up signs and billboards that have not been seen before, said Julius Johnson, who ran for state senate but lost in November. There's never been as much visible political organizing, he said.
"There is a ground game," Johnson said, referring to the voter contact and turnout efforts. "There's a marketing effort, and an advocacy effort, and phone banking and texting, and all that is really in addition to word of mouth."
When asked what he saw Republicans doing, he paused, "Nothing… I think there is a silent, sort of understood activism going on; that you show up on voting day. That's very southern. You know the southern way isn't to be loud and boisterous, but to be quiet and conforming to social norms. My sense is the Republicans have their game plan. And they are going to show up as they always do."
But it appears that Republicans and their allies have been chasing their voters as fervently as Democrats. In suburban Atlanta, Republicans have been inundated with calls, texts and glossy mailers, said Walter Jones, communications manager for Georgia's Republican Secretary of State Brad Raffensperger.
Jones, a former statehouse reporter, said that his mailbox receives about four or five oversized mailers each day. He said that his daughter, who moved to North Carolina, is getting texts as if she still were a Georgia resident and voter.
One of the most provocative mailers, Jones said, was from The Club for Growth, which is based in Washington, D.C., which listed the recipients' voting history, compared it to their neighbors' voting history, and tried to shame people in voting—by implying neighbors would find out if they skipped the runoff.
"We've gotten a lot of complaints [at the Secretary of State's office] about that particular mailer," Jones said. "Of all the ones that people get, they at least noticed that one. It cut through the crowd."
Raffensperger, like Gov. Brain Kemp, also a Republican, has been attacked by President Trump for not using their office's power to decree that Trump won the state. Jones said there has been a lot of incorrect information about the election, the voting process, and voters—which his office has sought to dispel.
Many claims by "all of these conspiracy folks" saying that thousands of people had illegally voted in Georgia's presidential election originated with bad data—names and addresses targeting consumers and lists used by government agencies for non-voting purposes, he said. "It's the same flawed process. If you ever got junk mail that wasn't addressed to you, you know how easily it can happen."
One concern heard from one of the groups running phone and text banks—the Center for Common Ground—was it appeared that some of the voters that they had called, whose numbers were incorrectly listed, appeared to be Republicans who tried to entrap those making the calls into encouraging illegal voting.
"There were multiple times when our volunteers reached the wrong number," said Gabriel Wheaton, the Center's phone banking manager. "But the person on the other end of the line pretended to be the person and tried to either bait our volunteers into admitting they were trying to engage in 'voter fraud,' or explain why 'white voters matter too' – often ending with threats of suing our organization… I have no idea if it's a coordinated effort, but the pattern was similar enough that it seems like a possibility."
Jones said his office had not heard about this issue, but he was not surprised. He said that he often gets deluged by calls from Trump supporters making the same incorrect claim, "almost verbatim the same thing," he said. Jones suspected the pattern was due to these callers listening to the same media outlets.
"I would not be surprised if it was not a concerted effort, in a sense, except maybe all of these people were listening to the same talk show," Jones said. "Some talk show host said this is how you mess with them [Democrats]."
Whether these kinds of antics previewed coming disinformation campaigns and lawsuits to challenge the runoff's results was an open question. Jones said the secretary of state has been trying to strike a balance between firmly enforcing voting laws but not over-policing the process to discourage voting.
Whether the runoffs could head into overtime with prolonged legal challenges was a question that Jones didn't want to think about. The state requires counties to certify their winners by January 15. The state must certify its runoff winners by January 22. But unlike the presidency, there are no deadlines to seat senators.
Republican incumbent Sen. David Perdue's term ends on January 3. Sen. Kelly Loeffler, who was appointed, serves until the runoffs are settled. Pundits have noted that the GOP would keep its Senate majority if the runoffs were tied up in litigation. However, almost every lawsuit recently brought by Republicans and their allies to restrict voters and voting has been rejected by judges. County boards of elections have also rejected GOP efforts to disqualify voters. Those rulings likely mean that there would be less to litigate after January 5.
Turning Out Voters
Meanwhile, back in Hawkinsville, Julius Johnson said that Pulaski County's election officials are well-aware of the runoff's political stakes.
"The local authorities are being super careful to ensure that they are beyond criticism because of the attention being paid," he said. "The feeling is that eyes are watching, and therefore you have to very careful how you behave. The old shenanigans and intimidation are not happening this time."
Johnson said the biggest challenge was prompting as many voters of color as possible to vote. As Kim Aquamina told her colleagues on Tuesday night's zoom call, they were not the only people calling and texting Pulaski County's voters. But they were the only ones calling on behalf of the Newberry Foundation—which created Hawkinsville's black history museum—and were checking if neighbors needed a ride to the polls. (Rural Georgia lacks public transportation).
"Some of the people are very friendly and they're willing to talk," Aquamina said. "But some of them, the answers are pretty quick. 'Yeah, I don't need a ride.' And 'I've already taken care of it,' or 'I'm going to take care of it,' because they're getting a lot of calls. And as I'm making the calls, I'm getting phone calls and texts on my phone from people doing the same thing we're doing."
Meanwhile, the march to January 5's Election Day continues. On Thursday, the Newberry Foundation, which Johnson created to honor his family's slavery era roots, will be giving away free food for 200—black-eyed peas, collard greens, cornbread—and hot dogs and hamburgers, as part of the voter turnout effort. Johnson told his team he'll rent a van to take people to the polls on Tuesday.
"We're reaching out to people in the community," Aquamina said, as she pondered more calls and canvassing. "I'd say to them, 'I want to make sure you're okay,' 'Do you know who's running?' 'Do you know what the hours are?' 'Do you need a ride?' I am very concerned. That's how I'm able to keep the ones on the phone that I did keep on the phone."