Looming Major Election Challenge: Mail-In Ballots That Never Make It to Voters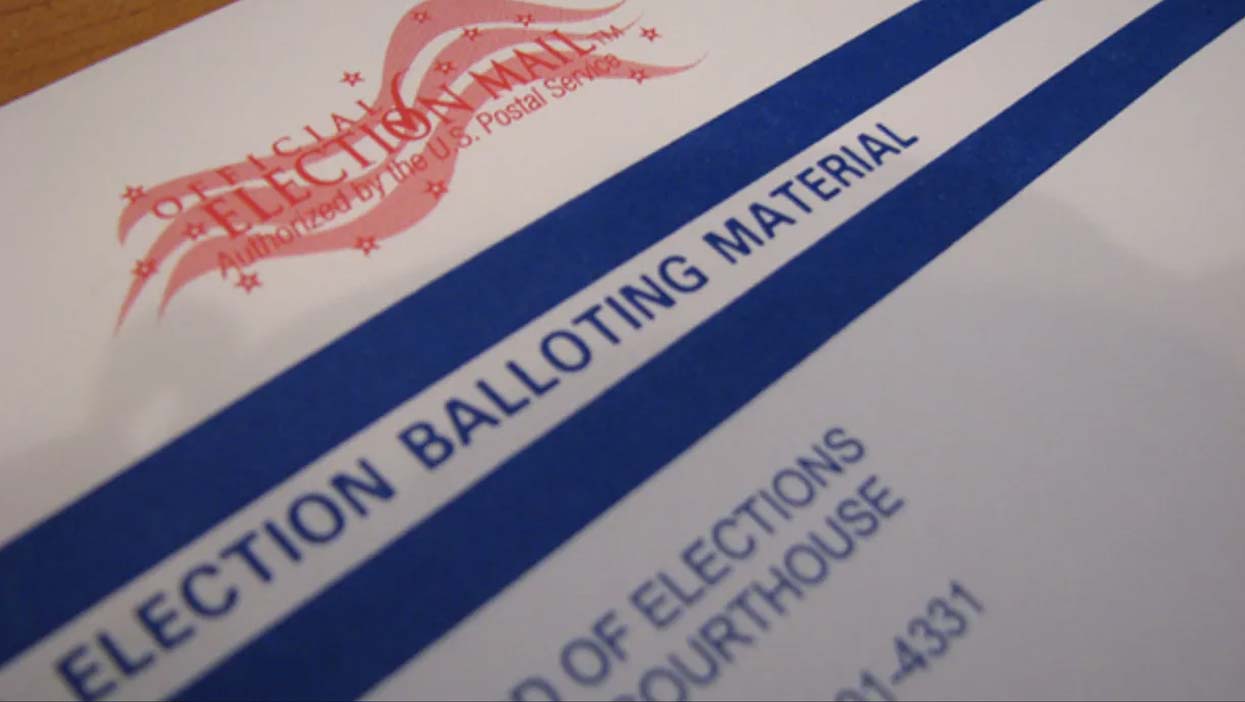 After a poorly attended rally in Tulsa and falling support in opinion polls, President Trump has renewed his false attacks on mail-in voting.
But as states keep encouraging voting from home in response to the pandemic and 2020's primaries and runoffs continue, a recurring election administration problem may be playing into Trump's myths about Democrats voting more than once.
In many states resuming statewide elections, blocs of voters who applied to vote from home are not receiving their absentee ballot, or are receiving it too late to give voters confidence that they can return it by mail in time to be counted. So many of these voters have raced to fewer Election Day sites to cast a ballot.
This trend was again seen in some of the six states that voted on June 23, according to an Election Day briefing by the Lawyers' Committee for Civil Rights Under Law, which runs a voter hotline and deploys field monitors at polling places.
"A ton of voters haven't received their absentee ballots after submitting their request," said Irene Shin, executive director of Virginia Civic Engagement Table.
But voters aren't the only ones who are confused by voting in a pandemic. Many poll workers also don't know what to do when mail-in ballot voters show up.
"Poll workers are pretty woefully underprepared with information or guidance for voters who are coming up with questions about absentee ballots or absentee ballot requests," Shin said at the committee's briefing. Voters were "being given false information by poll workers who are unfamiliar with absentee ballot protocols because they have not had this level of voters with these kinds of issues before."
In some states, voters who applied for a mail-in ballot can have that ballot quickly canceled at a polling place and then can proceed to vote with a regular ballot. In other states, they must fill out additional paperwork before voting with a regular ballot, or are directed to vote with a provisional ballot (these ballots and their paperwork must be vetted later and are among the last to be counted).
This range of protocols, which are not widely known in states that have not predominantly voted by mail before the pandemic, already has been targeted by GOP disinformation. After the first pandemic primaries in April, right-wingers attacked unreturned mail-in ballots as "missing," which fact-checkers debunked. On June 22, following widespread media coverage of TikTok users who foiled Trump's campaign by registering for the Tulsa rally without any intention of attending, Trump retweeted, "If Democrats are prepared to lie and cheat to fraudulently shut down political rallies, they should NEVER be trusted with mail-in ballots!"
These two related trends, voters not receiving mail-in ballots and poll workers not knowing what to do when they show up to vote, could become a problem this fall, especially if the president and his supporters continue to conflate administrative snafus, voters seeking to cast ballots that count, and imagined voter fraud.
Bottlenecks Emerge
While many state officials have noted that their primary turnout has increased due to absentee voting and touted that increased turnout as an achievement, there is a recurring pattern of blocs of voters expecting mail-in ballots who did not get them or received them very late, prompting fears that their votes would be lost.
"There are definitely more ballots that didn't make it into the mail [to voters] than we would like to see," said Susan Lerner, executive director of Common Cause New York, on the Lawyers' Committee call. "We would like to see complete fulfillment of all of the requests. I believed that the city [of New York] had, as of the weekend [June 20-21], fulfilled over 95 percent of the requests that it received for absentee ballots."
A similar pattern was seen in Kentucky, said Cassia Herron, Kentuckians for the Commonwealth executive committee chair. She said the cause of gaps in absentee ballot fulfillment was increased voter interest in 2020's primary compared to 2016, coupled with under-resourced and under-staffed county election offices.
"In Kentucky, it's a pure [issue of] number[s]," Herron said. "We have had nearly 900,000 absentee ballots be requested [in 2020]. I think we had 600,000 or so [total statewide] votes in the 2016 primary election. The county clerks were not prepared for that many voters asking for those absentee ballots."
Kentucky's Herron, like Virginia's Shin, noted that higher turnout was positive. But Herron said that mail-in voters were also beset by other administrative snafus, including outreach efforts by state officials that didn't work.
"Another thing that happened in Kentucky is that the county clerks—we have 120 counties—each county clerk had their own process," she said. "The [Democratic] governor and [Republican] secretary of state created a single process, a website, that folks could go to—anybody across the state [could] access [it]. The problem was they didn't get that website up until 30 days before the election… It's been too slow, and the system was clogged up."
"It sounds simple. 'Oh, we'll all just vote by mail,'" said New York's Lerner. "But actually, you have to have a well-thought-out infrastructure and, frankly, a lot of practice to really move this mountain."
Election officials often compare preparing for an election to a military operation, saying there are innumerable logistical details to plan, train for and execute.
"None of that took place," Lerner said, referring to New York's June 23 primary. "There wasn't time in the approximately six weeks that our boards of elections had to prepare for over 1.7 million absentee ballot requests. Remember, in 2016, in the primary, there were approximately 115,000 absentee ballots cast. So we've had a huge expansion without an infrastructure to make it as smooth as possible."
"The boards have been working really hard to get the ballots out the door," Lerner said, citing another reason why New York City's ballots were slow to be delivered.
"We had a very high number of lawsuits to determine who was going to be on the ballot, so the ballot wasn't even finalized until the middle of May," she said. "The printing couldn't even start, even though people had requested ballots by that time. It is a multifaceted, complicated system."
These issues have been seen in cities and states holding pandemic primaries.
"The discussion underscores the need for Congress to allocate proper federal funding for states to institute vote by mail effectively, and adequate federal funding for the United States Postal Service to help ensure that they will be able to carry the load that they will bear this election season," said Kristen Clarke, Lawyers' Committee executive director.
A Key Decision Point
But one issue that has not received wide attention is how voters are processed at polling places after they applied to vote from home, but, for various reasons, did not receive an absentee ballot or received it late, and decide to head to the polls. (States have uneven drop-off box protocols for absentee ballots; some counties have many sites, others have only a few, including on Election Day.)
The key decision point, which can be handled expeditiously or not, concerns how poll workers and county officials update their records so a voter is given a ballot. In some states, poll workers can quickly cancel the voter's mail-in ballot request using electronic pollbooks, allowing them to cast a regular ballot. But in other states, those voters must fill out paperwork or are given provisional ballots.
While there is no truth to Trump's repeated false claims about hordes voting many times over for Democrats, the pandemic primaries have shown there is confusion about handling voters who expected to vote by mail but ended up at Election Day polls. Often, this trend has compounded long lines and waits.
In Georgia's June 9 primary, for example, poll workers were required to ask these voters to wait while they called the county election board to receive permission to allow that person to cast a regular ballot. That voter also had to sign an affidavit declaring that they had not voted more than once. In Los Angeles County, in contrast, poll workers use the same electronic poll books as Georgia, but enter a few keystrokes to cancel the voters' absentee ballot request, log that person as an in-person voter, and then direct them to the nearest voting machine.
New York, as Lerner explained, has a different process, where, no matter what a voter previously did—including mailing their filled-in ballot on Monday before Election Day—the voter is accommodated at the polls. County election officials later intercept and void their mailed-in ballot after it arrives.
"New York State is interesting in that it allows in-person voting irrespective of what you did or didn't do with your absentee ballot," Lerner said. "If you requested an absentee ballot, didn't get one, or decided not to cast it, you are able to vote in person on a regular ballot. If you got your absentee ballot and mailed it back, and decided that you still want to vote in person, you go into your polling place and you're able to vote on a regular ballot. In-person voting overrides absentee in New York State. The voter has options."
These state-by-state variations are not widely known. However, they could become critical in the fall's general election. Nobody knows what percentage of at-home voters are not receiving ballots. If Lerner's figures about New York City are a guide, it could be a few percentage points. In 2016, Trump's margin over Hillary Clinton in Michigan, Wisconsin and Pennsylvania was less than 1 percent.
Questions of how and when voters get their mail-in ballots in the fall, and what ballot cancellation or ballot surrender rules are in play at in-person voting sites, are at the juncture where pre-existing state laws, new pandemic policy and other factors could create or diminish roadblocks for voters and election officials.
"There are peculiar approaches that some states have followed this season, including in some places like Georgia that chose to outsource the handling of its vote-by-mail process to an out-of-state vendor that made big mistakes," Clarke said. "Like sending the ballot to the home address of the voter and not the requested mailing address that was provided on the application."
"Those are the kinds of issues that we must fine-tune in order to get voting by mail right in advance of the November general election," she said. "Getting vote by mail right is critical, because that means that we alleviate the burdens that officials otherwise face on Election Day."
Getting the administrative procedures behind vote by mail right also would deflate Trump's escalating attacks on the process. The rapid shift to voting from home has left some people trying to vote by mail and at precincts, in the hope that they will cast one ballot that counts. That's voting once, not many times over.
Also Available on: www.nationalmemo.com