Stacey Abrams Files Vote Suppression Lawsuit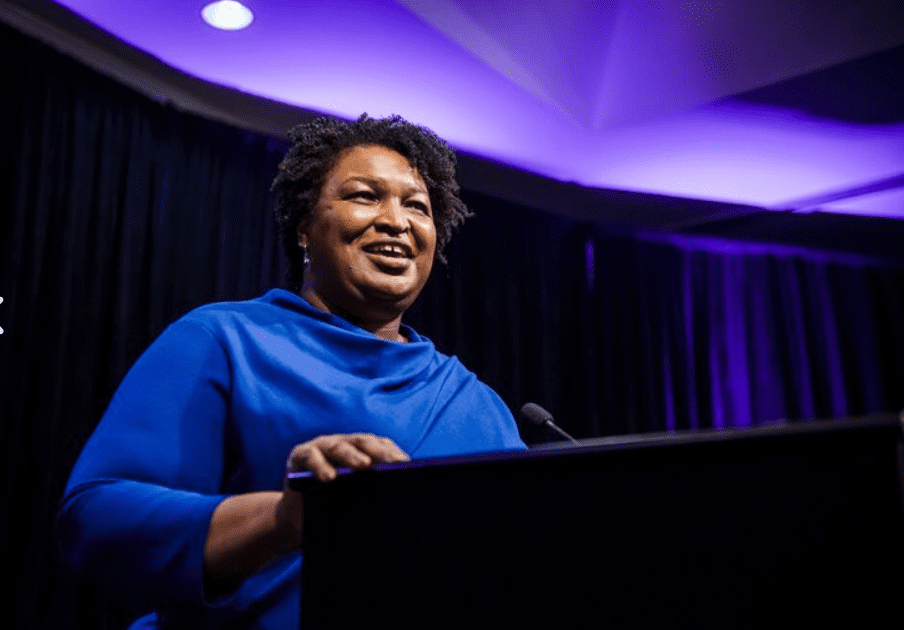 (Photo / https://fairfight.com/about-stacey-abrams/)
The federal lawsuit filed by thwarted Georgia Democratic gubernatorial candidate Stacey Abrams and a coalition of mostly female domestic workers on Tuesday portrays Georgia's 2018 election as a veritable horror show of intentionally anti-democratic and often racist voter suppression tactics—possibly unmatched since Ohio's 2004 presidential election.
At every stage of the voter registration, ballot distribution, ballot validation, and vote-counting process, a system of rules and state laws overseen by the governor-elect, Republican Brian Kemp—the top state election official until his resignation after Election Day—and State Election Board failed to help every eligible voter participate and cast a ballot that would be counted, the 65-page complaint filed in U.S. District Court enumerated in great detail.
"Without the right to vote, all other democratic rights are illusory," the complaint begins. "In the 2018 General Election, Georgia's election officials broke that compact. The Secretary of State and State Election Board grossly mismanaged the election that deprived Georgia citizens, and particularly citizens of color, of their fundamental right to vote. This complaint describes the serious and unconstitutional flaws in Georgia's elections process—flaws that exist today."
Whether validating voter registrations, using intentionally outdated state records to reject more current voter information to disqualify their ballots, purging voters under a 1990s state law intended to target voters who voted for president (but not in between), cutting early voting, closing or moving polling places in minority communities, having too few backup provisional ballots in place, or numerous other technicalities that added up to systemic rejection of ballots and widespread disenfranchisement, the suit said Kemp did everything he could to stop a free and fair election—including deploying intentionally racist tactics.
"Before the 2018 Election, the Secretary of State took an active role in how counties conducted elections," the suit said. "For example, Randolph County hired a consultant to help it determine whether polling locations should be changed. That consultant recommended closing polling places, and those locations were where high numbers of voters of color have historically voted. The Secretary of State's Office acknowledged that it recommended the consultant. In a presentation to Randolph County residents, the consultant explained that he was following the Secretary of State's recommendations."
The lawsuit is filled with numerous outrageous examples. One of the most telling is how Kemp used a Georgia state law passed in 1994—in response to federal passage of the National Voter Registration Act, which required a range of government agencies led by motor vehicle departments to offer the opportunity to register to vote. Under that "use it or lose it policy," any voter who did not vote in a three-year period could be purged and would have to re-register before voting again.
"Secretary Kemp would wait until just before his own elections to remove hundreds of thousands of voters," the complaint said. "In 2014, when he was running for reelection, then-Secretary Kemp purged over 250,000 people under the 'use it or lose it' policy. In 2017, when he was running for governor in the upcoming 2018 Election, then-Secretary Kemp purged over 665,000 people under the 'use it or lose it' policy. In a single night in July 2017, he struck over 500,000 people from the voter rolls."
The complaint continues in that vein, saying these injuries violate several federal constitutional amendments and landmark legislation designed to stop racial discrimination. It seeks to have the federal courts put the state's entire election system under federal "jurisdiction" or control, by blocking the most exclusionary laws and practices, and then lists 13 ways that the state should administer voter registration, training officials, uniformly running elections, ensuring backup safeguards are in place, publicly disclosing results and audits—and even replacing the state's voting machines, among the oldest deployed in America today.
"Defendants' failed policies and limited to no oversight disenfranchised untold numbers of voters," it said. "The Complaint has detailed an extensive list of the systematic problems plaguing Georgia's elections systems. Absent judicial intervention, future elections in Georgia will be no different."
As compelling as the complaint is, that final assertion is not entirely true. When a jurisdiction has such a dismal record of election administration there is another remedy—it is political, not judicial. In Georgia, that possibility is around the corner, as next week the state has a runoff special election for Secretary of State. Democrat John Barrow, in a column last week in the Atlanta Journal-Constitution, pledged to make the state's elections "safe, accessible and fair—to increase the ease of access and reduce the chance of fraud… we're long overdue for a new and improved way of casting our votes."
"I will work in these coming weeks to elect @Barrow4Georgia as our next Secretary of State – a man of principle and goodwill who will administer his responsibilities for the people – not his party. #gapol," Abrams tweeted last week, days before filing the federal lawsuit.
It may be months or longer before the federal courts rule on Abrams' suit. But between now and then, a political remedy is possible to address the very barriers put in place by Kemp: electing another Secretary of State who can undo those rules, directives and remake the system from the inside.
Also Available on: www.nationalmemo.com