2020's Easier Access to a Ballot Sullied by Trump's Stolen Election Claims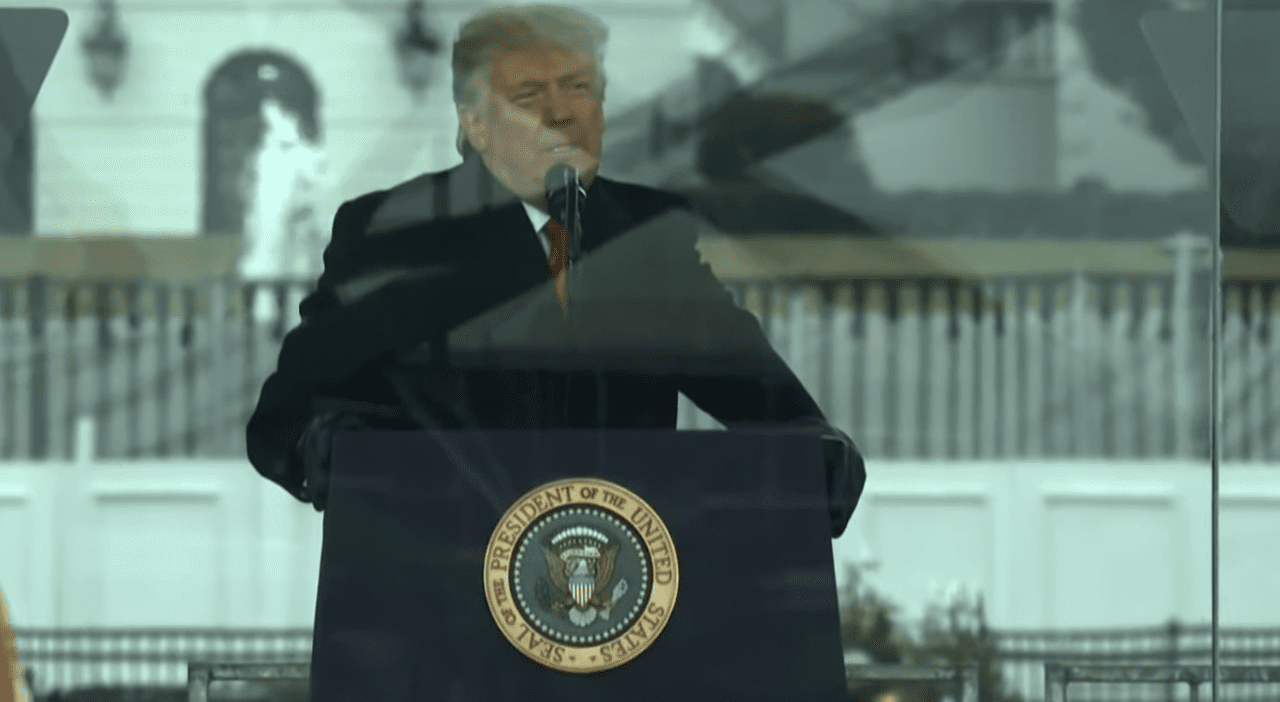 (Photo: www.pbs.org/newshour)
The fallout from the insurrection at the Capitol is far from over, even as the House impeaches President Trump for a second time. But let's recall what is at the heart of this electoral crisis.
In 2020, a pandemic caused most states to pivot and offer voters more options to cast ballots. Tens of millions of voters opted for mailed-out absentee ballots. How those ballots were returned, how the voter's identity was verified, and how their ballots were counted broke new ground in many states—as did expanding early in-person voting options.
Rather than celebrating the 2020 election's record turnout, President Trump and his allies have used somewhat new and unfamiliar voting processes in key states as a cudgel to revive cynical cliches about stolen elections. Their propaganda took advantage of the reality that many Americans do not understand the details of how elections work, and why access to a ballot—not the vaguer right to vote—is at the center of America's history's democratic struggles.
As Martin Luther King, Jr. repeatedly said on May 17, 1957, during a speech at the Lincoln Memorial, "Give us the ballot and we will no longer have to worry the federal government about our basic rights."
Access to a ballot during the pandemic was at the heart of most decisions in 2020 by state legislatures and election officials, and partisan lawsuits and rulings by state and federal judges. The pivot by tens of millions of Americans to voting by mailed-out absentee ballots or voting at early voting sites, made 2020's general election the highest turnout election in U.S. history, the MIT Election Data and Science Lab authoritatively reported. Those expanded voting options, which voters widely praised, also set turnout records during Georgia's Senate runoffs.
But weeks since 2020's Election Day, a louder narrative has prevailed. False claims that masses of Americans voted illegally have dominated Trump's tweets and speeches, his rightwing media coverage and filled the pages of 65 post-election lawsuits—64 of which were rejected by courts. Those claims were yelled by those storming the Capitol on January 6, heard in floor speeches from Republicans who opposed certifying the presidential election, and were again heard by President Trump's most ardent defenders during January 13's House impeachment debate.
The stolen election narrative was built on attacking the little-known steps to help voters to access a ballot in the pandemic, followed by how their ballots were processed. These attacks—that start with access to ballots—have continued as post-election politics have emerged.
Consider what is unfolding in Georgia after its January 5 Senate runoffs elected a prominent Black minister and Jewish filmmaker over Republican incumbents by margins that kept growing as the final overseas ballots came in. The state's Republican-majority legislature is eying a list of reforms to make access to a ballot more difficult.
Two days after voting ended for Georgia's runoffs, the Atlanta Journal-Constitution reported that Republican legislators had proposed a list of ways to make it harder to get a mailed-out ballot. They proposed reinstating the excuse needed to apply for an absentee ballot; banning absentee ballot drop boxes; mandating photo ID be included when returning an absentee ballot; banning mobile voting buses during early voting; and barring government agencies and outside groups from mailing absentee ballot applications to voters.
These kinds of details are the real features of elections that make the process harder or easier for all involved. There were some disagreements among Georgia's top Republicans. Secretary of State Brad Raffensperger, who won national acclaim for rejecting Trump's demands to overturn Joe Biden's victory, has said that 2020's fall elections were too much work for county officials. He proposed reeling in absentee ballots by reinstating the excuse requirement (a disability, illness, travel, etc.) to obtain a ballot. Georgia's most powerful lawmaker, House Speaker David Ralston, disagreed, saying people have not "been getting the truth" about mailed-out ballots.
Some key voices are missing in this post-election jockeying. The first voices are those of local election officials. What do they think would make their task easier—following Raffensperger's rationale—when it comes to getting ballots to the voter and processing the returned ballots? County officials and poll workers spent 2020 learning how to use their new statewide voting system, which included implementing expanded absentee voting.
The second missing voice are from voters. What do they want? If their views are hard to discern because louder Republicans are calling for regressive reforms, what does the data show about who voted in 2020 (by age, race, party)? How did these voters choose to cast their ballot (by mail, via drop boxes, or voting early or on Election Day)? It may not be possible to silence powerful partisans, but one can factually describe America's 2020 elections.
With the fallout from the storming of the Capitol still unfolding, these key voices and facts are not front and center. But it would not be surprising if Georgia's local election officials opposed reviving the excuse requirement to obtain an absentee ballot. Why? Because processing more detailed applications adds work. Local officials might welcome reforms that streamlined the process, such as allowing voters to drop off an absentee ballot at any voting site.
States also can do more to inform the public about who voted—to dispel disinformation. Few states go as far as Oregon, which quickly released detailed 2020 data. In Multnomah County, where Portland is located and where controversial racial justice protests were held, 86 percent of registered Democrats age 18-to-34 voted. Among registered Republicans 18-35, 76 percent voted. That is very high turnout. A Pew Research Center survey in mid-November found that nationally, 64 percent of whites voting for Biden voted by absentee ballots, versus 39 percent of Black voters. Such data raises the question of what's causing the discrepancy.
It is possible to ground discussions in who is getting access to a ballot—as opposed to hurling accusations of election fraud, and then claiming that the public demands a response to those false assertions. It is also possible to discuss legitimate GOP concerns about how the returned absentee ballot envelopes are verified. Concerns about validating the voter's signature on a ballot return envelope—which is akin to poll workers checking in a voter—can be answered. Some Democrats, too, can do better than refer to signature verification as "junk science."
In Georgia, Raffensperger—with the help of state police—audited the signatures on more than 15,000 ballot return envelopes in an Atlanta-area county to see if reams of absentee ballots had been illegally cast for president, as Trump has alleged. They found zero forgeries, meaning that every vote was legal. "This audit disproves the only credible allegations the Trump campaign had against the strength of Georgia's signature match processes," his office said when releasing the audit report.
When peeling back the layers that led to January 6's storming of the Capitol, one can focus on cultural factors and societal traumas. But as states start their next legislative sessions and look to enact laws in response to their 2020 elections, the first question was the same question that faced election officials as the pandemic struck last year: how will citizens get their ballot? That question is followed by how will voters return their ballot, and then how will those ballots be verified and counted?
Rev. King's 1957 speech at the Lincoln Memorial did not demand the right to vote. Blacks were given that right by the Fifteen Amendment in 1870. King was more specific.
"Give us the ballot… And we will by the power of our vote write the law."