2021 Voter Turnout Shows Better Ballot Access Benefits Both Parties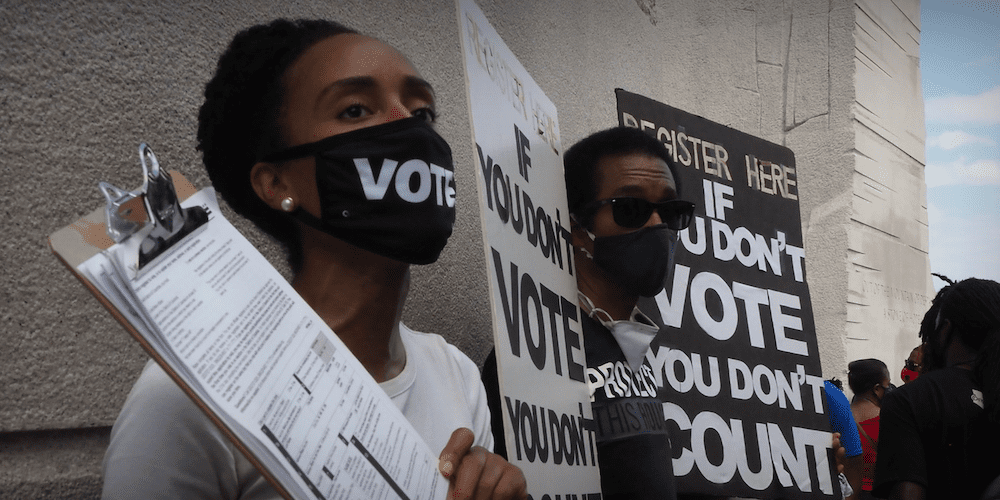 (Voter registration drive. Photo by Sue Dorfman / Zuma Press)
Making access to a ballot and voting more accessible does not necessarily help Democrats and hurt Republicans, despite conventional political wisdom to the contrary, the November 2 election clearly demonstrated.
In Virginia and New Jersey, which both held statewide elections and where state officials had instituted more ways for voters to vote—early and on Election Day—Republicans turned out in record numbers.
In Virginia, Republican Glenn Youngkin was elected governor by nearly 80,000 votes, defeating the former Democratic Gov. Terry McAuliffe, who ran a lackluster campaign. In New Jersey, incumbent Gov. Phil Murphy, a Democrat, was leading by 15,000 votes, with the uncounted ballots in Democratic strongholds.
But, as Jonathan Last noted in Bulkward.com, "challenger Jack Ciattarelli found an extra 300,000 Republican votes that weren't there for the GOP candidate in 2017. Murphy is going to hang on to win, but the story is the Republican turnout."
Analysts will offer many reasons for Democrats' showing. But expanding options to vote should not be among them, election experts said, even though former President Donald Trump has been attacking easier access since mid-2020 when many states expanded voting options in response to the pandemic.
"One myth that both parties completely agree on is that high turnout always benefits Democrats," said David Becker, executive director of the Center for Election Research and Innovation. "It is an article of faith among both Democrats and Republicans that this is true and yet it is completely false."
"We see repeatedly that it's completely false in places like Florida and Ohio, which had extensive mail, early in-person, and Election Day voting, record turnout in 2020, [and] record margins for Republicans," Becker continued. "In places like Virginia and New Jersey yesterday, [where it was] easy to early vote, easy to mail vote, [there was] record turnout [and] over performance by Republicans."
Becker's point underscores that it is the candidates and their messaging, not making voting harder for perceived blocs, that is and should be the determining factor in voter turnout. That view, however, is at odds with many pro-Trump legislators who have led post-2020 efforts to curtail voting options after their candidate lost the presidential election a year ago.
"You actually don't change the political dynamic significantly," Becker said. "You just make things better for voters to make their voices heard."
A Closer Look at Virginia
Virginia's 2021 election broke turnout records for statewide elections. A closer look suggests that many Republicans and Democrats differed on when they voted. More Democrats than Republicans voted before Election Day, either with mailed-out ballots or at an early in-person site. More Republicans, in contrast, voted on Election Day, when two-thirds of the election's voters cast ballots.
While Virginia's Democratic-majority state legislature passed numerous voting reforms earlier this year that were intended to make voting easier for its base, it is also true that expanding early voting meant that fewer people would be voting on Election Day—which made Tuesday's voting more expeditious.
But tinkering with the rules of voting will not deter a motivated electoral base, said Chris Sautter, an election lawyer specializing in recounts and an American University adjunct professor.
"All these reforms were written by Democrats to increase Democratic turnout," he said. "The Democratic turnout was not bad. It's just that the Republican turnout was through the roof. Youngkin did better than Trump ever did in these areas that Trump opened up. Trump got people to vote who had never voted before and Youngkin surpassed him by quite a bit."
Organizers seeking to turn out young and infrequent voters in the state's largest communities of color said that many voters were not interested in McAuliffe, who defeated two Black women in the primary and sided with fossil fuel interests as governor but more recently sought to portray himself as an environmentalist.
"Only 15 percent of our voters age 18 to 39 showed up in early voting," Andrea Miller, executive director of the non-partisan Center for Common Ground, said. "They were not having it. They were saying, 'We're not voting for the lesser of two evils.' In my mind, that was a progressive and BIPOC [Black, Indigenous, people of color] protest. And young people didn't vote at all."
So, even though Virginia's legislature adopted 2021's most expansive set of pro-voter reforms, their ticket didn't compel voters to take advantage of easier ways to vote. On the Republican side of the aisle, voters faced no obstacles.