Ballot Drop Boxes Still an Under-Used Tool to Help Urban Voters in Pandemic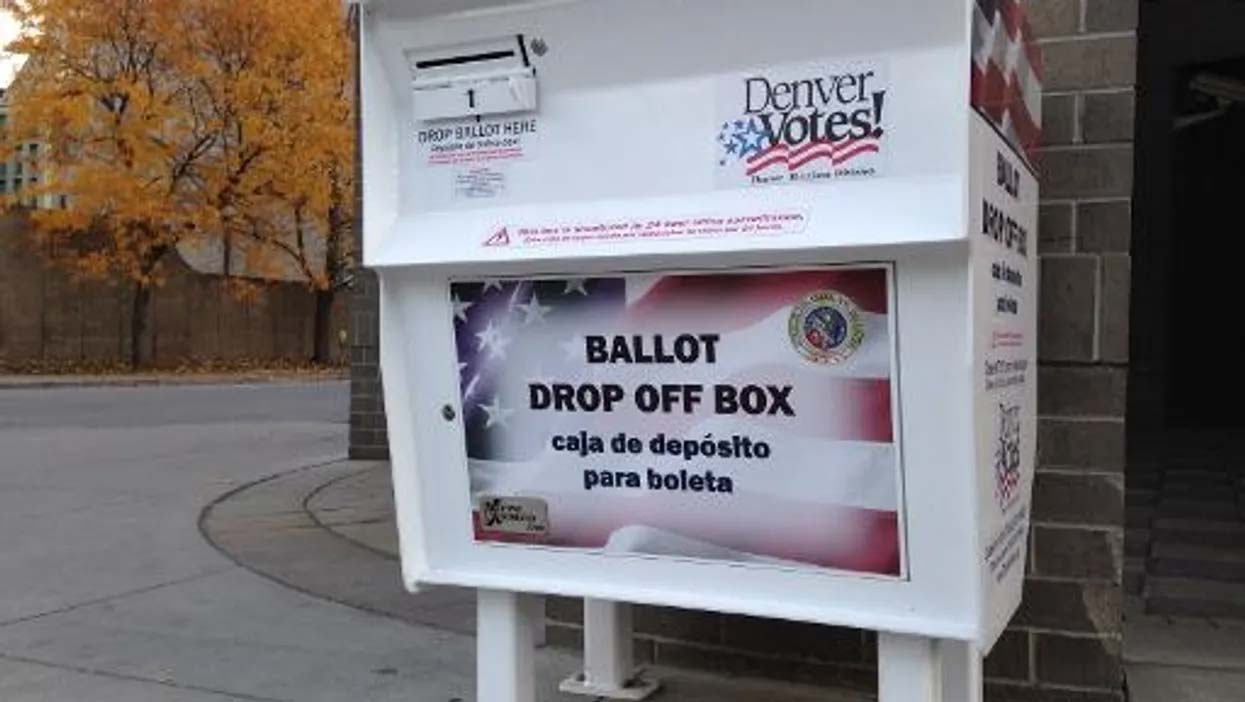 As 2020's pandemic primaries continue into mid-July, there has been a recurring pattern of poll worker shortages, last-minute poll closures and ensuing congestion for in-person voting—even as record numbers of voters cast mailed-out ballots in those same states.
Yet one relatively inexpensive countermeasure has not yet been widely used to smooth polling place voting, at least not yet, due to a mix of administrative hurdles and partisan obstruction. That remedy is drop boxes—akin to mailboxes—that can safely and securely accept and hold hundreds to several thousand ballot envelopes.
"We do think that states should be deploying more of these," said Matthew Weil, director of the Election Project at Washington's Bipartisan Policy Center. "It is a good policy solution, even in the best of times. It could be even more impactful now during the pandemic."
"They are especially important in states that require mail ballots to be at election offices by close of polls, and states that do not pay for return postage," said Hillary Hall, senior adviser to state and local election officials at the National Vote at Home Institute, which recommends one box for every 10,000 to 20,000 voters.
Recent and upcoming primaries are illustrative. In Texas's low-turnout July 14 primary runoff, there were few positive notes about the in-person voting experience, according to the election protection briefing that day by the Lawyers' Committee for Civil Rights Under Law.
"Despite countless letters and meetings with civic groups warning election administrators about poll worker shortages, very few counties have adequately prepared for this inevitability, and the state took no efforts to help," said Mimi Marziani, Texas Civil Rights Project president, whose opening remarks at the briefing noted last-minute poll closures in San Antonio, Fort Worth—"all in communities of color."
"All due to a completely foreseeable lack of poll workers," she said, noting 68,000 Texans were diagnosed with the virus between July 2 and the July 14 election. "Instead of dealing with it, the governor exempted polling places from mask rules."
One exception was Harris County, where Houston is, and "where officials have expanded vote-by-mail drop off locations throughout the county for the first time," she said. "For the most part, you are seeing in our big urban counties officials who are trying to do the right thing."
"The 11 locations are our headquarters and our 10 annex locations," said Harris County Clerk Chris Hollins. "The cost of this was near-zero, since we utilized staff that were already at those locations to accept the ballots."
The use of 11 drop-off sites—allowed under Texas law—didn't prevent in-person voting delays everywhere in Houston, a city of 4 million. But their use highlights an emerging trend: At the level where elections are administered, usually by county officials, there is some discretion to implement nuts-and-bolt steps like deploying drop boxes or ballot-acceptance sites. But doing so more widely in urban population centers remains a challenge.
Michigan
Consider the biggest city in the pivotal swing state of Michigan, which will hold state primaries on August 4. This July, commissioners in Wayne County—where Detroit and smaller cities are located—passed a resolution to deploy 60 drop boxes across the county to save voters time, postage and avert mail delays for the November 3 election.
After the July 4th holiday, Detroit officials arranged for two boxes to be set up for August's vote.
"At first, we had no way for voters to drop off their ballots at any locations," said Commissioner Monique Baker McCormick, D-Detroit, who sponsored the resolution to expand their use. "Now we have two. The city clerk in Detroit just installed one last week, for approximately 500,000 folks that potentially vote; that are registered to vote. We need more than just the two boxes."
The county commission resolution doesn't appropriate money—roughly $2,000 for each box. Baker McCormick was hoping that the state Bureau of Elections, which requested $11.2 million in federal CARES Act funds, would pay for it.
But Jan BenDor, a former election official who heads the Michigan Election Reform Alliance (MERA), said that the state's Bureau of Elections has been offering to use CARES Act funding to pay for one drop box for each of Michigan's 1,500-plus election jurisdictions. That approach sounds equitable, but in practice she said it helps white rural areas and hurts black cities.
"This creates massive inequity for Detroit's 480,000 majority Black voters," BenDor's press release said. "By contrast, the combined 480,000 registered voters in Michigan's smallest jurisdictions will receive a combined 624 drop boxes… There are 137 jurisdictions with fewer than 500 registered voters."
"Detroit's Black population has been disproportionately harmed by COVID-19," she said. "Providing enough drop boxes to all Black voters in the City of Detroit a safe, contactless option to vote absentee, is a matter of fairness as well as public health."
Just as the resolution by Wayne County Commissioners was part of an ongoing political process, where it offers guidance but the county's municipal governments ultimately will decide what to do—how many drop boxes are sought and applying for the subsidies—Tracy Wimmer, director of media relations for Michigan Secretary of State Jocelyn Benson, a Democrat, said the state's use and allocation of CARES Act funds is also a layered and evolving process.
"Currently the Bureau of Elections is doing a number of things through $2 million of the CARES funding Michigan was allocated to provide election-related equipment to jurisdictions, including offering every jurisdiction a drop box for November, though part of that allocation also allows for jurisdictions to purchase more drop boxes if they want," Wimmer said via email.
"While that may seem to be more advantageous to rural areas, a number of other allocations of our CARES funding, including the $1.5 million in grant funding for a 50 percent match for jurisdictions to purchase things like high-speed tabulators and software, or $2.2 million for PPE [personal protective equipment], is being disproportionately utilized by areas with larger populations," she continued. "This is all to say that the 'advantages' balance each other out, and the Bureau has been working directly with clerks to assess their needs and provide these allocations based on their feedback."
An Emerging Pattern
From a national perspective, there seems to be an emerging pattern of using the federal subsidies to buy—or deploy—one ballot drop box per election jurisdiction. That administrative decision has partisan implications, as lower-population rural counties are dominated by Republican voters while higher-population urban counties are Democratic epicenters.
The highest-profile political campaigns know this—and how drop boxes can translate into more votes being cast and counted in the fall.
In Pennsylvania on June 29, the Republican National Committee and President Trump's re-election campaign sued the Democratic Secretary of the Commonwealth, Kathy Boockvar and 67 county election boards, among other things, seeking to limit drop box deployment this fall. The federal lawsuit, among its claims about how the state illegally used drop boxes in its June 2 primary, contends that the drop boxes should be inside government buildings where they can be monitored and secured from tampering.
Outside these two swing states, however, many GOP-led states have filed reports with the U.S. Election Assistance Commission, which is administering the CARES Act funds, saying that they have or will buy drop boxes, as well as use the funds for "security and training" surrounding the boxes, and related transport and personnel costs. In other words, relying on drop boxes in a pandemic is seen by the GOP as a commonsense solution in red majority states.
"In the end [of the June 9 primary], more voters were issued ballots than for any other primary in state history," said Brian Newby, North Dakota's state election director, in its EAC report. "More than 80 percent were returned by mail or to drop boxes."
But the fine print in these reports also shows the one-box-per-jurisdiction allocation, which helps rural voters but isn't sufficient for the state's urban centers.
As Nebraska's EAC report said, "The state purchased a secure drop early ballot drop box for every county that did not have one in order for voters to securely drop off their ballot even though county offices were closed due to COVID-19."
North Dakota and Nebraska election officials did not respond to requests to comment. And in other potential swing states, such as Ohio, Republicans are seeking to limit their usage to one site per county, which is typically the county building housing the election department.
"On March 25, 2020, the Ohio General Assembly passed H.B. 197, which… requires [county election] boards to have a secure receptacle outside the office for the return of ballots," Ohio's EAC report said, referring to a GOP-drafted law that restricted voting option in its primary.
A Second Look in a Pandemic?
There is no single solution that will make voting go smoothly in the general election in an unprecedented pandemic where the volume of COVID victims keeps rising. Of the two-dozen reports filed with the EAC documenting CARES Act spending thus far, half are from Republican election officials endorsing their use.
But consider their cost and the complexity surrounding their deployment compared to the staffing of every in-person voting site—which will still be needed by people with disabilities and those who do not receive their mail-in ballot on time.
As Indiana's EAC report noted, the state spent $1.7 million on personal protective equipment for its 92 counties in its June 2 primary, including "5,000 gallons of hand sanitizer with 10,000 refillable dispenser bottles, 300,000 pairs of disposable gloves, 200,000 ear loop face masks for staff, 3,100 sneeze guards, 70,000 microfiber disinfectant cloths, and 10,000 spray bottles for voting machine sanitation… and over 26,000 posters with CDC guidelines were distributed to each county in order to keep staff mindful and vigilant."
Nonetheless, when asked if ballot drop boxes have been used widely enough thus far in 2020's pandemic primaries, the National Vote at Home Institute's Hillary Hall replied, "In short, no. Drop boxes are a critical component of a vote at home system, as they often are the primary way that voters return a ballot they've received in the mail."
But Hall said that local election officials typically have the discretion and authority to deploy drop boxes, because they are part of the infrastructure not regulated by state laws.
"Most state law is silent on the matter of using drop boxes," she said. "Absent law that specifically states how mail/absentee ballots must be returned, a jurisdiction should be allowed to use them, as well as any other tool in their toolkit to help voters cast their ballots safely this November."
On July 15, the Michigan chapter of All Voting is Local held a telephone press briefing where health professionals urged election officials to "do everything in their power" to protect the health of voters in the upcoming August 4 statewide primary and this fall. The physicians, nurses and others in the briefing called for pre-paid postage for mail-in ballots, expanded early voting and satellite polling locations and hours, and increased sanitation and personal protective equipment standards for poll workers and in-person voters."
The Michigan Election Reform Alliance's BenDor said more drop boxes would relieve the pressure on election officials and lessen congestion at the polls.
"MERA estimates that Detroit would need 30 to 40 secure, high-quality, preferably drive-up drop boxes for adequate coverage," she said. "Other large jurisdictions like the cities of Flint, Pontiac, and Inkster, would need additional drop boxes to meet the same 12,000 to 15,000 registered voters per box standard."
Also Available on: www.nationalmemo.com