Democrats Mull 2024 Primary Calendar Under Threat of GOP Meddling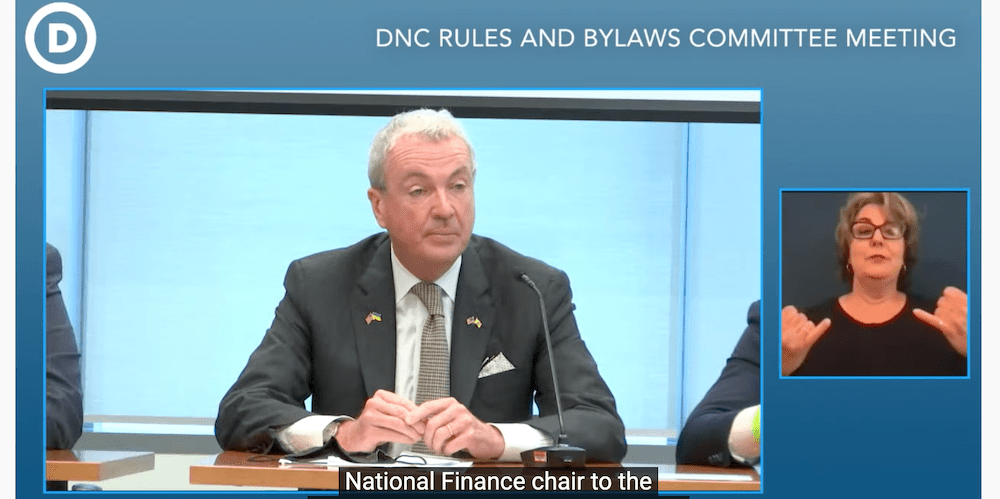 (New Jersey Gov. Phil Murphy at DNC Rules Committee meeting. Image: DNC YouTube channel)
Sixteen states vying for the early slots in 2024's presidential primary calendar pitched their case to the Democratic National Committee on Wednesday and Thursday, touting their history, diversity, economies, and electoral competitiveness in the general election.
State party officials, a governor, lt. governors, an attorney general, members of Congress, senior staff and party strategists touted their electorates, industries, heritage, and features that would propel presidential candidates and draw national scrutiny, which pleased the officials on the DNC Rules and Bylaws Committee (RBC). But the panel's leaders also probed whether Republicans in otherwise promising states would seek to impede a revised Democratic primary calendar.
"Is this a Republican who will respect the will of the voters, or a Republican who won't?" James Roosevelt, RBC co-chair, asked Nevada's presenters about their top election official, its secretary of state, as that western state sought to be 2024's first primary, which would supplant Iowa's caucuses and New Hampshire's primary.
"We are in an open contest now," replied Rebecca Lambe, one of Nevada's foremost Democratic strategists. "We're just in a place where we believe that we will have a Democratic secretary of state [after the general election this fall]."
"If you had told any of us five years ago that we would consider the election for secretary of state to be at the top of our list of important elections, we would have said you were nuts," Roosevelt replied. "And now that's true for all of us."
But a 2020 presidential election denier last week won Nevada's GOP primary for that office, raising a complication for the panel that plans to issue its 2024 nominating season schedule in August – months before that election's outcome will emerge. Other GOP complications, or their prospect, shadowed the otherwise upbeat presentations.
For example, Georgia – which helped elect Joe Biden president and cemented a Democratic Senate majority – made a strong case as the South's foremost battleground state. In addition to touting the Peach State's diverse communities, its presenters, led by state party chair and Rep. Nikema Williams, noted that Georgia's statewide elections could not be won without appealing to urban, suburban, and rural voters together.
But its top election official is currently a Republican, Secretary of State Brad Raffensperger, who has the authority to set 2024's primary's date and may not cooperate with the DNC. Moreover, since 2020, Georgia's GOP-run legislature has passed several laws restricting voting options and unseating Democratic election officials in blue epicenters.
"I don't think I have to tell you about the intensity of the other side because of what you have been able to do in the past," said Yvette Lewis, RBC member and Maryland Democratic Party chair. "And that's what concerns me about moving forward."
New Hampshire, surprisingly, has similar complications. Bill Gardner, its longtime secretary of state, retired in 2022 after serving for more than four decades. Its legislature, which appointed a Republican successor, broke with past practice of appointing a Democratic deputy. The GOP legislature also has added paperwork requirements to Election Day voter registration, which is its latest effort to discourage college students from voting.
In the case of New Hampshire, which, like Iowa, has been criticized by some DNC leadership for being too white, rural, and out-of-step with national demographic trends, its legislature could complicate any effort by the DNC to supplant its first-in-the-nation primary, which is required under a state law. Its Democratic Party leadership also opposed losing its prized slot – and said so.
"I've been a very proud Democrat, but I'm a prouder Granite-stater," said Ray Buckley, New Hampshire Democratic Party chair, when asked how the party would "handle" not being the first primary. "The state law isn't something that the people of New Hampshire would allow to be changed." Moments later, he added, "We don't have the power to tell the secretary of state not to schedule the primary."
"I think it would be very detrimental on the Senate race [where Democratic Sen. Maggie Hassan is seeking re-election this year], the congressional races, and on all of the down-ballot races because the Republican Party is already teeing up to blame Democrats," said Sen. Jeanne Shaheen (D-NH), after a presentation emphasizing the state's legacy and increased diversity. "We have been able to win consistently because we continue to engage with voters, and because those voters are so engaged.
"Iowa's reaction was even blunter. RBC member Scott Brennan, who was among its presenters, told the panel that Iowa would hold a party-run contest in 2024 where participants would cast mailed-out ballots. The votes would be counted on the same day as it convened meetings to appoint delegates to the process' next stage: county conventions. That scheme was still a "caucus" under Iowa law, he said, which led to RBC questions whether that process differed from a government-run election, and conflicted with New Hampshire's primary.
"We intend to remain first," Brennan said, when asked by Roosevelt what would happen if it was not allowed to hold the first caucus.
Other states, meanwhile, eagerly sought to be their region's early contest and lacked similar complications. In the Midwest, Minnesota and Michigan gave strong presentations to replace Iowa. Minnesota, which, for years has had the nation's highest voter turnout, emphasized its ethnic diversity, which was spread across urban and rural areas. Its secretary of state, Democrat Steve Simon, told the RBC that Minnesota's Republicans – from ex-governors and senators to its Chamber of Commerce – would support legislation to authorize and earlier primary. For their part, Michigan's presenters emphasized its racial and economic diversity, and also said that they privately had been getting assurances of cooperation from Republicans on legislation to move up the primary.
"Michigan Democrats and Republicans have a proven track record of working together when it matters," said Rep. Debbie Dingell (D-MI) "And in Michigan, everybody knows that this matters."
New Jersey, in a presentation led by Gov. Phil Murphy, a former top DNC officer, made much the same pitch. His state is not only ethnically and economically diverse, with liberal voting laws that have boosted participation, but as governor, he emphasized that he appoints the secretary of state and attorney general.
"We will not let you down," Murphy said. "If you chose us to go early, you will look back on that decision and say, 'You know what, we made the right decision. These folks are in it for the right reasons. They view the party the right way. They've got a reliable electoral system. There will be no noise around secretaries of state or attorneys general."