Election Officials Start Pushing Back on Election-Denying Midterm Claims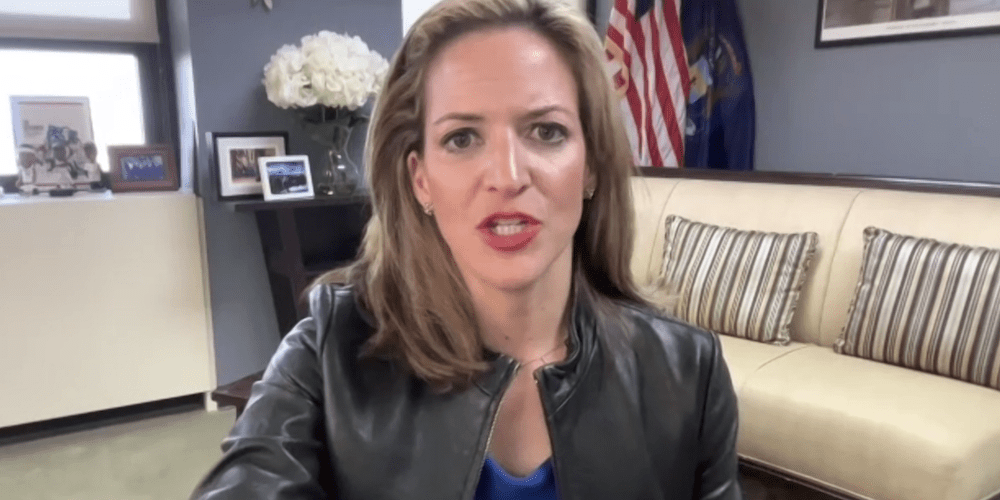 (Michigan Secretary of State Jocelyn Benson. Image via zoom.)
Battleground state election officials said they are more prepared to counter disruptions and disinformation in 2022's general election than they were during 2020's presidential election.
But in states where counting large numbers of mailed-out ballots will not begin until Election Day and possibly take several days, the officials are bracing for one 2020's biggest falsehoods to resurface – the claim from Trump Republicans that candidates who were ahead by midnight on Election Day have won – even though the counting of ballots is unfinished.
"Unfortunately, because of the way Arizona law is written, we're not going to be in a position to declare unofficial results on election night," said Bill Gates, a Republican and chairman of the board of supervisors in Maricopa County, Arizona, where greater Phoenix and 62 percent of Arizona's residents live. "We have over 100,000 [mail] early ballots that will be dropped off on Election Day. So it will take us several days to process those."
That scenario was one possible disruption that top officials were anticipating and trying to ward off or minimize its impact.
"We know there are potentially efforts afoot to undermine or interfere with the security of our elections or simply the smoothness and sanctity of polling place operations on Election Day," said Michigan Secretary of State Jocelyn Benson, a Democrat "We are more than ready to handle those."
Their comments came at a November 3 briefing hosted by the non-profit, non-partisan Center for Election Innovation and Research (CEIR) and are part of an effort by election officials to set public expectations about the midterm elections.
"One of the main messages that we are stressing with people is for those of you who want to try and intend to disrupt on Election Day and beyond as the counting continues, we're going to push back very strongly," said Gates.
Benson and Gates were joined by Georgia Secretary of State Brad Raffensperger, a Republican. They all cited different scenarios where the official results could be delayed and create vacuums that would invite disinformation.
For example, Benson said that she expected that Michigan's Board of State Canvassers, which finalizes all statewide results and has two Democratic and two Republican members, likely will be deadlocked and not act. That delay will prompt litigation, she said, and would invite attacks from Trump Republicans.
"We know the strategy is to use that time… to sow seeds of doubt and try to delegitimize the election," Benson said. "We want to minimize that false narrative and really just emphasize what the court is going to certify."
David Becker, CEIR executive director, noted that states have varying timetables, deadlines and protocols for finalizing their election results.
"The certification is not an opportunity for partisans to decide they don't like the outcome of an election and refuse to give it legal effect," he said. "Just like the January 6 joint session [of Congress] is not an opportunity for partisans to decide they don't like the outcome of a [presidential] election and to challenge the will of the voters."
Further upstream in the process, when mailed-out ballots cast by upwards of one-third of voters are being received and counted, is another obvious target. Two states with races of national significance – Pennsylvania and Wisconsin – do not start processing these ballots until Election Day.
According to the National Vote at Home Institute, a nonprofit that helps local and state officials conduct mail-based elections, of November 2, nearly 906,000 mail ballots had been returned in Pennsylvania. In Wisconsin, nearly 497,000 ballots had been received. In Michigan, which can start processing its ballots two days before Election Day, 1.14 million mailed-out ballots had been returned.
"That [timetable] is going to create an environment where election deniers can spread disinformation and enrage their supporters if they think they're losing," said Becker. "But I'll also point out that states that do a very good job of quickly counting ballots [such as Arizona and Florida] are still going to be susceptible, because, as we've seen, election deniers aren't solely motivated by the [vote-count] margins. They're motivated solely by the outcomes."