In Nevada, Trump Republicans Attack Veteran GOP Clerks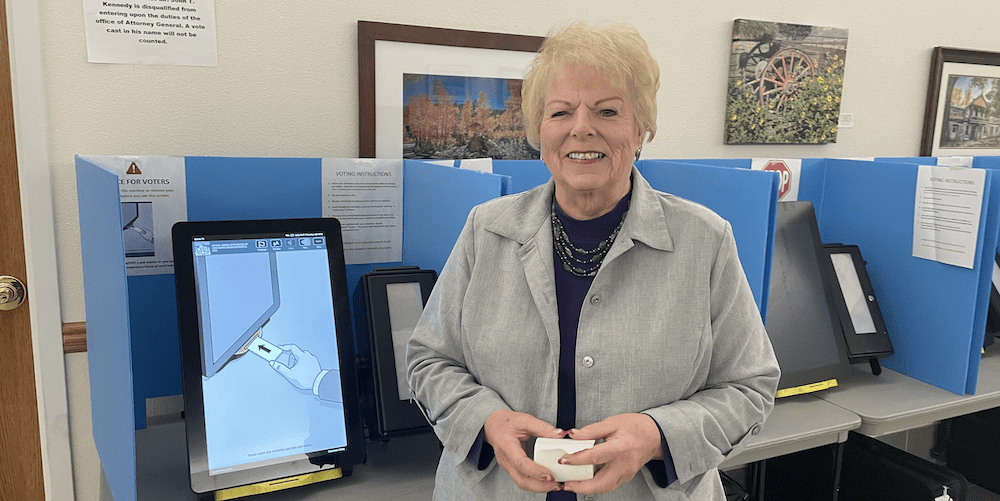 (Lyon County Clerk Nikki Bryan. Photograph by Steven Rosenfeld)
Yerrington, Nevada – For the past 24 years, Nikki Bryan – a patient, professional, plain-spoken woman – has overseen elections, the courthouse, and other municipal duties as the elected clerk in Lyons County, a ranching, retail, and manufacturing region of 60,000 people in northern Nevada east of Lake Tahoe.
As Bryan stood before the early voting site her staff had set up in the Lyon County Administrative Center's foyer, with voting stations carefully placed below artwork celebrating the county's rural culture, her voice had a touch of resignation.
Like more than half of Nevada's county election officials since the 2020 who have resigned or decided not to run for re-election, Bryan is reluctantly retiring. There are many reasons, starting with 2021 election reforms that have increased the workload – by mailing every registered voter a ballot – and drawn criticism from voters upset that some traditional polling places had closed.
But the main reason, by far, was that local Republicans she has known for years, who supported Donald Trump and believed the 2020 election was stolen, have incessantly attacked Bryan, a Republican, on a daily basis – even after Trump beat Joe Biden two-to-one in Lyon County and 75 percent of the voters turned out.
"I don't know what they want," Bryan said. "I've done everything that I can do, and everything that I can think to do, to make everybody happy and it's just not happening. There's so much anger and so much distrust and so much rhetoric of things that are absolutely not true."
Local Republicans not only believed lies that they heard from Trump and on pro-Trump media more than Bryan, a local official they knew and had re-elected for 20 years, but the lies have become articles of faith.
"People hear that [the election was stolen] and I guess they believe it because they've heard it over and over and over from multiple people," Bryan said. "And I think at this point it's not really lies. I mean, it is lies. It started with lies. But then when people believe it. They absolutely with all their soul believe there was fraud and all of that, that makes it difficult for us to try to keep the confidence in elections."
Bryan, after nearly three and none-half decades working in the county, will retire and return to raising miniature horses, llamas, goats, and sheep on her two-and-one-half acres, focus on photography, be with her family and travel.
The traumatic close of her career is not unique. In central Nevada's Nye County, Clerk Sandra Merlino retired this summer after 20 years in office after her county commissioners, led by Trump Republicans, wanted Merlino to hand count ballots, which she opposed. In Washoe County, where Reno the state's second largest city is located, Registrar Deanna Spikula resigned after receiving death threats.
Even Nevada's Republican Secretary of State, Barbara Cegavske, was censured by the Nevada Republican Party Central Committee in 2021 because she investigated Trump Republicans' claims and found no evidence of voter fraud in 2020.
"Regrettably, members of my own political party have decided to censure me simply because they are disappointed with the outcome of the 2020 election," Cegavske said. "My job is to carry out the duties of my office as enacted by the Nevada Legislature, not carry water for the state GOP or put my thumb on the scale of democracy. Unfortunately, members of my own party continue to believe the 2020 general election was wrought with fraud – and that somehow I had a part in it – despite a complete lack of evidence to support that belief."
The appointees replacing the outgoing county clerks in Nevada's Republican-majority rural counties include several 2020 election deniers. Perhaps the most eyebrow-raising example is Storey County's Jim Hindle, who in 2020 signed forged Electoral College certificates in an attempt to certify Nevada's votes for Trump.
In 2020, Biden won Nevada by more than 33,000 votes. Hindle, who is overseeing Storey County's 2022 general election, is expected to be elected on November 8.
National Exodus of Experienced Clerks
Nationwide, sizable numbers of experienced election officials are leaving the profession, according to a national survey of local election officials by the Reed College's Elections & Voting Center and the Democracy Fund, a grant-maker and voting policy hub, released on November 2.
"Among the 2022 survey participants, close to one third of the election officials are eligible to retire before the 2024 election—and 39 percent of those eligible plan to do so," it said. The study found increased workloads in rural counties with small staffs were a factor, but also cited "abuse, harassment, or threats."
In a Wednesday press briefing, Reed College's Paul Gronke said that 26 percent of officials had experienced a "confrontation in the workplace," "18 percent had reported "verbal or physical abuse," and 14 percent had experienced "a confrontation in a public place… about what happened in your work."
Tammy Patrick, a former Arizona election official who is a senior advisor to the Democracy Fund, recounted what one local election director told her during the research. She said, "I used to be the pillar of my community. I would walk down the street. Everybody knew me… and now I am the pariah, because of what they heard and what they believe, that I personally have abdicated my duties and undermined and stole the election."
Patrick said she was hearing from many local officials who were determined to stay on. But there were many who simply had enough.
"There are some that are doubling down and they're like, 'Not on my watch. I am not abandoning my post,'" she said. "Whereas there are others that said, 'You what, I didn't sign on for this.' 'I didn't sign on for my kids to get followed home from school.' 'I didn't sign on for my voice mail or answering machine at home to be full of vitriol.' 'I didn't sign on for my staff to be breaking down in the office because of the way they're being treated.' 'I didn't sign on for our local law enforcement, in some instances, to say, "well I agree with the protesters." I agree with the individuals who are storming your office.'"
The survey found that local election officials who self-identified as Republicans, Independents, and Democrats all said that they had been targeted, with the most populous jurisdictions receiving the most threats.
Internecine Distrust in Nevada
Every state is a political microcosm. In Nevada, what stands out is that even as its rural counties have Republican-led governments, many Trump Republicans have not relented in distrusting the fellow Republicans running their elections.
"They're more willing to believe those statements that are coming across newscasts or podcasts or through social media than they are the person that's been in their community and committed to the process for years," said Humboldt County Clerk Tami Rae Spero, a Republican, who has run elections in this northern county since 2003 and worked in the clerk's office for a decade before that.
"Many people [Trump Republicans] are between a rock and hard place," she said. "They've heard so much about the [in-person voting] equipment that they don't want to use it. But they don't want to vote the mail-in ballot either."
It was discouraging that many doubters did not understand how elections were run, Spero said, including recent changes making it easier to vote – such as using a mailed-out ballot in a remote county where many people work in the region's mines. Many people do not know how elections are run and are suspicious of what they don't understand, she said, which translates into cynicism.
"The constant or virtually constant pushback from the public about something you're committed to, and that you've sworn to uphold the law, has been trying," she said. "But I have made the choice to run again. I did it because I believe that I made a commitment to the voters of this county when I first ran not to leave until I knew the job was done."
Spero is likely to be re-elected as Humboldt County is deeply Republican. But she predicts that many voters will not believe 2022's state and congressional results.
"Actually, the majority of our local races were determined in the primary," she said. "But at the state level, especially with the type of secretary of state race we have this time [where the GOP nominee, Jim Marchant, is a 2020 election denier], I have the full expectation that there will not be an acceptance of whatever happens either way."