How the Coronavirus Has Created New Battlefronts Over Voting Rights in Battleground States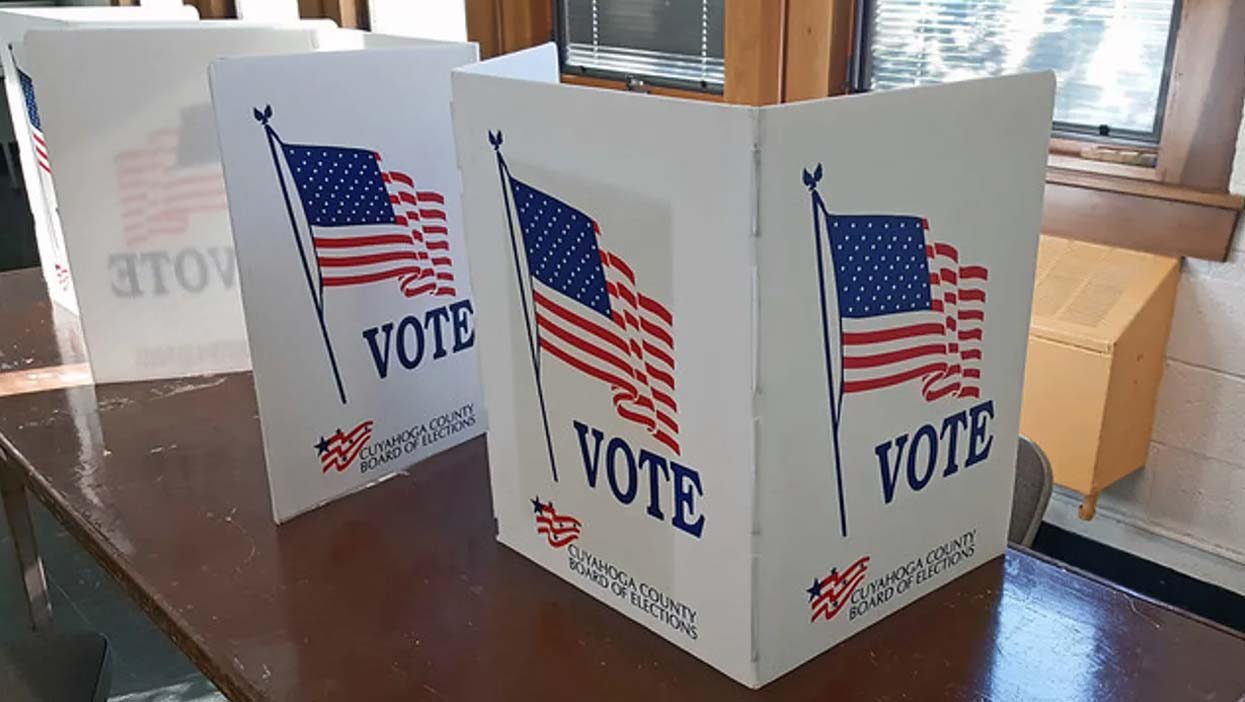 When the 2020 election season resumes in Ohio on April 28 and continues in nearly half of the states through July, Americans will see if new voting regimens instituted in response to the pandemic will help voters or preview state-by-state partisan battles over voter turnout.
Already there are troubling signs that the past decade's voter suppression battles will continue and accelerate in battleground states. Wisconsin's April 7 primary, the month's only presidential contest that was not postponed by the pandemic, is exhibit A. However, as 24 states and territories will hold primaries and caucuses in coming weeks, and other elections this summer, Republicans in some states are already tilting the rules and means of voting to favor their base in the fall.
"We know that primaries help us see voter suppression in early forms, because voter suppression is systemic," said Stacey Abrams, founder of Fair Fight Action, a voting rights group now working in 18 battleground states. "What we have seen over the past few months is it is happening in almost every state where we are working."
The partisan moves come as states like Ohio, Georgia, Nevada and others are reconfiguring voting options in the pandemic. The emerging policies include uneven outreach to voters about voting by mail, hurdles to obtain an absentee ballot, and few opportunities for in-person voting. These changes and others, including whether voters can fix problems if ballots are rejected, break from long-held voting habits. Taken together, they will be deeply disruptive and disenfranchising, according to advocates like Abrams and Democratic Party attorneys whose teams have begun to challenge them in court.
"What we are seeing is an unprecedented effort to prevent people from voting," said Marc Elias, the Democratic National Committee's top voting rights lawyer. "This predates [COVID-19]. We know that for the last several years, we have seen legislature after legislature controlled by Republicans simply make voting harder. And they don't make voting harder for everybody. They make voting harder for minority voters and young voters."
Elias has fought GOP-led voter suppression for decades. In a Friday media briefing with Abrams, he cited prior federal court rulings against Republicans—throwing out laws in North Carolina that targeted blacks with "surgical precision" and laws in Arizona that he said were driven by "racist tropes" to stop community groups from helping Native Americans to vote.
What unfolded in early April in Wisconsin after the pandemic broke was as dark as any of these past power plays, he said.
Wisconsin's Warning
In Wisconsin, Republican legislators and the Republican National Committee, aided by conservative majorities on the highest state and federal courts, ignored Democrats' concerns about public health, voting rights and election logistics. The fights between a Democratic governor and GOP-led legislature over postponing the election, last-minute court rulings ordering it to continue, and postal service delays with delivering ballots impacted turnout—even as hundreds of thousands of people voted by mail for the first time. Thousands more voters braved health risks and waited for hours to vote in person, as many polls were closed due to shortages of poll workers, especially in communities of color.
The starkest figure attesting to the ensuing voter suppression was that 1.3 million voters across the state had requested absentee ballots, but only 1.1 million ballots were returned by an April 13 deadline. The ballots had to be postmarked by April 7 to be counted. In 2016, Donald Trump beat Hillary Clinton by 22,748 votes in Wisconsin. Trump's margin was less than an eighth of the 197,489 voters who this April wanted, but failed, to vote absentee.
Before the pandemic, a senior Trump campaign lawyer declared that Trump would not be reelected without winning Wisconsin in November.
"Wisconsin is the tipping point to 270 Electoral College votes," Justin Clark told a Republican National Lawyers Association meeting in the state last November, where he also said Republicans have "always been" the (modern) party of voter suppression. "If we don't win Wisconsin, he's done."
More recently, the Republican National Committee and Trump campaign said that they would allocate $10 million to fight Democrats on voting rights in 2020.
Ironically, the effort by Wisconsin and national Republicans to tilt the April 7 election partly failed, when a wide majority of voters elected a liberal justice to the Wisconsin Supreme Court. The reason that Republican legislators resisted postponing the election was to try to finesse a court majority, Wisconsin's leading conservative pundit explained before the vote.
What happened in Wisconsin has many takeaways. Among those, it suggests that states with Democratic governors and Republican legislatures will disagree on the means and rules for voting in 2020—even in a pandemic.
That tension can be seen in Pennsylvania, North Carolina, and Kentucky, where decisions have yet to be made about the extent to which the states will shift to voting early or voting by mail in upcoming primaries, and the details of how those elections will be run.
In Nevada, tensions between Democrats (including the governor) and the Republican secretary of state over voter outreach and voting options in its June primary led Elias to sue on April 16 on behalf of state and national Democrats.
Republican Secretary of State Barbara Cegavske wanted to send absentee ballot applications only to longtime voters and restrict in-person voting to one site in each county—including Las Vegas. The suit says those factors, atop state laws that ban volunteers from helping others to vote and allowing officials to disqualify ballots based on how signatures look, would "cause extensive disenfranchisement" on par with Wisconsin.
"Eighty-seven percent of the population of the state will have two voting locations," said Elias, referring to Las Vegas and Reno. "In addition, when we talk about vote by mail and automatic vote by mail, the question is, 'Who gets a ballot?' 'Who are those ballots automatically mailed to?' So in the case of Nevada, they're sending ballots only to what they refer to as 'active' voters. In Nevada, because it is a highly transient population… there were 50,000 'inactive' voters in 2016 and 2018, who in fact voted. So those 50,000 voters wouldn't get a ballot."
Wisconsin's primary was a mess. But it revealed little about the best ways to run the primaries that will soon be held and elections this summer and fall. Before the pandemic delayed spring primaries, some were likely to be chaotic anyway for reasons that have nothing to do with partisan voter suppression.
In states like Pennsylvania that have yet to hold primaries or caucuses, election officials planned to debut new voting technology. Earlier this year, introducing new systems in states such as Iowa, Nevada, South Carolina and California contributed to hours-long waits for voters, scrambled registration records, voting machinery failures and uncertain outcomes. But technical snafus were not the only cause.
Another factor was voters' habits. In Los Angeles, the nation's largest election district, officials assumed that voters would take advantage of 10 days of newly instituted early voting. But most L.A. voters did not, which contributed to long delays on Super Tuesday. People tend to vote in the ways that they are familiar with—whether early, at polls, by mail, etc. That was another reason why the Democrats sued Nevada, Elias said.
"In Nevada, for example, 93 percent of the population voted in person in the last election," he said. "This is a state with a strong culture of in-person voting. They have in-person vote-anywhere centers. Throughout counties, people vote early over an extended early voting period… So, against that backdrop, the Republican secretary of state announced that they were going to close all but one polling location in every county."
Since the pandemic broke, the nationwide response—by governors, secretaries of state, state election directors, election boards, and county officials—has generally been to look to more absentee voting and less in-person voting. While the state-by-state details of how that will work are starting to surface, some trends are emerging.
Upcoming Primaries and Elections
States with histories of partisan voting rights fights are still seeing this tension. These states are not necessarily the presidential swing states, but increasingly purple states like Texas and Georgia. Even though Republicans hold the most powerful state posts, not all high-ranking GOP officials agree about how far election managers should go to facilitate voting by mail.
In Georgia, where there will be a contested Democratic U.S. Senate primary in June, the Republican Secretary of State Brad Raffensperger is sending absentee ballot applications to 6.9 million "active voters," meaning any resident who has voted or contacted the state in the past five years. But 300,000 infrequent but still registered voters will not get one. Raffensperger's decision drew criticism from both sides of the aisle. (Republican secretaries in Iowa and Nevada also are only sending absentee ballot applications to active voters.)
Georgia's House Speaker told a radio host that Republicans could not win in high turnout elections—criticizing Raffensperger, who replied that this outreach was only for the primary. Days later, the secretary created an absentee ballot fraud task force, which Abrams said was intended to strike fear in voters. A decade ago, the state's current governor, ex-Secretary of State Brain Kemp, "put 12 people in jail, facing 120 felonies, on false accusations of absentee ballot fraud," Abrams said.
"That [task force] was designed to have a chilling effect on participation," Abrams said. "We know that heading into this election, it is not simply the actions that are taken at the ballot box that will stop people from voting; it's also creating a miasma of fear that tries… to target black, Latino, Native American voters, but also young voters, and scare people to not take advantage of these opportunities" to vote.
Georgia was not the only state with Republican disagreements.
In Texas, where negotiations between the state Democratic Party and Republicans broke down over the details of contacting voters and obtaining an absentee ballot, the Republican attorney general said that he did not consider the virus as an excuse to obtain an absentee ballot. The Republican secretary of state wanted to accept applications from any registered voter.
One-third of states require voters to declare an excuse to obtain an absentee ballot. Since March, however, many states have suspended that rule. This includes states where Republicans have governed for years, but these are not swing states. In these instances, the response to the pandemic has not followed the partisan cliché, where Republicans seek a smaller electorate while Democrats seek the opposite.
According to a detailed tally by Ballotpedia.org, at least a dozen top Republican state officials have used their authority to expand absentee voting in upcoming elections, with some saying that those steps may continue next fall. They are ignoring Trump's rants about voter fraud and the need to suppress Democratic voting blocs—at least in their less nationally competitive states.
"There are Republicans who are quietly, with little fanfare and appreciation from liberals, who are very quietly ignoring what the president has been tweeting and are doing the right thing—because it is right for their voters," said David Becker, executive director of the nonprofit Center for Election Innovation and Research and a former Department of Justice Voting Section attorney.
"Are they doing everything that liberals want them to do? Absolutely not," he said. "Is it reasonable to expect the secretary of state, of the state that voted with the largest margin for Trump, West Virginia, to be a liberal Democrat? No. But is he [Mac Warner] making things worse or better with his actions with regard to what's going on with the coronavirus? The answer is unquestionably better."
Warner, like Republican secretaries of state or governors in Georgia, Idaho, Iowa, Maryland, Massachusetts, Nebraska, Nevada, New Hampshire, Ohio, South Dakota, North Dakota and Vermont, has taken steps since mid-March to expand voting by mail, according to Ballotpedia. West Virginia, like half of these states, will send any voter an absentee application. Michigan, with Democratic statewide officeholders and a Republican-majority legislature, is taking the same approach for its upcoming elections.
Ohio: The Next Red Flag
Ironically, 2020's next primary—Ohio on April 28—has also fallen victim to partisan power plays—inside the state GOP and with Democrats.
After Republican Gov. Mike DeWine and Secretary of State Frank LaRose won a court ruling to delay the March 17 primary due to the pandemic, LaRose wanted to hold it on June 2 to have more time to prepare for voting by mail. But Ohio's Republican-majority legislature pre-empted LaRose.
It passed a bill to hold the primary on April 28. The legislation also did not extend voter registration deadlines and required voters to apply for an absentee ballot. Additionally, it said that only voters with disabilities or who could not receive mail could vote in person. Those conditions led a coalition of voting rights groups to sue, claiming that multitudes "of Ohioans will not get to vote through no fault of their own."
Their lawsuit demanded the state extend voter registration, mail every voter a ballot, pay for the return postage, allow voters who do not get ballots to vote at county offices, and delay the primary. In early April, a federal court rejected the lawsuit, saying the legislature had the authority to make these changes. (The U.S. Supreme Court issued a similar ruling several days later that upheld the Wisconsin legislature's decision to hold its April 7 election.)
However, LaRose, Ohio county election officials and the civil rights groups were somewhat in agreement about what would be needed to successfully transition to voting by mail—considering that only 21 percent of Ohioans voted that way in 2018. They did not agree on all points, but all said that more planning, outreach and logistics were needed. Instead, what is likely to unfold is many voters will be frustrated or disenfranchised, as they are not used to the new rules.
"I'm really concerned about the Ohio primary on April 28 and the fact that there are no meaningful ways to vote in person," Becker said. "If they had moved it to June 2, as the secretary had requested, there would have been meaningful opportunities."
Whether 2020's remaining primaries and summer elections are deftly or clumsily managed remains to be seen. The details of how officials restructure the means and rules of voting will translate into which voters and voting blocs turn out. At best, voters will be empowered in a pandemic. But if drastic changes are imposed, the result could be state-by-state battles over voter turnout and voter suppression.
"It will be interesting to watch the upcoming primaries and see with more preparation what ends up happening," Becker said. "My guess is more people vote in person than officials expect. It's not magic that everyone just decides I'm a mail-in voter now."
Also Available on: www.nationalmemo.com