Stacey Abrams Says GOP Stole Georgia Governorship, While Florida Recounts Are Nearly Wrapped Up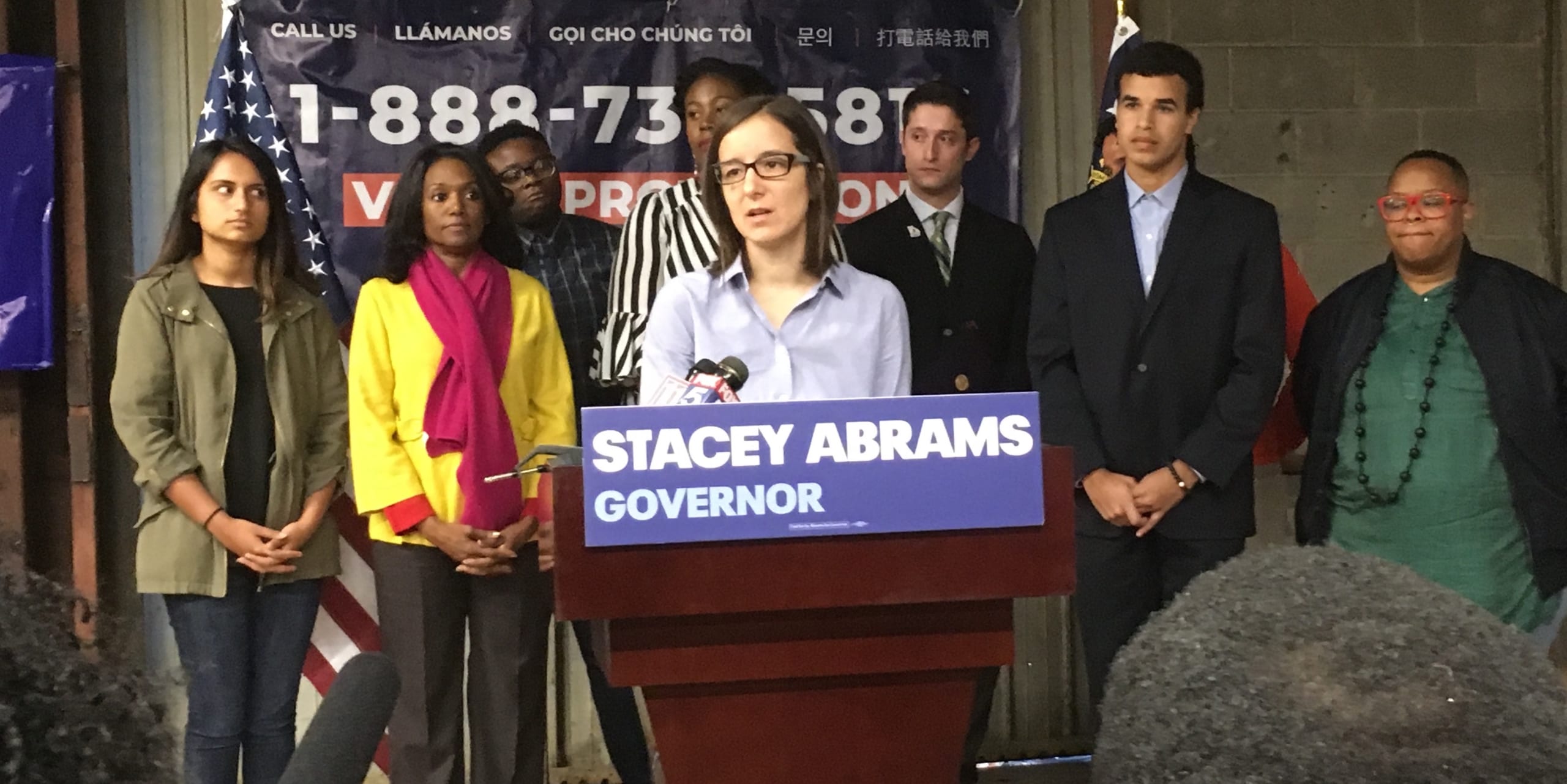 Photo / Steven Rosenfeld)
Georgia Democratic gubernatorial candidate Stacey Abrams said the former Republican Secretary of State will be the next governor, but only because he abused his office's power to suppress a multitude of Georgia voters.
"I acknowledge that former Secretary of State Brian Kemp will be certified as the victor in the 2018 gubernatorial election," she said. "But to watch an elected official who claims to represent the people in the state baldly pin his hopes for election on suppression of people's democratic right to vote has been truly appalling. So let's be clear: this is not a speech of concession."
Abrams pledged to fight against GOP-led voter suppression in her state by filing a massive federal lawsuit in coming days. She said she has run out of legal options to count more votes under the current state law, but vowed to challenge that regimen in the federal courts to "fix what is broken."
Abrams' dramatic speech capped a difficult day for Democrats. In Florida, ongoing recounts showed Democrats falling short of votes needed in races for governor and U.S. Senate. Here are summations from the two states.
Florida
On Friday, the second round in Florida's statewide recount began—most notably in the Senate race—where the Democratic incumbent, Sen. Bill Nelson, hoped to overtake the 12,500-vote lead held by Republican Gov. Rick Scott. However, as the day progressed and reports trickled in, it was clear that Nelson would not find the votes he needed. In urban areas like Orange County, where Orlando is located, only 46 more votes were awarded to Nelson, according to GOP lawyers observing the recount elsewhere.
Democrats mostly pinned their hopes on manually reviewing 31,000 ballots in Broward County where no votes were cast in the Senate race. They were hoping electronic scanners had misread ballots, rather than the county's use of a poorly designed ballot led thousands of Democrats to miss voting in the race. (Countywide, seven in 10 voters chose Nelson, the recount affirmed.)
Broward County had several congressional races. One House district had no challenger, so it was not on the November ballot. Thus, the Senate race was alone on some ballot cards. Apparently, a disproportionate number of the empty ovals, or under-votes, were on this ballot type. County officials created that layout, but the campaigns signed off on it.
Nelson has no remedy. He cannot fight for votes that were not cast. On Thursday, when the first round of the statewide recount was conducted, Democratic gubernatorial candidate Andrew Gillum did not gain enough additional votes to move to round two. Thus, the party's top two candidates, who led in pre-election polls, both appear to have lost by less than one percentage point. (Official results will be certified next week.)
Looking deeper, Republicans and Democrats observing Friday's recount had another explanation that contrasted what has been unfolding in Florida with Georgia. In Florida, Democrats did not have much of what's called a "ground game," or a sufficient grassroots effort to turn out voters. On Friday, a lawyer in Tallahassee, who saw a room filled with Democratic observers, asked, "Where were all these people last week?"
In contrast, Georgia's Abrams did have a sizeable field operation going into the November 6 election. That effort generated sufficient evidence to prompt four federal court rulings this week to count rejected ballots. That evidence has positioned Abrams to proclaim that her opponent, ex-Secretary of State Brian Kemp, abused his office as the state's top election official to run a dishonest race.
Georgia
In her speech late Friday, Abrams vowed to launch a new group, Fair Fight Georgia, that would not rest until the state's draconian voting laws were replaced by fairer and more inclusive rules and procedures.
This week has seen a half-dozen federal court rulings hold that aspects of Florida and Georgia law were unconstitutional deprivations of voting rights. While federal courts ordered both states to extend counting timetables, and to accept thousands of rejected ballots—based on how people signed their absentee or provisional ballot envelope—Georgia had the most obstacles.
Unlike Florida's Democrats, the Abrams campaign and her state party anticipated there would be barriers. They created an Election Day hotline, which they kept active for the rest of the week following Election Day. As a result, they not only received more than 10,000 phone calls, but collected those voters' information and accounts to include in their lawsuits. After the federal court rulings, the party found and ferried those voters to resolve any issue stopping their votes from being counted.
But those efforts were apparently not enough to slow or stop Kemp's ascension as governor.
Friday was the last day that Georgians whose ballots were rejected for signing issues could resolve those problems. It was also the last day, in both states, that overseas civilian and military ballots could be received and counted. After election night, Abrams was tens of thousands of votes behind Kemp in unofficial counts. So her strategy had been to find additional votes in uncounted ballots, to trigger a recount or a runoff.
As of Thursday, Abigail Collazo, Abrams' communication director, said the campaign needed 15,437 more votes to trigger a recount and 17,751 votes to trigger a runoff.
Early on Friday, the Abrams campaign upped their public criticisms of how Kemp managed an election that resulted in a catalog of voter suppression. In a new radio ad, the campaign listed some of the hurdles and barriers. In her speech, Abrams noted eyewitness accounts of voters who were not on local precinct lists and were turned away—not even given a provisional ballot.
That ad, and her speech, cited purging a million Georgians voters from the state's voter lists, voting machine shortages, electronic pollbook failures, provisional ballot shortages, lines lasting as long as five hours, "technical issues," "misinformation" and other protocols that derail voters.
The ad concluded, "This election, was your voice heard? For every voice to be heard, every vote must be counted. Share your story."
It's clear that Abrams, despite acknowledging that she will not be the next governor, is seeking more evidence to include in her next federal lawsuit.
What's Next?
The current round of vote counting in Georgia and recounting in Florida will formally conclude in the next few days—as deadlines fall for various ballot categories, followed by reporting deadlines of those county totals to state officials. In short, these hard-fought contests are winding down.
Stepping back, there will be plenty of analysis of the changing political complexions of these states—and in others such as Texas and Arizona. The legitimacy of Kemp's victory will shadow his administration, along with scrutiny of the laws and administrative rules that disenfranchised Georgia voters.
And questions about technology and procedures in Florida's machine-run recount will be raised, as many counties showed the current system was not up to handling simultaneous races. In contrast, some of the country's best voting systems—which could have quickly resolved questions about the reasons for Broward County's 31,000 Senate race under-votes—were not used. That's because their use was only authorized for audits, not for recounts.
Also Available on: www.truthdig.com