Michigan Cities Receiving Six-Figure Grants to Make Voting Go Smoother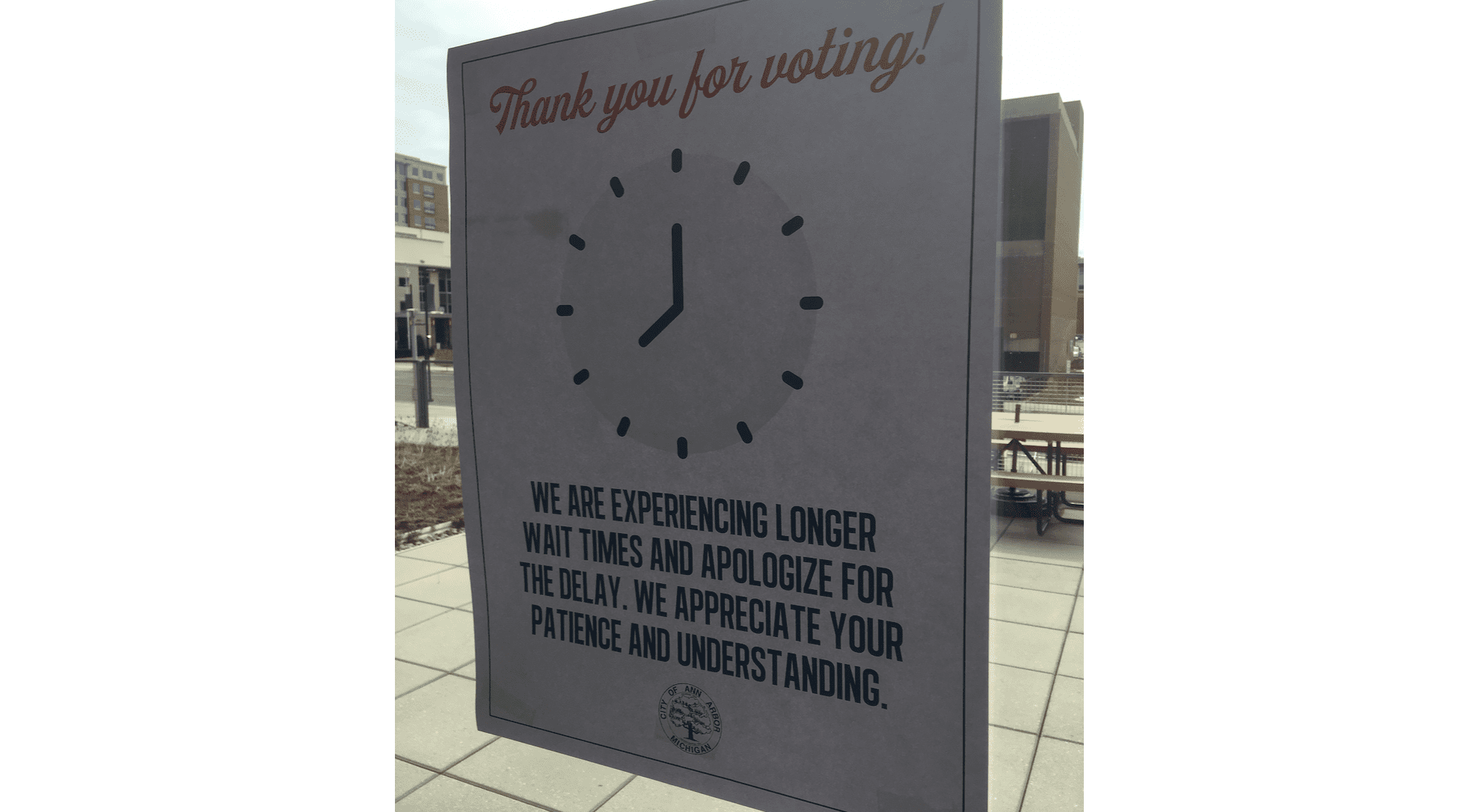 (Photo by Steven Rosenfeld)
Across Michigan, cities are being awarded hundreds of thousands of dollars in philanthropic grants to better inform voters about their options to vote this fall, assist with voting by mail or at a polling place, and to more speedily count votes in 2020's presidential election.
The city of Saginaw will receive $400,000, local TV reported, which City Clerk Janet Santos said would be used to buy new voting booths for precincts "that offer the safety and compliance and social distancing standards." The funds also would give poll workers "hazard pay" bonuses, extend election office hours until 7 PM from October 14 through Election Day, buy additional drop boxes to return absentee ballots and a faster tabulator to count those ballots.
Ann Arbor, where the University of Michigan (UM) campus is located, would receive $417,000, mlive.com reported. City Clerk Jackie Beaudry said the funds also would pay for extended office hours, drop boxes, public education materials, bonus pay and a high-speed tabulator. But the funds would also be used for pre-paid postage for absentee ballot-return envelopes and to open a satellite city clerk office.
"The money will help pay for staffing for a satellite city clerk's office at the University of Michigan Museum of Art, where UM students and others will be able to register to vote, request absentee ballots and vote on the spot in the weeks leading up to the election," the mlive.com report said. "Voter registration already has begun, and absentee voting begins Thursday, Sept. 24."
The funds are coming through two non-profits, the Center for Tech and Civic Life and Center for Election Innovation and Research, which received a commitment of $300 million on September 1 from Facebook founder and CEO Mark Zuckerberg and his wife Priscilla Chan, a physician and philanthropist. Their donation comes after Congress appropriated $400 million last winter to assist election officials, despite estimates that several billion dollars was needed to reconfigure voting systems for the rest of 2020.
As the Michigan grants underscore, the funds are bridging gaps that might impede voters, especially those using an absentee ballot for the first time due to the pandemic.
"One of the other things with the additional funding we were able to do is [printing] new [ballot return] envelopes that are going out this week to voters — we have over 30,000 requests already in — and those envelopes are postage-paid return," Beaudry said. "So, in addition to the drop boxes, those voters who've requested ballots early have the option to just drop it right back in the mailbox, and we will pick up the postage."
Flint, Michigan
In Flint, which received a $475,625 grant, the funds will be used for expanded staffing, longer election office hours, mailings to inform voters about the vote-by-mail process and other ways to vote, and strategic outreach and education campaigns, East Village Magazine reported. Its report included a link to the city's grant application, which stated the need for the funds and described common-sense steps to help voters.
"Michigan election officials typically conduct presidential elections with 25-30% of the voters casting ballots by mail and 70-75% casting them in person on Election Day," the application said. "It now appears that mail balloting may account for 65-70% of the turnout. This trend is breaking municipal election budgets [across Michigan] beginning with higher-than-expected mail turnout in the August primary that will continue through the November General Election."
"Federal CARES ACT funding does not begin to meet the need of cash-strapped municipal election budgets," it continued. "These [federal] funds disbursed by the [Michigan] Secretary of State have been used to issue August Primary mail ballots applications to all voters and to provide PPE [personal protective equipment] and equipment to election officials. Both Flint and Michigan's budgets have been hard hit by the resulting economic downturn making additional funding of the city's election preparations unlikely."
Some of the fine print in the city's application could make a big difference.
For example, some voters only applied for an absentee ballot for August's primary—not for the presidential election—and may not know that, as the state's absentee ballot application form has several boxes to check. "The best way to start the mail balloting process for voters who did not return a 'dual' application in the primary" is to mail those voters an absentee ballot application with pre-paid return postage, the city's grant application said. That mailing's cost was $11,900.
"There's a lot of informational types of things that we're doing even now, and will be doing, to better inform the voters so that they can get out to vote—however they want to vote," Flint City Clerk Inez Brown said on Thursday, September 24. "We just want everybody to know that we're here, at your service, to deliver service to you for the greater good of our community."
Approximately $51,000 will be used to buy and install eight drop boxes, related security systems and to pay for staffing to collect ballots at those locations (in addition to two drop boxes now at the city's office building). Another $230,000 will be used for several dozen temporary employees (paid $15 per hour) to answer voters' questions, prep and send absentee ballots to voters, and to review the returned ballot envelopes (to verify the voter's credentials before the ballots are removed for counting). About $82,000 of that sum will be used to buy and install a high-speed scanner to count absentee ballots, training and to have "Election Day [vendor] support."
"That particular machine is being used by other municipalities in the state of Michigan," Brown said. "It's my understanding that the machine will count approximately 120 ballots per minute, whereas the individual machines that we had before, for each individual AV [absent voter counting] board, can only count approximately 20, 25 per minute. So, I think that this [machine] will really, really help to expedite the process with the absentee ballots."
"Naturally, my staff and I are going to have to go through some training, and then we will take our workers through training as well; the leaders of our AV counting boards," Brown said. "But 120 ballots a minute compared to 25 a minute is absolutely magnificent, I would say."