Trump Knew He Lost on 2020 But Used "Big Lie" to Seize Power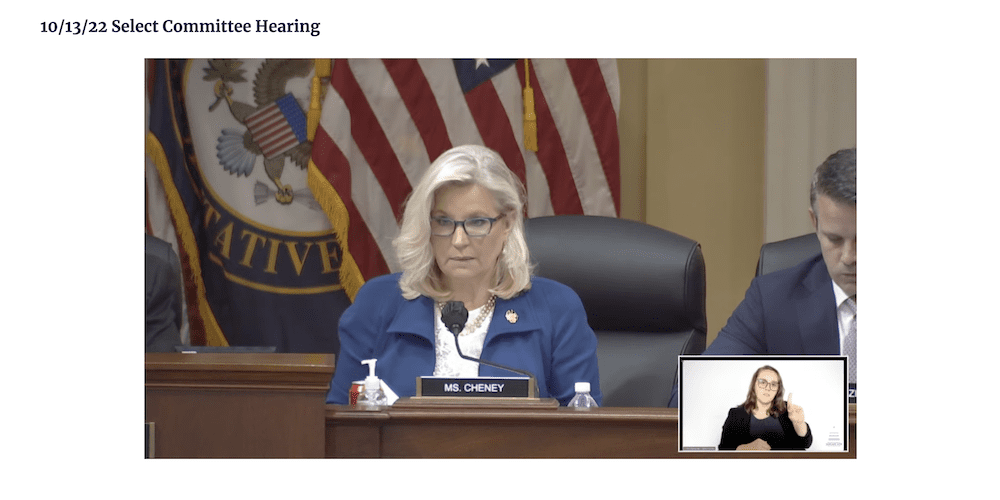 (Rep. Liz Cheney, R-WY, during Oct. 13 hearing. Credit: January6th.house.gov)
Donald Trump knew within days of voting that he lost the 2020 presidential election. But he deliberately chose to incessantly lie about a stolen election as he pushed top federal and state Republican officials to subvert the vote – which they would not do. And then Trump turned to an armed mob that he cultivated to violently storm the U.S. Capitol in an attempted coup on January 6, 2021.
The fact that Trump was repeatedly told by his campaign, White House counsel, the U.S. Attorney General, family members and others that he had lost the election – but chose to lie about the results and mislead millions of voters, including insurrectionists now being prosecuted – were among the many details in the latest session by the House Select Committee to Investigate the January 6 Attack on the U.S. Capitol.
The committee dramatically ended its October 13 meeting by unanimously voting to subpoena Trump to appear, an unexpected development as hundreds of 2020 election-denying GOP candidates are seeking state and federal office in 2022's general election on November 8.
The committee session, which also highlighted previously unreleased Secret Service records and texts showing that White House security, and other police and intelligence agencies were aware that an insurrection was planned and likely, underscores the extent to which Trump was not merely power-hungry, but knew from the immediate aftermath of voting that he had lost and was still willing to lie about it – and later prevented police agencies from stopping the rioters.
"First, as you will see, President Trump had a premeditated plan to declare that the election was fraudulent and stolen before Election Day – before he knew the Election results," said Rep. Liz Cheney, R-WY, the committee's co-chair. "Second, please recognize that Donald Trump was in a unique position – better informed about the absence of widespread election fraud than almost any other American."
[The hearing also examined Trump adviser Roger Stone's role in preparing the Trump "Big Lie" strategy and advocating violence with his allies in the proto-fascist Proud Boys and Oath Keepers organizations. The committee's scrutiny of his conduct led to Stone's meltdown in real time.]
"President Trump's own campaign experts told him that there was no evidence to support his claims," Cheney continued. "His own Justice Department appointees investigated the election fraud claims and told him, point blank, they were false. In mid-December 2020, President Trump's senior advisors told him the time had come to concede the election. Donald Trump knew the courts had ruled against him. He had all of this information but still he made the conscious choice to claim, fraudulently, that the election was stolen; to pressure state officials to change election results; to manufacture fake Electoral [College] slates; to attempt to corrupt our Department of Justice; to summon tens of thousands of supporters to Washington, knowing that they were angry, knowing that some of them were armed, he sent them to the Capitol."
Thursday's committee meeting, coming after a two-month break, was described by Rep. Bennie Thompson, D-MS, the committee chair, as a summation of their investigation's findings to date, and also as an exploration of "President Trump's state of mind."
"What did President Trump know? What was he told? What was his personal and substantial role in a multi-part plan to overturn the election," Thompson asked.
As numerous polls have shown in the 21 months since the insurrection, tens of millions of pro-Trump Republican voters believed Trump's lie that the election was stolen – taking the former president at his word. But all along, top White House staffers and a handful of others said that Trump occasionally said in private that he knew he had lost, those individuals testified under oath.
On December 11, 2020, after Trump's allies lost a lawsuit in the U.S. Supreme Court "that he regarded as his last chance of success in the courts," Rep. Adam Kinzinger, R-IL said, the president was fuming.
Texts by Secret Service officers confirmed Trump's anger and were projected on large screen behind the dais.
The panel then played a videotape excerpt of its interview with Cassidy Hutchinson, the top aide to former White House chief of staff Mark Meadows, who was with Trump and Meadows shortly afterward.
"The president was fired up about the Supreme Court decision," she testified. "The president is raging about the decision and how it's wrong… The president said something to the effect of, 'I don't want people to know we lost, Mark. This is embarrassing. Figure it out. We need to figure it out. I don't want people to know that we lost."
There were other signs that Trump knew he lost – even if he would not say so publicly, Kinzinger said, saying these were the actions of a commander in chief who knew that that he would be departing. Trump gave the military signed orders to withdraw all troops from Somalia and Afghanistan, which Gen. Mark Milley, chairman of the Joint Chiefs of Staff, told the committee would be "catastrophic" and a "debacle." (The order was not followed.)
However, in speeches, including at a rally on the Washington mall before Congress convened to ratify Joe Biden's victory in the Electoral College, Trump repeated cited debunked conspiracy theories to claim that he had been cheated in his bid for a second term.
"It happened over and over again, and our committee's report will document it," said Rep. Elaine Luria, D-VA. "Purposeful lies, made in public, directly at odds with what Donald Trump knew from unassailable sources: the Justice Department's own investigations and his own campaign. Donald Trump maliciously repeated this nonsense to a wide audience over and over again. His intent was to deceive."
Millions of Republican voters were deceived and still believe that President Biden's victory was illegitimate. More than 900 far-right militia members and radical Republicans who also believed Trump's lies and followed his orders to storm the Capitol have faced federal prosecution.
While it is an open question whether Trump will ever sit before the January 6 Committee, nearly 400 copycat 2020 election-denying GOP candidates are seeking top state and federal offices on this fall's ballots.
They, privately, may not believe Trump's lies. But they have parroted his election denying claims in their 2022 campaigns – lies that the House committee has shown that Trump knew all along were false. They want voters to believe that they are fit for office and will uphold the same constitutional oath that Trump knowingly and intentionally violated.