14 Days Out, Where Do We Stand? An Anxious Nation Waits Anxiously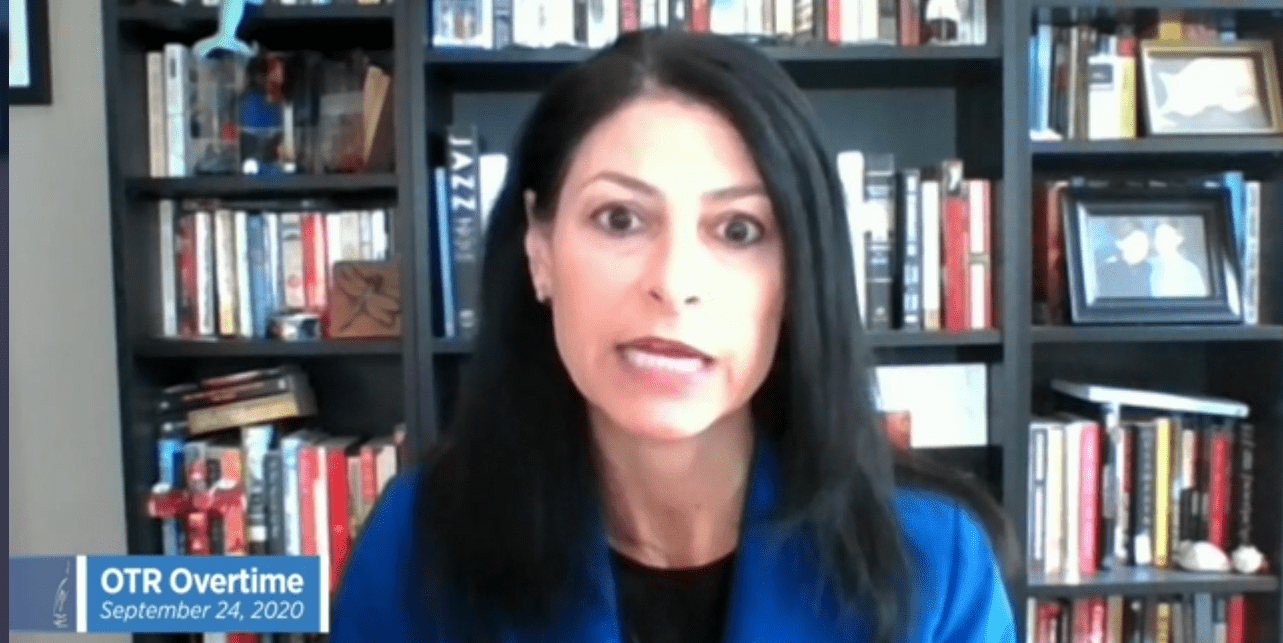 (Image / www.pbs.org)
With two weeks to go until 2020's Election Day, November 3, more people have already cast mailed-out ballots or voted early in person—37 million—than voted by absentee ballots in 2018's general election (31 million).
But such historic turnout, a possible prelude to as many as 150 million Americans voting this fall, has not been seen by either side of the aisle as reassuring. Democratic candidates, voting rights lawyers and top state government officeholders overseeing elections are worried that a wave of disinformation, led by President Trump, will fuel legal challenges to the little-known procedures surrounding voting with mailed-out ballots—and possibly rightwing violence. Meanwhile, Trump supporters, whether people interviewed at his rallies or self-styled militia leaders interviewed by TV networks, repeatedly say there is no way that Trump can lose without massive cheating by Democrats—which they could not accept (nor show proof of).
These irreconcilable perspectives could be seen in the latest episode of "The Circus," a Showtime series that interviewed partisans, law enforcement leaders, militia members and party lawyers from both camps. The most newsworthy moment arguably was when Michigan's Democratic Attorney General, Dana Nessel, who last week arrested militia members who had planned to kidnap Michigan's Democratic governor, said that she would deploy state police to maintain order at polling places if local sheriffs refused to prevent voter intimidation.
"I am hopeful that our law enforcement will understand that the ability to vote and to do so without threat of fear of your personal safety should be more important than anything else," Nessel said, when first asked about whether local law enforcement might heed Trump's call to overly police the polls—essentially siding with the voting vigilantes.
When pressed by reporter Alex Wagner, Nessel replied, "Of course, there's many levels of law enforcement. So, to me, if you have a county sheriff that seems to be sympathetic to any of these organizations, and we think they are not going to enforce the laws, then we will get somebody else who will. Michigan state police. Every place in the state of Michigan, there will be law enforcement that believe that voters need to be protected."
Nessel's declaration that she would deploy state police made headlines in Michigan. Her no-nonsense manner followed prior statements that she and Michigan Secretary of State Jocelyn Benson, another Democrat, were coordinating with colleagues across the country to hold a legitimate election while dealing with cybersecurity threats, a coronavirus pandemic and seemingly boundless political polarization.
"The states are pretty much on their own," said Jan BenDor, a former local election official in Michigan who heads the Michigan Election Reform Alliance. She praised the "almost military job preparing" that she saw Nessel undertaking to pre-empt voter intimidation. But BenDor also shook her head when assessing the doomsday scenarios that she kept seeing in media reports and during Zoom briefings.
"Most people don't know anything about election rules," BenDor lamented. Despite Trump's threats, the federal government has no authority to interfere in accepting ballots and counting votes, she said. "The Supreme Court gutted the Voting Rights Act in 2013. The Department of Justice has even less power," she said, exasperated. When it came to Trump's threat to deploy an army of poll watchers, she said people cannot just show up and assume that role. There's a process to be credentialed that must be followed and election challenges are limited in scope. And when it came to post-Election litigation, unless a recount was triggered, BenDor said that the losing side had to show evidence of stolen votes that could alter the outcome—not cite small-scale procedural errors or machinery malfunctions.
"How do we have voters trust our election system," she asked, when they don't know about these kinds of details? The absence of voters' knowledge was contributing to the staying power of false claims, disinformation about the process and suspicion about legitimate outcomes, she said. The result was that people counting down to Election Day were seizing upon so many scenarios, threats, remedies and states of alarm that were unlikely or not factual. Voters would soon see how methodical—and repetitive—running elections was, BenDor predicted, even as she and others sought to improve the process (such as MERA's early push for absentee ballot drop boxes; 1,000 will be used across her state).
Where do we stand two weeks out from Election Day? Half or more of 2020's voters are likely to vote via mailed-out ballots. (Nearly 84 million ballots have been sent out.) The federal courts are weighing in on when ballots must be returned. In Wisconsin, Florida, Arizona, Colorado and Georgia, there are no post-Election Day extensions—meaning, among other things, that the results from those states will come quicker. In Pennsylvania and Virginia, ballots postmarked by Election Day can arrive by mail up to three days later on November 6, which means that those states' results will take longer. In Iowa, the return deadline is November 9. In Minnesota, it's November 10. In North Carolina, it's November 12. Those varying return deadlines probably mean that the outcome in some races may be known quickly, such as for the White House, but more slowly for others, such as for the U.S. Senate.
When it comes to the presidential election, as of October 20, 2020, 270towin.com projected that Joe Biden has 290 Electoral College votes and Trump has 163 Electoral College votes. If you took Pennsylvania's 20 Electoral College away from Biden's tally—because it will take longer to count its votes given its extended mail-in ballot return deadline—that puts Biden at 270. Look at the map on the website. Two swing states in the "toss-up" zone that will report results fairly quickly are Florida and Georgia. Both states are seeing record voter turnout. Pennsylvania could become irrelevant—should Biden carry either of those states. Their latest polls are very close.
But high turnout elections tend to favor Democrats. If the results are tight, which means near the thresholds for triggering recounts, then election lawyers expect grueling legal fights will ensue over accepting and counting absentee ballots. Those rules vary state by state. One retired state election official from a midwestern state predicted that every procedural issue surrounding absentee ballots that has been litigated to date could resurface in post-election legal fights.
But what can we say for certain with two weeks to go to Election Day? Record turnout is underway. Law enforcement in swing states (especially Democratic governors, prosecutors and secretaries of state) are taking voter intimidation seriously. They are watching where fervent electioneering might deter voting. Despite Trump's rhetoric, there have been few Republican challenges of the voters and voting that's underway. Meanwhile, the legal landscape surrounding absentee ballots has become clearer.
The 2020 election isn't over, but the finish line is coming into sight.