As North Carolina Mails Out Absentee Ballots, Voter Hotline is Inundated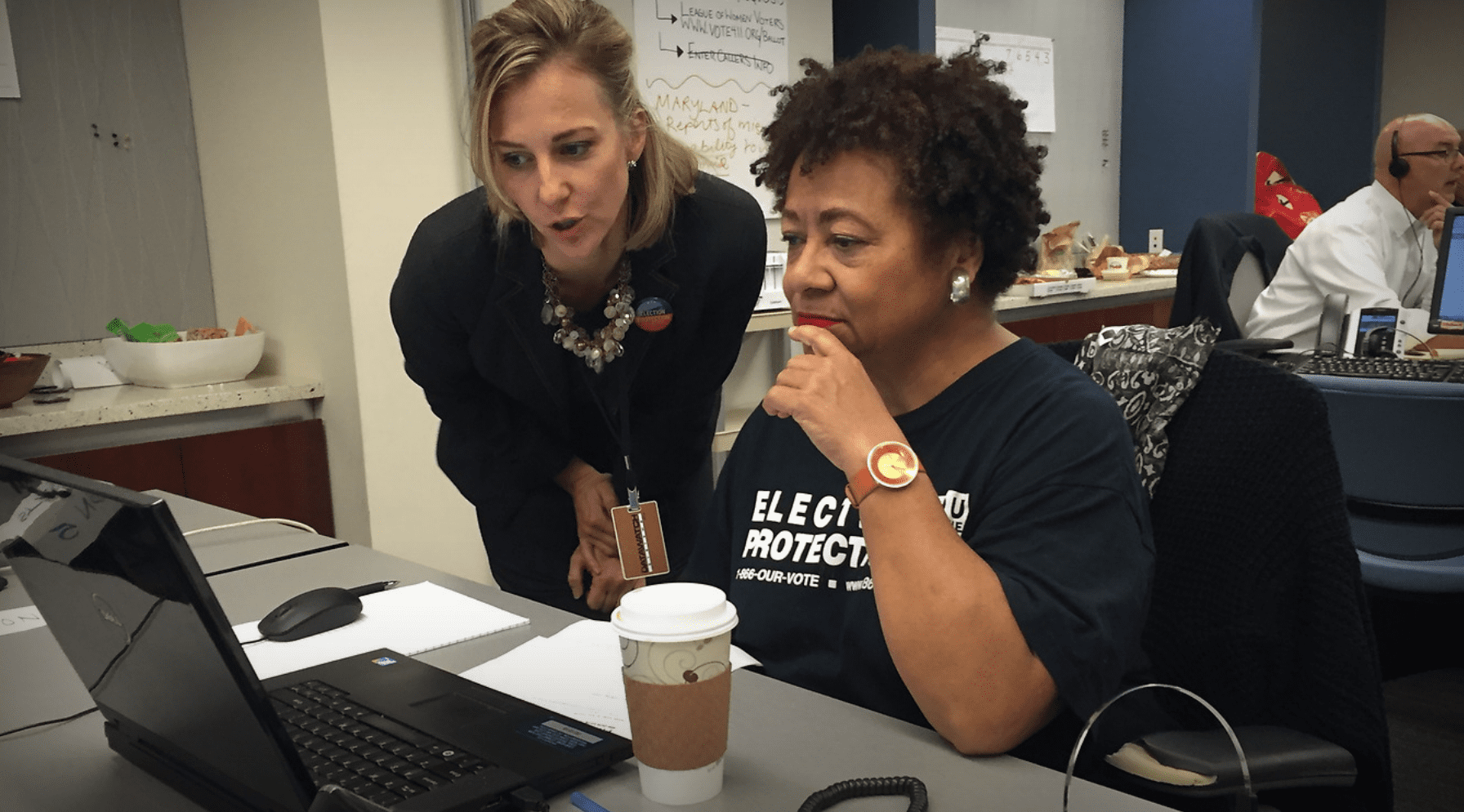 (Photo by Sue Dorfman / Zuma Press)
Voters who are unfamiliar with casting an absentee ballot are already inundating voter hotlines in North Carolina, the country's first state to mail out 2020 presidential election ballots.
"We are getting tons of calls this week about absentee voting," said Caroline Fry, Voter Protection Project manager at Democracy North Carolina, which has a 1-888-OUR-VOTE hotline. "We just started training volunteers and answering calls this week."
Fry's brief comments during a September 10 session of the North Carolina Election Protection Working Group highlighted concerns that are likely recur in other states. North Carolina, like many states east of the Rocky Mountains, had little absentee voting before the pandemic.
"Legally, the first day that counties could mail out ballots was this past Friday, September 4th," Fry said. "There's a lot of misinformation and voter confusion about who's actually getting a ballot. Lots of people are calling the hotline, saying, 'I heard that everyone in North Carolina is getting a ballot. What is that about?' Well, no, you have to request it. That's the only way you get a ballot in the mail. People who have requested them are starting to receive them."
Fry said hotline callers were wondering how long it would take their county boards of election to send them a ballot—after they applied. (The state just launched an online portal to apply.) Some were expecting a very quick turnout and were becoming anxious it had not arrived.
"We are telling people to wait until September 20th if they have already submitted their absentee ballot request form to their county, but haven't gotten a ballot in the mail yet," she said, saying the hotline was advising voters wait a week to 10 days. "At that time, call your county board of elections office and ask where your ballot is."
Another line of questioning concerned North Carolina's requirement that every absentee ballot be filled out in the presence of a witness who also signed the ballot. The witness requirement remains in a handful of mostly southern states.
"We've been getting a lot of questions about witnesses," Fry said. "Can my husband, wife, sister, brother, niece, nephew, neighbor be a witness? Anyone can be a witness. You just have to be 18 or older. And there is one stipulation. A witness can't be running for political office unless they are related to the voter."
"Another question is, 'Do I have to be physically in the same room as my witness?'" she continued. "We actually reached out to the state Board of Elections to get clarification. If someone is observing you from outside of your dining room window and you are filling out your ballot, and they can watch you, and then you open up the window and give them the ballot, and then they sign it on the witness line, and then they give it right back to you—that's totally okay. However, with that being said, the witness does have to observe you marking your ballot. It's not just about rolling up, signing and taking off."
Other questions concerned tracking the absentee ballot through the delivery and return process. The state will soon launch an online portal where voters can "track it by your name and voter information," Fry said, but not a more complicated tracking or PIN number.
"Those are the top issues," she said, but added that callers also had to be reminded about ballot return deadlines—and where they could, and could not, return their absentee ballot in person if they did not want to use the mail.
"You have until the Tuesday before Election day to get your absentee ballot request in. And then you have until Election Day at five o'clock to get your ballot back to your county board of elections," Fry said. "You can mail it. You can take it to any early voting site in your county of residence. Or you can drop it at your county board of elections office. Those are your options for returning."
Others on the call noted that the state was not pre-paying for postage on the return envelope. They noted that you might have to wait in line to drop it off at an in person early voting site, although some counties were creating separate ballot return areas. Another question that came up was can they take their absentee ballot to an Election Day poll on November 3rd.
"Unless your Election Day polling place happens to be your county Board of Elections office, they will not accept it," Fry said. "You will have to return it to your county Board of Elections office on Election Day."
Fry said callers also had to be told that only they—or a family member—could return the ballot.
"And—a very important note—the only people who should be in possession of your absentee ballot should be yourself, your near relative or your legal guardian, she continued. "Or if you pass it through the mail, that's fine. But folks should not be giving their absentee ballot to their friend, someone who is not related to them, to return to their county board of elections or an early voting site. Because once that person arrives at that place, they [poll workers] will ask for their information and how they are related to the voter. That's a really important flag."
While not every state has the same absentee ballot rules as North Carolina, the volume of calls and range of questions to the hotline on its opening days was a likely preview of what is to come in other states that also are making historic shifts to widespread absentee voting.
"We're being inundated with all of these questions," Fry said.