Georgia GOP Senators Stock Trades Raises Eyebrows, But Fit Familiar Pattern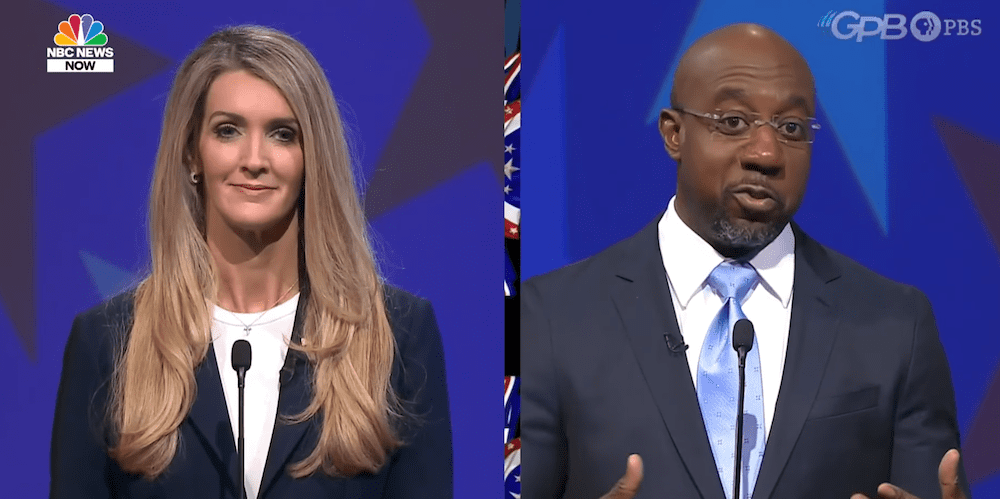 (Screenshot: YouTube.com)
In the days following last weekend's senatorial debate in Georgia, the state's two incumbent Republicans continued to insist that they had been cleared of any wrongdoing tied to each of them selling of millions in stock after Senate briefings about the approaching pandemic.
On the debate stage, in campaign television ads and statements, both Georgia Sens. David Perdue and Kelly Loeffler and their spokespeople recited the same script, repeatedly saying they had been "exonerated" in reviews by a Senate ethics panel and federal authorities.
"Well, thank you for that question, because I've been completely exonerated," replied Loeffler during Sunday's debate. "Those are lies perpetrated by the left-wing media and Democrats to distract from their radical agenda."
"Perdue was cleared by the bi-partisan Senate Ethics Committee, the S.E.C. [Securities and Exchange Commission] and D.O.J. [Department of Justice]" said the narrator of a campaign ad rolled out before the debate—which he did not attend. "Perdue was totally exonerated."
Georgia's Senate runoff on January 5 will determine if Republicans will control that body in the first half of Joe Biden's presidency. Or should the Democratic challengers Rev. Raphael Warnock and Jon Ossoff prevail, Democrats will control both congressional chambers.
Georgia's incumbents' claim that they did nothing wrong — that there was no conflict of interest or hint of corruption in their stock sales based on insider knowledge — and that they have been "exonerated" has been undermined by recent coverage in the Atlanta Journal Constitution.
"Those outcomes, however, should be no surprise," the state's largest newspaper said in a Monday report that examined the subsequent review by Senate and federal authorities.
"The [Senate Ethics] Committee of three Republican senators and three Democrats almost never finds fault with the 100 members of the US Senate," it reported. "An analysis of the committee's publicly available annual reports from 2007 through 2019 shows it received 1,189 complaints of alleged violations. Not one resulted in a disciplinary sanction, records show."
What Does "Exoneration" Mean?
In the days following senatorial debate, most of the candidates allowed their allies or campaign spokespeople to address questions about the stock sales, which is an old tactic for candidates to stay above the murky fray. The exception was Ossoff, who sent emails that referred to the Journal-Constitution report. Most of the election-related political news concerned fallout from President Trump's rally on Saturday in the southern Georgia city of Valdosta, the state's certification of Biden's victory, and failed attempts by Trump lawyers to block certification.
On Tuesday, at a press briefing, Warnock made no mention of the stock trades and deflected post-debate questions, saying, as he did in the debate, he was running to represent the state.
Back in Washington, public-interest experts that track ethical conflicts of interest in Congress said the review of the stock trades by Loeffler and Perdue were secretive, unimpressive and apparently had little impact. On November 19, Loeffler unambiguously violated the Senate's rules by asking for campaign donations in a Fox TV interview in the Senate offices.
"If there's one rule that's pretty clear and sacrosanct on the Hill, it's that you don't fundraise on federal property," said Donald Sherman, Deputy Director of Citizens for Responsibility and Ethics in Washington (CREW), which filed a complaint with the Senate Ethics Committee in March following the stock sales. "There are literally buildings that the parties have within blocks of the House and Senate office buildings so that members don't violate this rule."
"Kelly Loeffler is not special," he said. "She's just ethically challenged."
Loeffler was not going to hear from the Senate Ethics Committee about her latest lapse, Sherman said, because the panel has a policy not to act in the run-up to elections — to stop any candidate from unduly politicizing accusations. That policy, now shielding Loeffler, was from a panel that he said was "notoriously permissive and notoriously opaque."
"Unless there's an indictment on the Justice [Department] side or unless they open an investigative subcommittee or take some affirmative action, we don't know" what the panel considered, Sherman said. "The Senate Ethics Committee, in particular, is opaque, especially when members are close to their election. It's not surprising that the only way that we have information about this is from the source of the investigation, who is Sen. Leoffler."
Indeed, last June, when Politico was among the first to report that Loeffler had been cleared by the Senate panel, it quoted from a letter to Loeffler from by Deborah Sue Mayer, the Ethics Committee's chief counsel and staff director. Loeffler's Senate website, which is filled with June press releases, did not mention the decision. Neither did the Ethics Committee's press page.
"Based on all the information before it, the Committee did not find evidence that your actions violated federal law, Senate Rules or standards of conduct," Mayer's letter said, according to Politico's report that said the inquiry looked into trades by Loeffler and her husband Jeffrey Sprecher, chairman of the New York Stock Exchange." The letter concluded, "Accordingly, consistent with its precedent, the Committee has dismissed the matter."
Sherman said that the reviews by the Senate Ethics Committee were laxer than in the House, where, at least, the House "created the Office of Congressional Ethics to hear complaints from the public. I don't think the Senate has even considered creating a separate ethics office that vets and investigates complaints from the public."
Loeffler and Perdue were not the only senators who have been caught making stock trades after closed briefings on the pandemic's impact were held. CREW's original complaint noted Loeffler's trades and trades by Sen. Richard Burr, R-NC. When the Justice Department took up the matter, it looked at trades by Sens. Loeffler, Jim Inhofe (R-OK) and Dianne Feinstein (D-CA), whose husband is a wealthy investor. In all of these instances, no charges were brought.
The Senate's "Code of Official Conduct" only requires that sales of stock be reported according to the sums involved. The Ethics Committee's "Rules and Standard of Conduct" instructs senators to avoid conflicts of interest, but doesn't discuss private sales of stock.
But Loeffler stands apart, Sherman said, partly because she was appointed to her office by Republican Gov. Brian Kemp, and she is among the wealthiest members of Congress.
"You have a senator who was not elected but appointed by the governor, and who supported the governor politically before she was appointed," he said. "And now there are questions, repeated questions, constant questions, about whether her financial holdings and financial decisions are impacting her decisions on behalf of her constituents."
"There's no real provision for recusal in the Senate," Sherman continued. "There's only 100 senators. If a senator has a conflict of interest, under normal circumstances that might warrant their recusal, it effectively disenfranchises their constituents from having a voice on that issue. It's the reason why divestment and other steps to get rid of conflicts of interest are so important for members of Congress and senators. You don't want to have to wonder if a senator is making choices based on their stock portfolio — or their spouse's financial interests — versus what their constituents want and need."
The New York Times reported that Perdue was the Senate's most active stock trader. The Atlanta Journal Constitution said Perdue's campaign would not "provide a copy of his dismissal letter" from the Ethics Committee. Nor would the Committee comment for the AJC's report.
The Huffington Post reported on Tuesday that Leoffler's husband Jeffrey Sprecher bought "Up to $1 million in new shares" of stock from companies that stood to benefit from retroactive tax breaks in the CARES Act, a $2 trillion emergency stimulus package. The stock purchases occurred while the Senate was privately crafting the legislation, the Post's Molly Redden reported.
"The [tax] carryback provision was one Loeffler could very well have learned about days before the Senate bill went public," the Post said. "In the three days just before its unveiling, Treasury Secretary Steven Mnuchin met twice with Senate Republicans behind closed doors to discuss the bill's particulars, and Senate Republicans held a private lunch to brief their members on some specific proposals the bill would contain. The day after the Republican luncheon, March 19, the CARES Act was publicly introduced in the Senate, complete with the carryback provision."
The Impact on the Runoffs
Back in Georgia, those voters that are paying attention appear to know the outlines of their senators' stock pandemic-related profiteering, even if they are not aware of the details of a porous Senate Ethics Committee self-policing practice that allows Loeffler and Perdue to overclaim about their complete "exoneration."
Among Georgians who are planning to vote in the January runoffs, the controversy appears to have further cemented views. But the way that the stock profiteering has been discussed varies with Georgia's urban and rural voters.
"That has actually been a huge topic of discussion," said Matthew Tyler, an Atlantan who was a poll worker who hand-counted presidential election ballots before Thanksgiving and works as a victim rights advocate for the city attorney. "Before entering politics, she [Loeffler] was known in Atlanta as a pretty wealthy socialite. People really only knew her as part owner of the Atlanta Dream, our WBNA team. We also knew about some of her local philanthropy. She was pretty uncontroversial."
"Of course, that all changed once she entered the political arena," he continued. "It became clear that she was not interested in much more than her own personal interests, i.e. money. And when she denounced the Black Lives Matter movement, she lost virtually all support from black people in Atlanta (not that she had much in the first place.) You're probably aware of the displays of protest from her own Atlanta Dream players who, earlier this year, wore 'Vote for Warnock' shirts before their game. Her dumping of stocks after her coronavirus briefing was just another addition to the very long list of slaps in the faces of her constituents."
In the rural town of Hawkinsville, two hours south of Atlanta, people tend to keep their political opinions to themselves or to close circles of friends and family, said Julius Johnson, who created a African American Heritage Center and reading room in the town where his families roots pre-date the Civil War. People have taken notice of the stock trades, he said, but their senators' behavior has mostly affirmed prior assessments of their characters.
"Folks here who are paying attention to some of the chatter around the different candidates are aware of her stock trades and some of her issues around that," Johnson said. "It certainly came out in the debate that took place the other night. I think it's something that's a part of the overall consideration around her character and business practices and integrity."
In rural Georgia, those judgements reinforced voters' loyalty to their political party, he said.
"In these small towns, people are really wedded to their party. I think most people will vote according to party loyalty as they voted during the presidential," Johnson said. "If they need a rationale, people will spew out the standard narratives and point to her stock dealings as an integrity issue."
In other words, the profiteering that has drawn national attention is cementing local views.
"Voters in the Atlanta area are well-aware of her improprieties," said Tyler. "I do not have a single friend who will be voting for her."
"I don't think her stock trading will sway voters," Johnson said, referring to Loeffler. "People here locally are pretty much wedded to their party affiliation. They are going to vote in the manner that they voted in the presidential election."