Historic Georgia Runoffs Poised to Return Democratic Control to Senate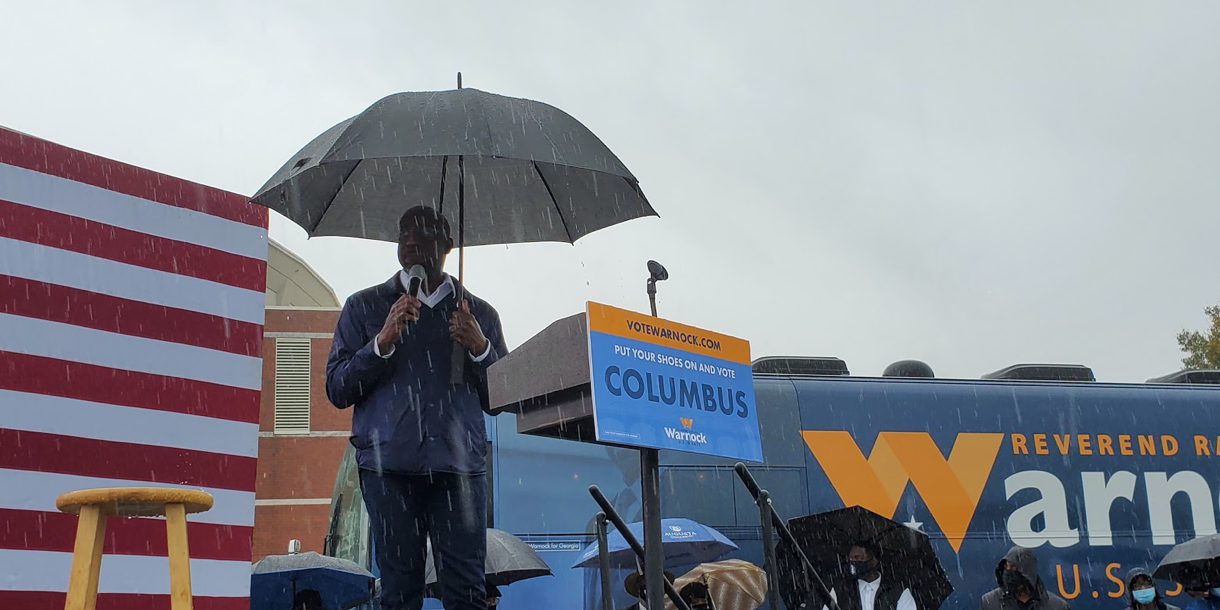 (Photo: Sue Dorfman / Zuma Press)
Georgia voters are on the verge of sending two new Democratic senators to Washington as the finale of a presidential election season that has historically recast Georgia's political identity and will yield a Democratic Senate majority with a new mandate for Joe Biden's presidency.
Rev. Raphael Warnock was 40,000 votes ahead of Sen. Kelly Loeffler, the Republican incumbent, with more than 98 percent of an estimated 4.5 million ballots counted by early Wednesday. With most of the uncounted ballots in metro Atlanta counties, where 75-to-80 percent of an increasingly diverse electorate voted Democratic, Georgia is poised to send a Black minister to the U.S. Senate, a major historical achievement.
"We were told we couldn't win this election, but tonight we proved that, with hope, hard work and the people by our side, anything is possible," Warnock told his supporters after midnight. "I am so honored by the faith that you have shown in me, and I promise you this: I am going to the Senate to work for Georgia, all of Georgia, no matter who you cast your vote for."
Shortly before 2 AM Wednesday, the other Democrat in a runoff election, Jon Ossoff, pulled ahead of Sen. David Perdue, the Republican incumbent, as returns came in from populous metro Atlanta counties. While some rural counties had yet to finish reporting their counts, election officials said the majority of the remaining votes would favor Democrats.
"Yes, that's correct," Gabriel Sterling, a top state election official and a Republican, told CNN late on Tuesday, discussing the remaining uncounted votes. "It's really an irony because in the '60s and '70s, that [Atlanta region] was the hotbed of the Republican takeover in Georgia."
"We fully expect" to win, the Ossoff campaign said in a statement. "The outstanding vote is squarely in parts of the state where Jon's performance has been dominant."
Warnock's margin of victory exceeded the state's legal threshold for a recount. However, the Perdue-Ossoff race could be headed for a recount if its margin was less than 0.5 percent of the total votes cast. With 98 percent of the votes counted early Wednesday, Ossoff was ahead by nearly 13,000 votes.
Georgia Secretary of State Brad Raffensperger told CNN that he estimated that 4.5 million votes were cast in the recount, making the recount trigger about 22,500 votes. The last votes to be counted will be 17,000 overseas and military ballots that can arrive as late as Friday, he said.
Early on Wednesday, Perdue's campaign issued a statement claiming that they won and said it would use "every available resource and exhaust every recourse to ensure all legally cast ballots are properly counted." If no recount were triggered, Perdue would have few options.
A Historic Finale to 2020
Should both Democrats prevail, the impact on the nation's political life and federal governance cannot be underestimated. On virtually every major issue that Democrats care about, the Biden administration would have been met with resistance had the Senate remained a Republican-led body. Once Georgia's senators are seated, the body will have a 50-50 split between parties, but Vice President-elect Kamala Harris would be a tie-breaker, giving Democrats control over the Senate agenda, committee assignments and administration's appointees, including judges.
Those ramifications will play out after the Trump administration leaves office on January 20. On Wednesday, the Trump administration and its allies are expected to try to block Congress's certification of the 2020 Electoral College votes. Trump's allies will claim that the 2020 election was stolen, as they have in 63 lawsuits that have been filed in state and federal courts to challenge the results in swing states where Trump lost. Trump and his allies have lost all but one of those lawsuits, often due to lack of vote fraud evidence.
On Tuesday night, Trump and several high-profile supporters—his White House spokeswoman and a Fox News host—tweeted the Georgia runoffs were fraudulent. Their claim was baseless because while there were some election administration problems on Tuesday, no observer or credible source reported any vote-forging chicanery. Every top statewide official in Georgia, including the governor and election director, is a Republican. If anything, the state has been very aggressive in investigating voter fraud in 2020. It has found almost no wrongdoing.
Trump's antics should not detract from the historic achievement seen in Georgia. The state emerged as a national political battleground in November after Biden's surprise victory. The apparent victory of two Democrats in a runoff that set voter turnout records affirmed that its political landscape was undergoing historic change. The heart of that transformation was the result of years of effort by grassroots organizing led by the Black community, but more recently expanding into other communities of color and the state's newest residents.
Some pundits outside Georgia will credit Trump's attacks on the state's election system and top elected officials—for not manipulating the count to ensure that he won—as the top reason why insufficient numbers of Republicans did not vote in the runoffs. But that analysis is not the full story. The runoffs had near-presidential election turnout levels, which showed that Georgians in both parties were engaged. What the Trump-centric analysis omits are the unprecedented efforts by communities of color to unite to turn out voters in November and in the runoffs.
Old-line groups, such as the Georgia county-level NAACP chapters, found themselves working with tech-savvy organizers who had tens of thousands of volunteers from across the country. Frontline groups were supported up with post card, phone bank and texting campaigns. In the state's urban and rural communities, Black sororities, fraternities and community organizations partnered with new groups of younger activists and organizers. While the Senate runoffs set records for spending on political advertising, the grassroots efforts turned out voters across the state. In short, for the first time in many years, Georgians could see their votes mattered.
In coming days, there will be numerous analyses and reports affirming these trends. On CNN early Wednesday morning, campaign data analysts noted that Biden's 12,000-vote victory over Trump was a floor, or a baseline, for Democrats to prevail in a statewide race. With 150,000 or more votes yet to be counted, Warnock's margin was more than three times that size.
Smart analysts like CNN's Harry Enten noted that Warnock didn't just win in Atlanta's suburbs—where many moderate Republicans voted for Biden. Warnock's percentages in rural counties often was equal to, or exceeded Biden's percentages, by several points. Warnock's campaign, like many grassroots groups, targeted and turned out overlooked voters of color. Those rural counties are still mostly run by elected white Republicans, but their political complexion is changing as non-white voters are discovering that they have power.
While the coming days may see partisan Republicans accuse Georgia's election officials of running fraud-ridden Senate runoffs and even file litigation to challenge the results, there's little indication that those efforts will succeed. Trump's allies lost every lawsuit filed before Tuesday's runoffs. State law requires county officials to certify the results by January 15. The state must certify the election by January 22—two days after Biden's inauguration.
In Warnock's speech early Wednesday, he called on all participants in political life to start working together to help ordinary people solve life's problems.
"In this moment in American history, Washington has a choice to make; we all have a choice to make," he said. "Will we continue to divide, distract and dishonor one and other, or will we love our neighbors as we love ourselves? Will we play political games while real people suffer or will we win righteous fights together, standing shoulder to shoulder, for the good of Georgia, for the good of the country?"