Supreme Court: Two Swing-State Mail Ballot Return Deadlines Stand, But Ballots Could Still be Rejected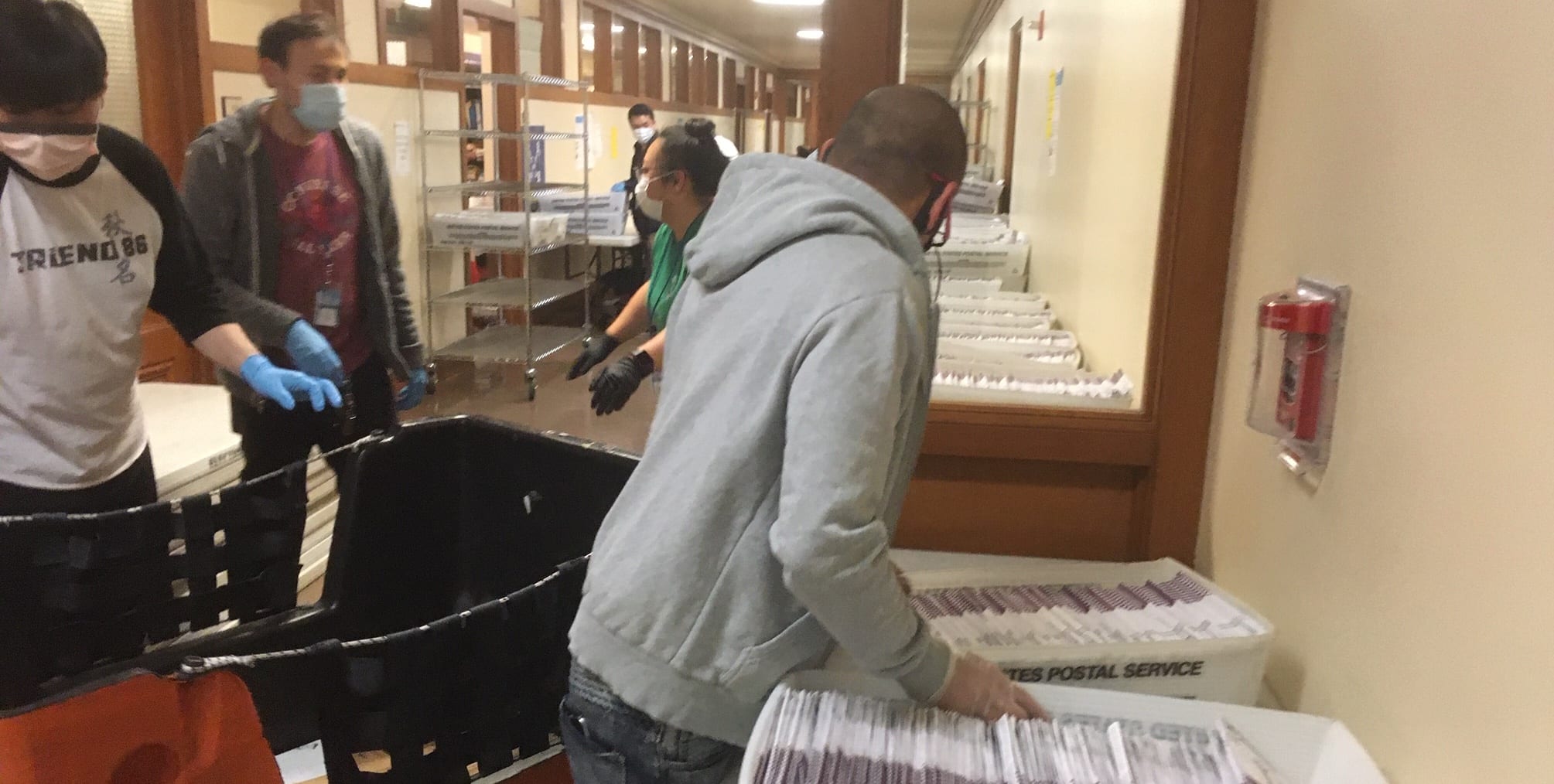 (Photo / Steven Rosenfeld)
Two Supreme Court decisions issued Wednesday took no action to change 2020's election rules in Pennsylvania and North Carolina, but statements from conservative justices warned that the high court would likely disqualify any absentee ballot received by election officials after Election Day—because those states' legislatures had not extended the ballot return deadline.
"The important constitutional issue raised by this matter… could lead to serious post-election problems," began the statement by Justice Samuel Alito concerning Pennsylvania, where the state supreme court extended the ballot deadline by three days to Friday, November 6.
"The provisions of the Federal Constitution conferring on state legislatures, not state courts, the authority to make rules governing federal elections would be meaningless if a state court could override the rules adopted by the legislature simply by claiming that a state constitutional provision gave the courts the authority to make whatever rules it thought appropriate for the conduct of a fair election," Alito said, in a statement agreed to by Justices Clarence Thomas and Neil Gorsuch.
"In some respects, this case may be even more egregious," wrote Gorsuch in his dissent in the North Carolina ruling, "given that a state court and the [statewide election] Board worked together to override a carefully tailored legislative response to COVID. Indeed, the president pro tempore of the North Carolina Senate and the speaker of its House of Representatives have intervened on behalf of the General Assembly to oppose revisions to its work."
At first glance, the contention that state constitutions, state supreme courts and state boards of elections have no power to regulate elections without explicit authorization from federal authorities or state legislatures, could have radical implications. It would suggest states could not adopt policies that go beyond the federal standard. But, for now, the issue in play concerns the counting or the disqualifying of absentee ballots that will be received by officials after Election Day in two 2020 battleground states.
In recent days, the U.S. Supreme Court has issued rulings that rolled back accommodations made by lower federal courts after Republican-majority legislatures did not extend absentee ballot deadlines and loosen other voting rules in response to the pandemic. The newest Justice, Amy Coney Barrett, did not participate in either decision issued Wednesday.
The court's conservatives said that they would have gone further in the North Carolina and Pennsylvania rulings but for the proximity to Election Day. Any last-minute changes in voting rules are confusing for voters, officials and tend to create problems undermining public confidence in the process, they noted.
Gorsuch recounted this chronology and said that he and fellow conservatives were inclined to draw a line on counting absentee ballots that were received by officials after Election Day, even though that issue could not be litigated until after November 3.
"Despite the [North Carolina] General Assembly's considered judgment about the appropriate response to COVID, other state actors—including the State Board of Elections—recently chose to issue their own additional and supplemental set of amendments to state election laws," he wrote. "Relevant here, they purported to extend the absentee ballot receipt deadline by six days, up to November 12. That last part should sound familiar. Just days ago, this Court rejected a similar effort [in Wisconsin] to rewrite a state legislature's election deadlines. Wisconsin (like North Carolina) has a ballot receipt deadline enshrined in statute. All the same, a federal district court decided to order Wisconsin to extend its deadline by six days. The Seventh Circuit stayed that ruling, and we agreed with its disposition. For many of the same reasons I believe that decision was correct, I believe we should stay the Board's action here."
The justices' statements, which told Republicans that they have a post-Election Day basis to challenge and disqualify potentially thousands of late-arriving absentee ballots in two swing states, reshuffles some Election Day scenarios.
Kathy Boockvar, Pennsylvania Secretary of the Commonwealth, told the Supreme Court on Wednesday that she has directed county election offices, which run her state's elections, to "securely segregate all mail-in and civilian absentee ballots received between 8:00 p.m. on Tuesday, November 3, 2020,and 5:00 p.m. on Friday, November 6, 2020, from all other voted ballots."
On his ElectionLawBlog, scholar-pundit Rick Hasen asked, "Why would Democratic state officials do this?" He opined that they did not want Republicans to try to disqualify all of the absentee ballots cast—because once the ballots are taken from their return envelopes and counted, it would be impossible to retrieve them should the high court void them.
North Carolina's State Board of Elections had no statement about the Supreme Court ruling on its website on Wednesday, but instead emphasized how statewide voter turnout was poised to cross the "50 percent" threshold with one week to go before Election Day.
"Through Tuesday, more than 2.8 million voters had cast ballots in person this year, nearing the 2,955,600 votes during the entire 2016 early voting period," it said. "Combined with more than 819,000 by-mail ballots, more than 3.6 million North Carolinians have already voted, about 49.6 percent of all registered voters."
North Carolina-based voting rights attorneys contacted on Wednesday night did not know if the state board would follow Pennsylvania and segregate absentee ballots that were received after Election Day. The board had said that ballots received through November 12 could be counted. The state Senate president, Phil Berger, issued a statement saying late-arriving ballots should not counted.
"If public confidence in elections is important to our system of government, then hopefully the answer to that question is 'no,'" he said.
A 2020 Game Changer or Not?
The conservative justices' statements open up a potential post-Election Day avenue for Republicans to disqualify some volume of absentee ballots. This scenario raises big immediate questions, such as how many votes might be imperiled, and could that volume alter election outcomes?
Phil Keisling, a Democrat, former Oregon secretary of state who oversaw its introduction of all-mail voting and who is now the board chair of the National Vote at Home Institute, said that the impacts might be less than many Democrats may fear.
To start, state legislatures in every other battleground state have passed laws that set post-Election Day "received by" deadlines for absentee ballots returned via the mail, he said, which was what the high court's conservatives wanted to see. In Iowa, that cutoff is November 9. In Nevada, it's November 10. In Ohio, it's November 13.
When it comes to future Supreme Court litigation and rulings shaving off possibly thousands of votes after Election Day, Keisling thought that fear might be overstated because so many voters have already cast ballots or were likely to vote by Election Day. Just as the North Carolina State Board of Elections said that half of the state's registered voters had voted by Wednesday, in Pennsylvania record-breaking percentages of voters have requested and already returned absentee ballots.
The U.S. Elections Project, whose early voting, ballot request and ballot return data is the basis for many national news reports, said that nearly 2 million absentee ballots had been returned across Pennsylvania as of October 28, out of 3.1 million requested ballots. Kiesling said that having an Election Day return deadline could undermine the false Republican narrative that late-arriving absentee ballots would be fabricated by Democrats to elect Joe Biden.
Historically, Republicans have voted in higher numbers by absentee ballots, he said. But that precedent has been turned upside down in 2020, as Democrats and independents have been voting absentee at more than triple the rate of Republicans. Keisling was hopeful the volume of absentee ballots arriving after Election Day in Pennsylvania and North Carolina would not be very large, especially if voters were urged to return their ballots in person. (He noted that Pennsylvania was widely deploying drop boxes. In North Carolina, absentee ballots could be dropped off at any early voting location—ending Saturday—but not at Election Day polls.)
While Keisling may prove correct that the latest rulings might not implicate enough votes to determine the outcomes of the highest-profile races in these states, the conservative justices' comments left no doubt that the nation was on the verge of a new chapter in election law—one where only legislatures have the power to run elections, not state constitutions, governors via executive orders, secretaries of state issuing directives, state election boards settling lawsuits or state supreme courts upholding their state constitutions.
"As they [the federal appeals court] observed, efforts like these [in North Carolina] not only offend the [U.S. Constitution's] Elections Clause's textual commitment of responsibility for election lawmaking to state and federal legislators, they do damage to faith in the written Constitution as law, to the power of the people to oversee their own government, and to the authority of legislatures," wrote Gorsuch in his dissent. "Such last-minute changes by largely unaccountable bodies, too, invite confusion, risk altering election outcomes, and in the process threaten voter confidence in the results."
If these issues return to the court after Election Day, Justice Barrett will likely participate in the deliberations and rulings.