How The Select Committee Completed A Damning Indictment of Trump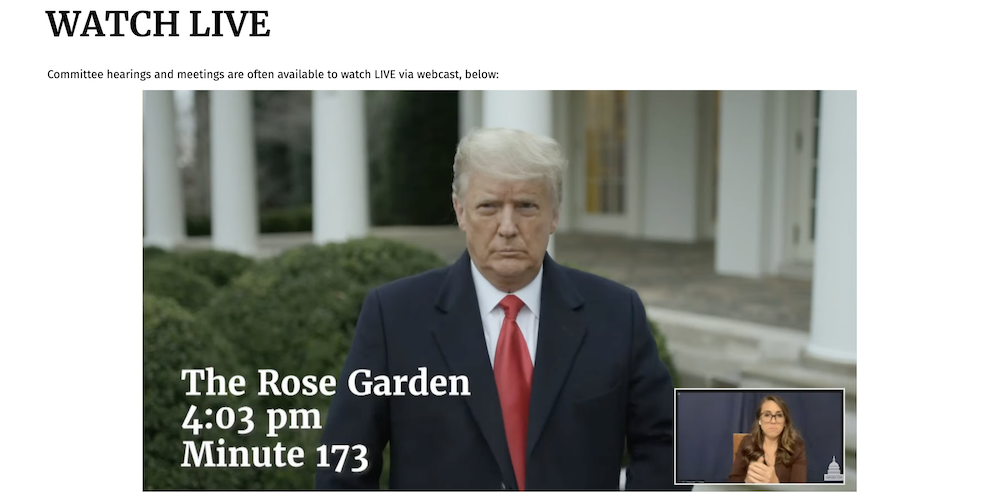 (Donald Trump moments before recording a video telling Capitol rioters to go home. Source: https://january6th.house.gov/news/watch-live)
As Donald Trump's mob attacked the Capitol, threatening Secret Service agents who called loved ones as they feared for their lives and members of Congress who scurried to don gas masks as they fled, Trump cloistered himself in an ornate White House dining room – a scene depicted in testimony, video and even models of the White House during the Thursday night prime-time hearing of the House Select Committee on January 6.
Sitting there, as he watched Fox News' coverage, Trump ignored repeated pleas from his staff, Republican leaders, and his family to call off the attack. Instead, he texted supporters to go easy on the Capitol Police but keep fighting for him, targeting Vice President Mike Pence, whom the mob was threatening to hang. He phoned US senators to urge them to continue what the mob began by postponing certification of the Electoral College vote ending his presidency.
After three hours, when the National Guard and FBI agents were mobilized to restore order – not by Trump, but by Pence and congressional leaders from both parties – only then did Trump consent to make a video telling his supporters go home. Trump began those remarks by reiterating his lie that the election had been stolen, and ended by telling the mob that they were patriots whom he loves.
"In our hearing tonight, you saw an American president, faced with a stark and unmistakable choice between right and wrong. There was no ambiguity, no nuance," said Rep. Liz Cheney (R-WY), co-chair of the select committee. "Donald Trump made a purposeful choice to violate his oath of office, to ignore the ongoing violence against law enforcement, to threaten our constitutional order. There was no way to excuse that behavior. It was indefensible."
"And every American must consider this," Cheney continued. "Can a president who was willing to make the choices Donald Trump made during the violence of January 6 ever be trusted with any position in our great nation again?"
Cheney's remarks, which capped a series of eight hearings that will resume in September, tied together the committee's goals of showing that Trump and his enablers committed crimes to try to overturn an election, insisting that they all be held accountable in court, and ensuring that federal legislative reforms be adopted so a presidential coup never happens again.
"There can be no doubt that there was a coordinated, multi-step effort to overturn an election overseen and directed by Donald Trump," said Rep. Bennie Thompson (D-MS), the committee chair, who appeared via video link due to his COVID-19 infection. "These facts have gone undisputed. And so there needs to be accountability: accountability under the law; accountability to the American people; accountability at every level, from the local precincts in many states, where Donald Trump attacked election workers for just doing their jobs, all the way up to Oval Office, where Donald Trump embraced the legal advice of insurrectionists that a federal judge said was coup in search of legal theory."
Fresh Evidence of Trump's Dereliction
The evidentiary part of Thursday's hearing began by playing the police communications heard by White House security – the Secret Service and Situation Room – from the Capitol that a riot was brewing and then was underway. Trump, ensconced in the dining room next to the Oval Office, refused to call any police or military to quell the mob.
"Why did he not take immediate action in a time of crisis," asked Rep. Adam Kinzinger, R-IL, who presented evidence and questioned witnesses. "The mob was accomplishing President Trump's purpose… President Trump did not fail to act during the 187 minutes between leaving the ellipse and telling the mob to go home. He chose not to act."
The testimony included previously unknown details, such as the presidential motorcade idled for 45 minutes at the White House – because its staff was unsure if it would be taking Trump back to the Capitol. The committee has tried to obtain texts from Secret Service agents in this period, as well as phone logs and daily diaries, but has been told that they were erased or missing. Cheney said that several Secret service officials have hired "private counsel," suggesting that the panel will be investigating what appears to be a cover-up.
The focus then turned to what Trump was doing as events unfolded at the Capitol. The panel played excerpts from the Fox News broadcast that Trump was watching at the White House, video of the riot captured by ceiling cameras at the Capitol, cameras worn by police, and videos shot by insurrectionists that were streamed on social media. These sources contrasted what was happening simultaneously as Trump sent the first of several tweets at 1:49 PM: a link to his speech at the ellipse where he urged supporters to converge on the Capitol and be strong. In other words, as the riot commenced, Trump encouraged it.
Trump's second tweet, 35 minutes later, said that Pence did not have the courage to reject Electoral College votes on Trump's behalf. That tweet, as footage shot by insurrectionists showed, enraged many rioters who hoped to find Pence – who they called a "traitor."
The committee then played previously unseen footage of Pence and his security staff fleeing from a room where it had taken refuge near the House chamber. It included testimony that said several police guarding Pence were so scared – they were "running out of options," as one put it – that they called family members to say goodbye to loved ones. (They all escaped.)
At around this time, Trump began calling senators to urge them to reject the Electoral College certification and send the matter back to state legislatures where the GOP held the majority.
As the insurrection continued, Trump began getting called from congressional leaders telling him to tell the rioters to go home. The White House staff, almost uniformly, tried to deliver the same message to Trump, according to a range of videotaped testimony. He received the same message from family members, which he initially ignored, including their prodding that he instruct the rioter to peacefully leave the Capitol.
Sarah Matthews, a deputy press secretary and special assistant to the president, was one of two live witnesses. She previously had worked on his campaign and told the hearing that she knew the mentality of his most fervent supporters, saying, "I've seen the impact that his words have on his supporters. They truly latch onto every word in every tweet." (She resigned on January 6.)
The committee played videotape taken by insurrectionists. They heeded Trump's tweet that said to go easy on the Capitol police. But, as their video showed, they noted that Trump did not tell them to stand down, nor to stop hunting for Pence or senior Democrats – which the rioters gleefully interpreted as orders to carry on.
After three hours, Trump was finally convinced to make a video telling the rioters to go home. That was not because he wanted to surrender, witnesses said, but because Pence and other congressional leaders from both parties – shown in previously undisclosed photographs – were huddled and talking to military leaders and the FBI, who both sent forces to quell the riot.
The hearing featured raw and previously unseen footage of Trump, coached by Ivanka, as he recorded the video telling the rioters to go home. He looked pained, said the election had been stolen, and told his mob they were patriotic and that he loved them. The hearing showed additional outtakes from a video that he recorded on January 7, where Trump said, "I don't want to say the election is over," (a statement that wasn't released) and, as Kinzinger noted, Trump "showed no remorse."
Overturning The Election
The select committee does not have authority to prosecute Trump and his co-conspirators. It can refer cases to the Justice Department, as it has when his allies, such as propagandist Steve Bannon, did not show up after being subpoenaed, or when Trump or his loyalists apparently tried to intimidate recent witnesses. But the committee can make a powerful public case and create a template for criminal prosecutions, which is exactly what the hearings have done. With an impressive presentation of compelling evidence, they have showed that Trump and his most extreme advisors created and executed a criminal conspiracy to overturn the 2020 presidential election.
The hearings have been finely crafted like a cinematic mini-series. Pro-Trump Republicans in the House refused to participate, leaving the committee's members (including Republicans Cheney and Kinzinger) to narrate an unbroken storyline tied together by evidence that is dramatic, full of surprises, stunningly visual, and almost entirely delivered by Republicans who worked in close proximity to Trump. The evidence included videotaped interviews, live testimony, footage from protests, Trump speeches, documentary movies, police communications, as well as tweets, texts, and emails projected onto screens. Overall, the evidence spanned from April 2020 through the insurrection's aftermath, with Thursday's hearing – its second in primetime – focused on the events of January 6.
The committee's initial hearings showed that Trump and his allies knew he lost the election, and repeatedly told him so. White House staffers, 2020 campaign executives, top Justice Department officials, and Trump family members all told the committee on camera what they had told Trump. Former Attorney General William Barr, who pressed the FBI to investigate conspiracy theories in battleground states – a detail not known at the time – called Trump's claims, on camera, "Bullshit," "idiotic," "stupid," "complete nonsense" and "crazy stuff."
Subsequent hearings focused on various schemes to overturn the election results by initially pressuring state officials – including GOP legislative leaders, election boards, governors, and secretaries of state – to rescind their certified results, and, in turn, appoint a pro-Trump slate of Electoral College members. The most infamous episode was in Georgia, where Secretary of State, Brad Raffensperger, a conservative Republican, rejected Trump's demand to "find" votes in a phone call that was recorded. Raffensperger testified before the committee. That recording appears likely to serve as evidence for an indictment of Trump by the Georgia special grand jury under the supervision of Fulton County District Attorney Fani Willis.
The committee then traced how Trump pressured top Justice Department officials to send letters to battleground state legislators to "just say that the election was corrupt and leave the rest to the Republican congressmen." When the DOJ officials refused, Trump tried to install a loyalist as acting attorney general. A threat of mass resignations and scandal forced him to back off.
The committee revealed how Trump, frustrated with his failed efforts to push state officials to rescind Biden's victory – which every credible lawyer, including White House staff, said was illegal – then turned to his most conspiracy-minded outside advisers.
Far-right Republican lawyers, including Rudy Giuliani, Sidney Powell and Cleta Mitchell, and provocateurs including longtime Trump adviser Roger Stone, urged him to seize voting machines. (That didn't happen.) Then they collaborated with white nationalists – Proud Boys, Oath Keepers, and Three Percenters – whose ranks needed little persuasion to come to Washington for battle on January 6.
As that date approached, Trump pressured Pence, who would be presiding over the joint congressional session ratifying Joe Biden's Electoral College victory, to reject the votes from key states. (By then, more than 80 Republicans in seven states had signed fake Electoral College certificates at Trump's behest; an act for which they may soon face criminal prosecution.) On January 4, Pence told a Georgia rally that "come this Wednesday, we'll have our day in Congress." But he never intended to reject the legitimate electoral slates, Pence's top aides told the committee. (The former vice president chose not to testify and the committee didn't subpoena him.)
On January 6, Trump, after a midday rally on the National Mall, expected to march with his mob to the Capitol. But he was unexpectedly diverted to the White House. Before his speech, Trump was told that most of the crowd was staying away from the stage because they did not want security to find their weapons, including knives, handguns, rifles, bear spray, body armor, spears, and flagpoles. Trump was furious, witnesses testified, saying these people were not threatening him. He was even more furious when he discovered that he was being driven back to the White House and argued with his security detail, including grabbing the steering wheel.
These details and more were a prelude to Thursday's hearing, whose timeline began shortly after a fuming Trump returned to the White House from a "Stop the Steal" rally shortly after noon on January 6.
The Call for Accountability
The eighth hearing concluded by summarizing what the committee has presented so far, issuing a call for criminal accountability, and announcing that the hearings will resume in September to present still more evidence and suggest reforms.
"Throughout our hearings, we've painted a vivid picture of the events of January 6," said Rep. Elaine Luria (D-VA), who is, like Kinzinger, a retired military officer. "The violence, the human toll, both emotional and physical, including the tragic loss of life, the threats to our Constitution, the rule of law and the danger to our nation."
"In tonight's hearing," continued Luria, "we've gone into great detail about the events of January 6," which culminated in Trump's unapologetic video remarks after the riot was quelled. "That was not a message of condemnation and just punishment for those who broke the law that we expect from a president, whose oath and duty is to ensure the laws are faithfully executed," she said. "But instead, it was his newest version of 'stand back' and 'stand by.'"
"When we present our full findings, we will recommend changes to laws and policies to guard against another January 6," said Kinzinger. "The reason that's imperative is that the forces Donald Trump ignited that day have not gone away. The militant intolerant ideologies, the militias, the alienation and the disaffection, the weird fantasies and disinformation. They're all still out there, ready to go. That's the elephant in the room."
These closing comments show that the committee is focusing on the future as well as the past. The biggest "elephant in the room" is what Cheney brought up when she asked every American whether Trump, who is preparing to announce his 2024 presidential bid, can "ever be trusted" in public office again.