Poll: January 6 Hearings Push Independent Voters Away from Trump Republicans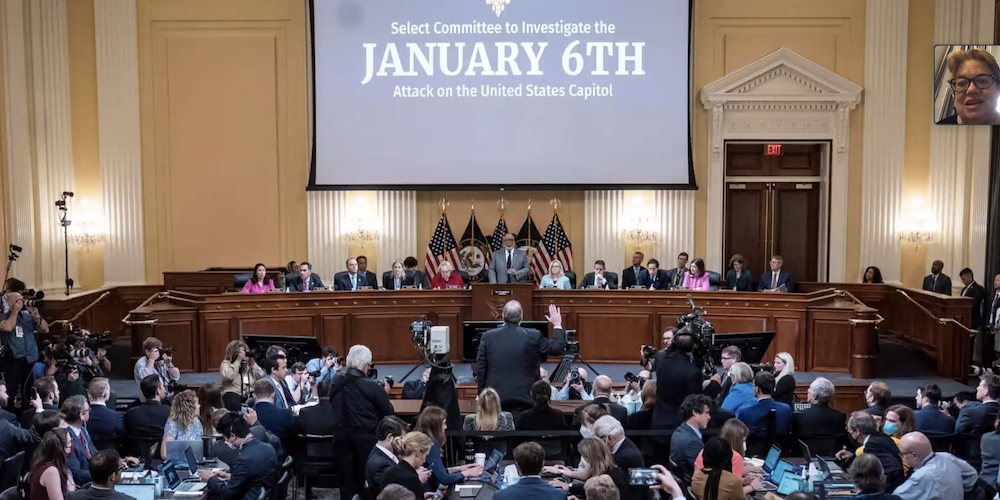 (Image: https://january6th.house.gov/news/watch-live)
Growing numbers of likely November midterm voters are tuning into the January 6 Committee hearings and overwhelmingly do not like what they see, with 70 percent saying that Trump-aligned incumbents and candidates who pushed the lies that led to the Capitol insurrection should not hold public office, according to a new nationwide poll released Friday.
"Seventy percent of Americans say they're starting to hear that there are candidates running that are still tied to the Trump Republicans, tied to the attacks on the country," said Celinda Lake of Lake Research Partners, referring to its nationwide poll of 800 likely general election voters taken between July 13 and 17. "And people think they should not be running; people should be disqualified. But if they do run, they want to actively vote against them."
Lake explained, "Seventy percent of Americans agree with the statement, 'I would not vote for anyone who's supported or encouraged the attack on our country on January 6.' That includes 97 percent of Democrats, 73 percent of independents, and 39 percent of Republicans."
The survey, which was taken before the Committee's dramatic primetime hearing on Thursday, included other findings that showed that sizeable numbers of voters – possibly enough to affect outcomes this fall – are reaching strong conclusions about Trump's effort to overturn the 2020 election. Those conclusions include the emerging view that Republicans are the political party that supports the use of violence to gain power.
"Sixty percent of Americans say that they [the insurrectionists] were not patriots and 63 percent say they were not bystanders," Lake said, speaking a briefing by Defend Democracy Project, a Washington-based group dedicated to the principle that voters determine election results. "People are much more likely to think that the Republican Party is more inclined to resort to violence than the Democratic Party. This has been a major shift."
"Two years ago, people thought the two parties were about equally inclined to violence, but that perception has changed pretty dramatically," she explained. "The most important numbers here… are the independents. By [a margin of] 16 points, the independents say the Democrats are not inclined to violence. By 21 points, the independents say the Republicans are inclined to violence. This is a sea change in terms of attitudes, and a very, very important development that has come out of what has been revealed in the hearings."
The Select Committee's eight hearings, which will resume in September, began on June 9. In April, Lake's polling found that 24 percent of likely voters were aware of the hearings. By June that number was 40 percent. By mid-July, 60 percent said that they had heard "a lot" about the hearings and an additional 26 percent said that they had heard "some" about the hearings.
"With all the distractions and all the things going on in the country, that is just a phenomenal level of penetration," she said. When broken down by party, 96 percent of Democrats support the House's investigation, as do 62 percent of independents and 29 percent of Republicans.
Among independents, who tend to vote for Democrats or Republicans depending on the election – and therefore are coveted swing voters – more than 70 percent found the following revelations from the hearings were "very" or "somewhat" concerning, Lake reported.
• Trump was told that his supporters had weapons and did nothing to stop them. (79 percent).
• Trump tried to get security removed because "they're not here to hurt me." (76 percent).
• Trump was told ahead of time that his January 6 rally could turn violent. (79 percent).
• Trump's call for a January 6 rally and protest that he said, "will be wild." (74 percent).
• Trump's reported intimidation of January 6 committee witnesses. (73 percent).
• Trump's former campaign manager saying he was "asking for civil war." (75 percent).
• Trump's stolen election lies, after he was repeatedly told that he lost. (73 percent).
• Rioters saying that Trump's rhetoric "got everyone riled up. (73 percent).
The level of concern among independents dropped off when asked how worried they were "about a future January 6th-like attack on our country." While 91 percent of Democrats were concerned, and 31 percent of Republicans were concerned, only 50 percent of independents said they were concerned. However, among people who Lake called "surge voters," meaning they don't usually vote in midterm elections but did in 2018, 91 percent were concerned.
"What are the three big takeaways here?" Lake said, summarizing her latest research about the House investigation into January 6.
"The public has been paying a lot of attention, even with everything that's going on," she said. "That is bipartisan. [And] it has an enormous penetration with independent voters.
"The public has concluded that this was not just a spontaneous one-and-done bystander event," she continued. "They have concluded that this was planned. This was funded. This was encouraged and that it's continued. And then it was anchored on a number of actions by Trump Republicans, and by Trump himself, and a number of false claims.
"They are worried about the future. And they're willing to take future action. They are stunned that there are candidates running for state and local office as well as Congress, who supported and encouraged the insurrection, the attacks on the country, and they want to vote against those candidates who they think shouldn't be running to begin with."