Lacking Evidence (And Lawyers), Arizona Trumpers Want Midterms Overturned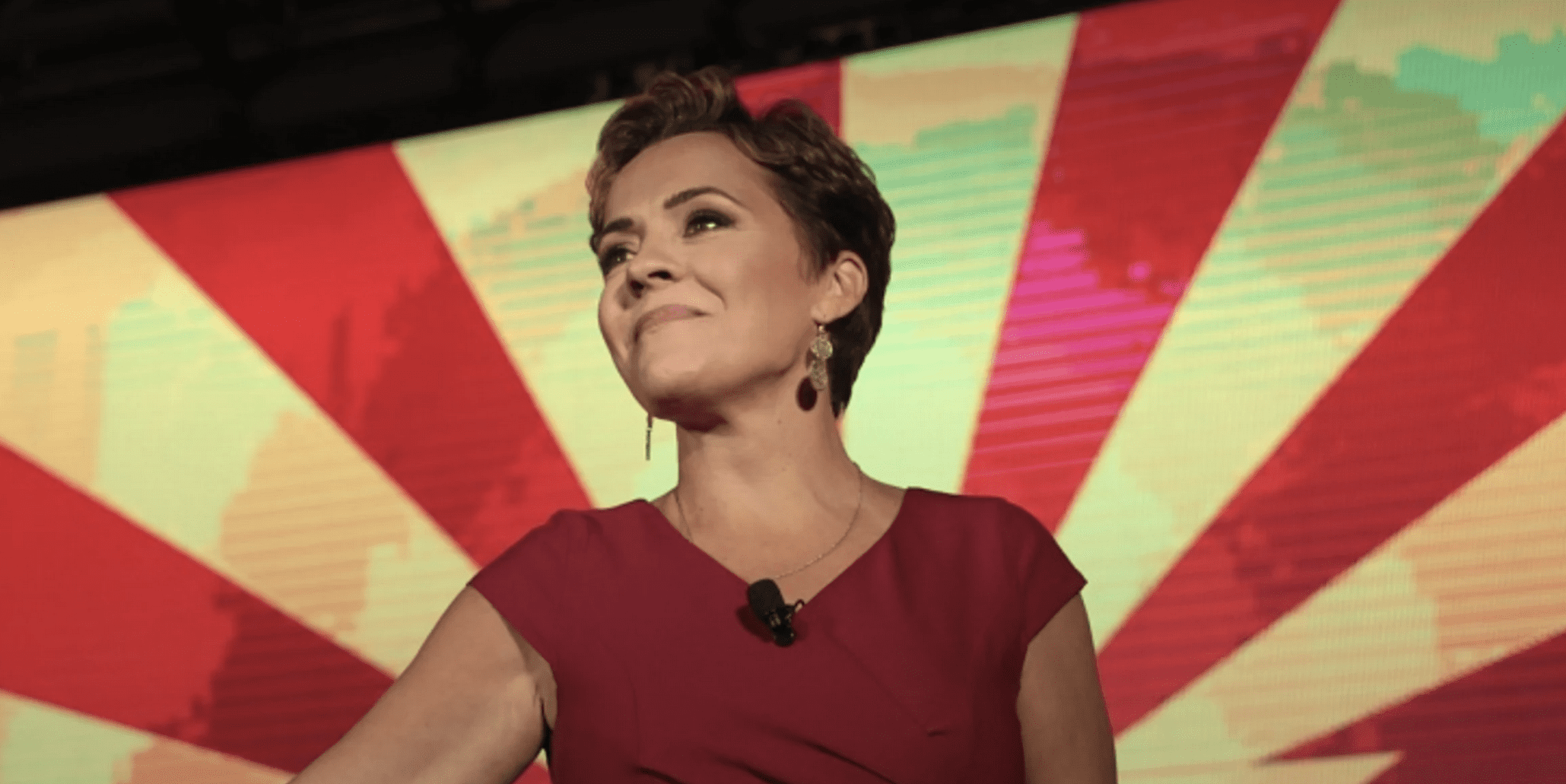 (Arizona GOP gubernatorial candidate Kari Lake. Credit: Attribution-ShareAlike (CC BY-SA 2.0)
Trump Republicans who are seeking to overturn Arizona's 2022 general election are preparing to sue up to 15 counties with the hope that they find a judge who will be sympathetic to a litany of conspiratorial claims, according to recruitment and briefing materials sent Wednesday seeking lawyers, plaintiffs, and funds.
The materials from "Arizona Constitutional Advocates," which do not specify which race, or races, they contend were improperly administered, also suggest that the supporters of losing Trump-affiliated candidates will sue whether or not they are represented by a lawyer.
Arizona GOP gubernatorial nominee Kari Lake and GOP secretary of state nominee Mark Finchem were defeated, according to media projections. Neither contest, as of Thursday, would trigger a legal recount.
Lake, in her first statement since losing to Democrat Katie Hobbs, said Thursday that she was assembling the "best and brightest legal team… to right these wrongs." That boast was at odds, however, with the materials circulated by her supporters to hastily assemble a lawsuit to try to block Hobbs' victory.
"There is a narrow window of 5 days after the election Certification to file a suit-complaint that out election was flawed," said minutes from a Wednesday meeting by the Gila County Election Integrity Team that was accompanied by a half-dozen strategy and briefing documents. "We need to prepare now!"
"If no attorneys, we as plaintiffs could represent ourselves," the minutes said, under a section labeled "The Plan."
"The goal in getting the case to many counties [is] so we could find judges that are favorable to hearing the case as we've had about 6 rejections in the past 2 years for other voting suits in Maricopa County. As we know the judges can be part of the problem."
Six documents described the strategy. Two are filing instructions and forms, and court fees, for Maricopa County Superior Court, which is based in Phoenix. The others are the group's Wednesday minutes, "Election Fraud Claim Info for Possible Plaintiffs," "Grounds [to sue]," and "Redress of Grievances," which describes filing affidavits and "How To Call In The Military."
Many of the materials' claims have been circulating in far-right circles since Donald Trump lost the 2020 election in Arizona and nationwide. Some claims are newer and based on glitches that led to 17,000 ballots not being accepted by scanners in Maricopa County's vote centers on Election Day. Those ballots, whose ink was too light to be read, were set aside, secured, and counted later.
However, none of the 22 issues listed in "Grounds" document specified how general election votes were improperly cast, or improperly counted, in a manner that would alter outcomes – which is the legal threshold to contest an election.
"Anyone can file a lawsuit for the filing fee," said Chris Sautter, an election lawyer who has specialized in post-election challenges and recounts since the 1980s. "If you're not doing a recount, the vehicle by which you challenge an election result is a contest. And in an election contest, you have to demonstrate in your pleadings that were it not for the actions you were contesting that the result would be different."
Sautter reviewed the briefing materials and said that they were vaguer than the 60 lawsuits filed by Trump's lawyers after the 2020 election that led to every suit except one on a procedural matter being rejected by state and federal courts.
"This is all reminiscent of the kinds of cases that were filed by Trump and his allies following the 2020 election, only these seem to be worse," he said. "They're more amateurish. At least, with Trump, you had lawyers in those cases, who knew how to frame the cause of action [when filing a suit]. You're not going to get anywhere by just going in pro se and representing yourself and throwing out a bunch of allegations that will be dismissed pretty quickly."
Sautter also said suing in multiple counties to find a sympathetic judge was naïve.
"These people are not going to outsmart the system, which seems to be what they are trying to do," he said.
The Newest Allegations
The first allegation is one that Trump Republicans raised before Election Day in a handful of red-run counties. A handful of activists had urged county supervisors to replace state-approved vote-counting computers with a hand count – which none of the counties had done recently. The activists claim the federal accreditation of the testing labs that approved technology used in Arizona had expired.
"If the Lab was not accredited, the voting machines were not certified," the minutes said. "And if the voting machines were not certified, the vote count (canvass) cannot be certified… and the election cannot be certified."
The next allegation – "failure of audit without remedy" – concerned Cochise County, which still wants to do a hand count. The county's attorney "refused to represent them – a dereliction of duty," the minutes said, referring to a county attorney who said that state law clearly barred a county-run hand count.
The next allegation – "disenfranchisement" – claimed that voters in Maricopa County whose ballots were rejected by scanners were blocked from voting.
"If you are in Arizona, and you are one of the many who was turned away at the polls, or you had your ballot rejected, or later learned your vote was not counted – then sign and notarize a statement saying you were disenfranchised," the minutes said. "Email your signed affidavit to [email protected]."
Another document that listed 22 "Grounds for Election Complaints—Maricopa & Other Counties" was even vaguer. It cited the above claims, and then issues such as "Lack of county department transparency," "registration problems," "no day of election records," and more long-standing complaints from Trump Republicans.
"People came to voting centers to specifically be able to have their vote counted the day of elections were thereby unable to have their vote counted the day of the election, and potentially compromised their voter intent," it said, reviving Trump's contention that only votes cast on Election Day should count.
Among the "resources" to be viewed by possible plaintiffs were videos from Rumble, a pro-Trump media platform, "If Arizona Gets Stolen, Here's How to Fight It," a YouTube interview with 2020 election conspiracy theorist Cleta Mitchell, a segment from InfoWars, the website created by Alex Jones, who recently lost a major suit for attacking the parents of school children killed in the Newtown, Connecticut mass shooting.
"We seek bold trusted patriots who have had enough of stolen elections," said a document seeking plaintiffs in 15 Arizona counties. "We're working together to redress out claims at the courts and pray some judges hear our cases."