Red State Victory for Voting Rights: Federal Court Blocks a Massive Potential Voter Suppression Tactic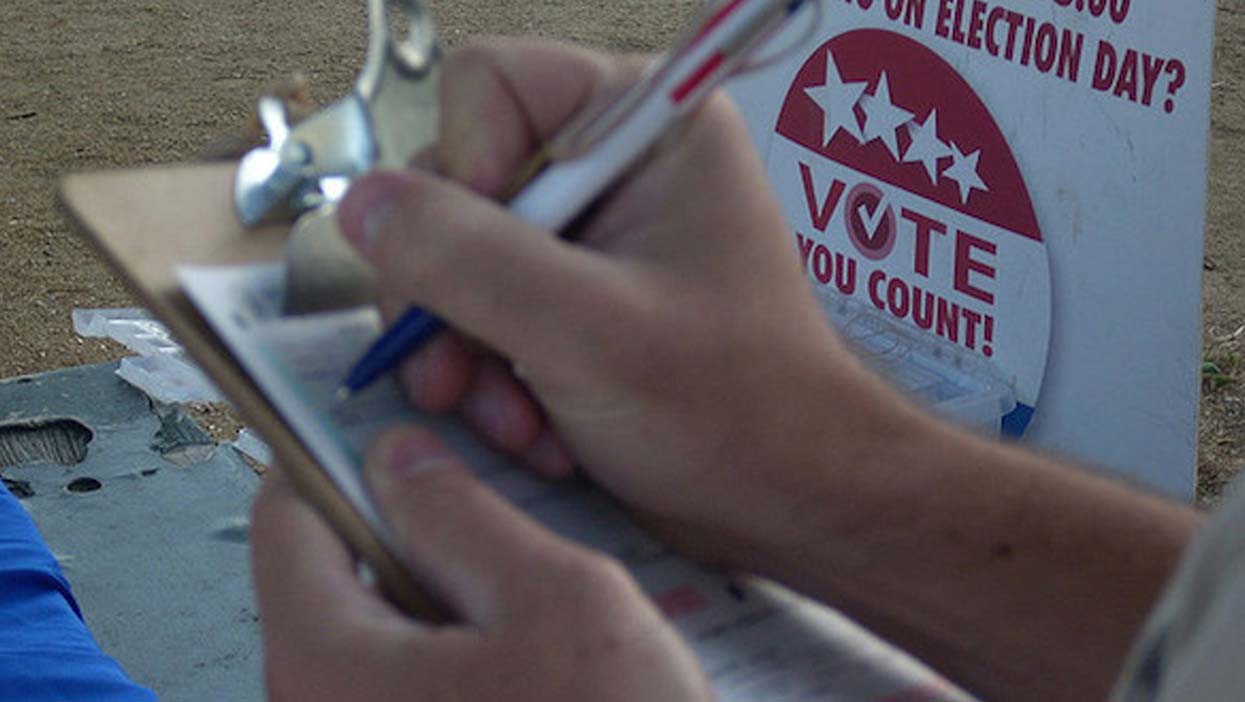 Voting rights advocates won a major victory in Missouri late on Friday, when a federal district court ordered the state's Driver License Bureau to promptly forward address change information for an estimated 200,000 people who recently moved to election officials to update voter rolls before the midterm election.
This technical snafu—where one state agency has not been sharing its latest information with another; in this case, the driver bureau not sharing the latest address information with statewide election officials—is not simply bureaucratic bungling.
It is willfully turning what should be a simple matter—transferring data—into a potential voter suppression tactic. That's because it could complicate the process for hundreds of thousands of people in states with close races, starting with U.S. Senate contests.
Slightly different variations of this problem have surfaced in Missouri and Arizona.
In Arizona, civil rights groups have been frustrated by its state Motor Vehicle Division refusal to forwarded address changes for an estimated 384,000 people to election offices. That number comes from people who did not check a box on a form agreeing to forward the change of address information, a Secretary of State spokesman said Friday, adding officials were going to fix that problem after the November 2018 election.
Unlike Missouri, voting rights activists in Arizona did not win a court order after suing. As a result, the affected individuals could face a more arduous task of casting a ballot that would be counted—as their voter information on file will not be accurate—unless they take proactive steps between now and the state's close of voter registration. But, of course, these individuals are probably not aware there's even a potential problem.
At issue in Missouri, where Democratic U.S. Sen. Claire McCaskill faces a tough re-election bid, is whether or not a sizeable number of the estimated 580,000 voters who move within the state every year will have their voting credentials updated as part of getting news driver's licenses. A 1993 federal law, the National Voter Registration Act, called the motor voter law, requires state agencies to offer voter registration services.
"Specifically, the lawsuit alleges that DOR [Missouri Department of Revenue that oversees driver's licenses] is failing to provide Missouri residents with the opportunity to register and update their registration information during various license and identification card transactions," the voting rights attorneys said this spring.
"Over 580,000 Missourians move within the state each year—approximately 200,000 of who move to a new electoral jurisdiction," they explained. "When a voter's registration information does not reflect their current address no matter whether they have moved within the county or not, the voter must cast a provisional ballot; and, if a voter has moved to a different election jurisdiction, their vote is discarded entirely."
Late on Friday, U.S. District Court Judge Brian C. Wimes ordered the driver agency to fulfill the NVRA's voter registration obligations, and ordered the state to send voter applications to people who got a new license in the past year.
"There is no dispute among the parties that 'ensuring qualified voters exercise their right to vote is always in the public interest,'" the court held. "While the Court is cognizant of the extreme nature of preliminary injunctive relief, the circumstances of this case suggest the public's interests in the right to vote, and ensuring that state processes follow federal law, outweigh the public costs for Defendants to comply with a preliminary injunction."
The court ordered the state to act quickly, citing an October 10 voter registration deadline in Missouri for the November 6 election. In contrast, in Arizona, organizations like Mi Familia Vota will be scrambling to urge people to check and possibly update their voter registration information before that state's October 9 close of registration.
Also Available on: www.truthdig.com