Virginia Gov Race: Organizers Are Turning Out Overlooked Voters of Color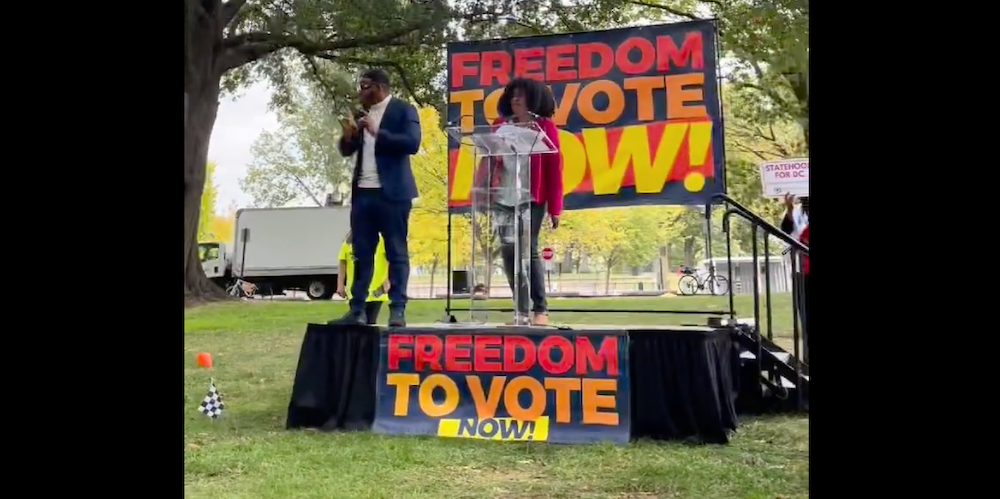 (Photo credit: facebook.com/center4commonground)
After 2020's election, Virginia adopted more pro-voter legislation than any state, from expanding access to starting to amend its constitution to enshrine voting rights. But these reforms have not been enough to turn out voters in this fall's statewide elections, where the top-of-the-ticket Democratic and Republican candidates for governor are close in polls but seen as underwhelming.
"The college-educated voters, predominantly in northern Virginia, are not turning out to vote, at least early in this election," said Andrea Miller, whose Virginia-based Center for Common Ground has successfully worked in many Southern states in recent cycles to motivate voters of color to turn out. "We feel there is a lack of interest, especially at the top of the ticket."
Virginia is one of two states electing a governor, constitutional officers, legislators, and local officials on November 2. There are 1.2 million Black, Hispanic, and Asian voters across the state whom Miller is trying to reach via a mix of postcards, texts, phone banks and door knocking. But by October 21, only 66,000 of those people had voted, according to the public data she tracks.
Statewide, TargetSmart, a political data firm, reported that 655,000 voters had voted early in the state as of October 25. In contrast, in 2020's presidential election, 2.8 million people voted early. (The figures from 2019 are not comparable, because voting early was very restricted.)
While political parties tend to elevate suburban voters, Miller's focus is elsewhere: in cities and rural areas where voters whom political insiders do not expect to turn out reside. Notably, the counties where voters of color have seen the highest percentages of early voting this fall are in corners of the state away from Washington, where Miller has campaigned on local, not national, issues.
"We've got a democracy center in Roanoke. That's southwest Virginia, almost in Appalachia," she said. "Roanoke has the second-highest Black turnout—compared to its voting population. And why are they so successful? Because they started with the community's pain points."
"One of the pain points for that very poor community was food insecurity," Miller said. "So that's where they started off. They bought baskets and put food in them. And people who came to get the food baskets told their neighbors. And when they held their first event, they showed the 'Summer of Soul' [film] on the wall of their building. They listened to what they said about voting. They gave them palm cards that showed them what they were voting for. And people signed up to volunteer and canvass."
Miller's palm cards don't mention the governor's race. At the top of the ticket, Democrat Terry McAuliffe, a former governor seeking reelection, has been railing against his opponent as a Donald Trump clone. His Republican opponent, Glenn Youngkin, has attacked McAuliffe as a liberal who will poison public school children with a politically correct agenda. In contrast to these clichés, Miller's palm cards say, "Vote Your Issue" and cite a monthly child care allowance, ending gun violence, and prison reform, and "Vote Your Power" and cite restoring ex-felons' voting rights, addressing homelessness, and providing free internet access.
Relational Organizing
Elections in nonpresidential years always have lower voter turnout than nationwide contests. But there is more going on in Virginia than an election that political analysts have characterized as a rehearsal for 2022's elections, which include congressional and many statewide races. How the Center for Common Ground is approaching community outreach and organizing stands in contrast to the gubernatorial campaigns, which have relied on nationally known figures.
The center's approach to finding and reaching voters who are not on any party's map were successful in Georgia's U.S. Senate runoffs in January 2021, where tens of thousands of infrequent voters of color turned out across that state—not just in metro Atlanta. The center identifies counties where "missing voters" live, meaning people who are registered to vote but rarely do so, or eligible but unregistered voters. It identified 21 counties across Virginia where 1.2 million voting-age people of color reside.
The center partnered with local community leaders in church and cultural circles, who began by asking people what they were worried about, and started taking steps to address those issues. Overtly, the foremost concerns had little to do with who was on Virginia's fall ballot but had everything to do with engaging people in solving problems in their community. Upon some reflection, it was clear which party's slate was best positioned to address those concerns.
"One of the things that it takes is knowing, and caring enough about knowing, what the needs of a community are," said Bernadette Lark, known as B.J. Lark, who is the Roanoke Democracy Center's program director and a well-known singer in church and local activist.
"There is not one person in a grassroots organization that can say they don't know that we have over 500 homeless students in our system," she said. "We know people go hungry and homeless every day. That's just a reality that first must be accepted as the truth of what we're experiencing… You then take that conflict, and ask yourself, 'How can we be part of at least one resolution?' Well, you provide food. You feed them. You go to where these people are."
Lark said bringing food baskets started a larger conversation, where she and others asked people what was on their minds and took the time to listen about what they wanted—rather than immediately urging them to vote.
"If there's a sense that someone cares about you, you tend to be more engaged. We know that type of data has not been researched much, but I know this from firsthand experience," she said. "We didn't walk up to their house and put a 'vote for' sign in their yard. We walked up to their home saying, 'We realize there are needs in the community. Do you know of other family members or people in your community that need the things that we can offer to them, you know, within our means?"
This community-oriented strategy is called relational organizing. But, as Lark noted, it involves more than asking a circle of family, friends, and neighbors to do something. The key, she said, was listening and validating people's concerns.
"You've empowered them enough to show them that they now begin to get the value of their voice, but also you've empowered them to know that they matter," Lark said. "We're building a relationship. I'm not worried they're going to run off before I share my palm cards and flyers."
Miller said this community-based strategy was adding overlooked voters.
"Take Petersburg. Normally nobody cares about Petersburg. It's 86 percent Black. But Petersburg has crossed the 10 percent turnout threshold," she said. "In these places where we've got organizers and we're talking to people about what's important to them, or more directly, what is their pain point? What is hurting? And then we're saying, 'We're going to have to work on this together and let's start this process right now,' we are seeing this amazing turnout."
"Who would have thought that Roanoke's turnout would be more than double Fairfax County?" Miller said. "If you ask anybody, not by the numbers, but by the percentage of voters who are turning out, they're saying, 'You know what, I'm going to go out and vote. I am going to start engaging because I know what I'm voting for and this is what I want to fix.'"