Celebrities Reconnect With Hometowns to Boost Local Candidates in Virginia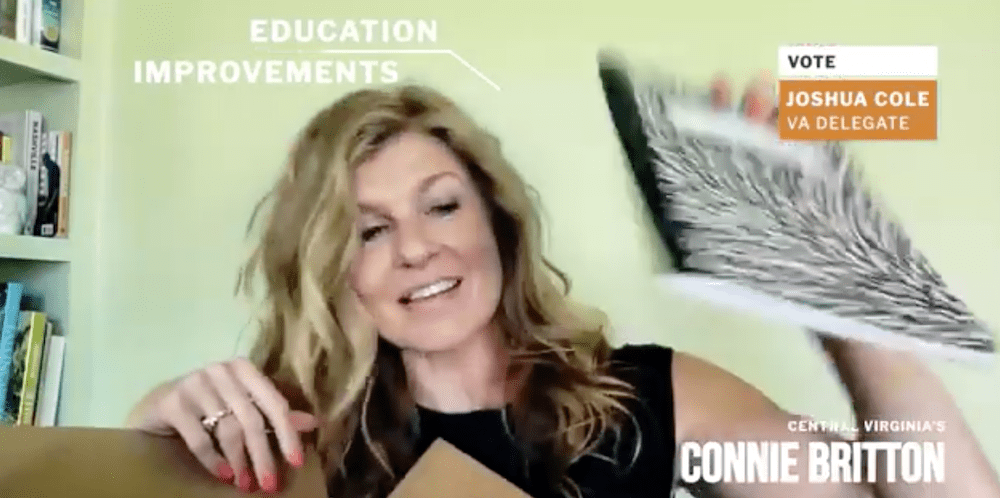 (White Lotus star Connie Britton encourages voters to re-elect Delegate Joshua Cole. Photo: YouTube.com)
For most Americans, the elections that have the greatest impact on their lives are not at the top of the ticket. The most impactful offices often are state legislators and county and local officials, which is where the Hometown Project resides. Since its inception, the project has helped 125 candidates for these offices by connecting them to celebrities who grew up in their districts: the celebrities' hometowns.
The artists, actors and athletes make videos where they speak about the local values that shaped them, and the candidates who share these values. I spoke with Peter Salett, the Hometown Project's founder, about its growth in recent years, impact in 2020, and focus on Virginia's 2021 elections.
Steven Rosenfeld: Please remind people what the Hometown Project is.
Peter Salett: The Hometown Project began in 2017. I am a musician by trade. Through my years in the film industry, I know a lot of well-known people. I saw in the world of social media that people would be tweeting and posting things, and a lot was getting lost in the wind. I asked myself, how could I personally make a difference? What could I do? I was meeting with an environmental activist, and he said when Mark Ruffalo went back to his hometown to talk about environmental issues, that was really powerful.
A little light bulb went off. I thought, "Gosh, what if we could get well-known people to support local candidates in their hometowns in races that are often decided by 500 votes or 1,000 votes?" I began to put this together along with our founding Executive Director Erin Frederick. We have built an organization over the past four years leading up to 2020 where we had 36 well-known people support over 55 candidates, plus additional GOTV [get out the vote] content. In 2020, we created over 140 videos, supporting mostly candidates for state legislature, but over the years we've supported candidates for city council, school board, county executive, sheriff, and any other down-ballot races.
SR: Are these celebrities trusted local messengers?
PS: The primary difference between what we do with the Hometown Project and what's been done before [in political messaging] revolves around the notion of hometown, and what that means. Obviously, using a celebrity in an election is not a new thing. But using somebody who still has a stake in a particular community, who often has family still living there, or whose friends still live there, is authentic.
People are making these videos for places where they actually feel an affinity, and where the decisions of these local officials actually have an impact on people that they care about and communities that they care about. We're not looking to have celebrities give a sermon about particular issues. The main objective for us is to raise the profile of well-deserving candidates, exciting candidates that have a really difficult time breaking through. In 2020, it was difficult because there's so much attention on the presidential race. And in 2021, the challenge is making sure people know there are legislative elections, for example, in Virginia.
SR: Where did these videos appear?
PS: This is where we have grown tremendously. In the beginning, we had two "Hometown Energizers" [endorsers]. In the fall of 2017 as Erin and I created the organization, we said, let's try to see if this concept works. At the beginning, we just had the candidate post on their Facebook page. Mark Ruffalo and Jason George made videos for a couple of Virginia candidates. In one example, the candidate was getting about 300 views on their own ordinary Facebook videos.
When she put up Mark's and Jason's videos, they got 25,000 views.
We could see right away that this was far more viral, and far more people saw them. And, of course, at times we have someone with a large profile like Ruffalo or Jason Mraz post their videos to their millions of followers. But what we really care about is how many people are seeing the videos within the [electoral] districts. We've fine-tuned our approach to the point where we're really just focused on digitally distributing the content within the specific district.
SR: Was that expensive or hard to do?
PS: It's not an expensive proposition in that we're not looking to broadcast something statewide. We're not looking to broadcast the national television commercial. We're just looking to reach voters within a relatively small district.
SR: What platforms were most helpful in that regard?
PS: In the beginning, we really just used Facebook and Instagram. But in the last two election cycles, we've also devoted a decent amount of our ad budget to what's called programmatic ads, which is essentially Google ads, so they might be seen before a YouTube video. Or this year we're creating banner ads that could follow the person from place to place. That way we aren't relying on just one or two platforms. We can identify who is, you know, a likely Democratic voter or whatever the different parameters we think would be most helpful to the candidate.
SR: Did that change with the pandemic?
PS: No. The irony is that when we first started, we thought that we would get people to travel back to their hometowns and hold campaign events with candidates. I quickly grew to see that this was a fantasy. Nobody has that amount of time. What it became was people made videos. We realized that videos are great because they can be seen over and over. They can be passed around. It's not a one-event type of thing. Pre-pandemic, we were having people record themselves on their phones with scripts that we would set up for them. It ended up being something that we could easily do in a pandemic world because we had already set it up that way.
Working with well-known people, who don't have a lot of time, we realized if we can get somebody to shoot [a video of] themselves on their phone, then they are much more likely to do it. We don't have to give them a specific time or send a camera crew or all these things which are also much more expensive. So, the ease of it, for us, was primary. And we like creating things that are low-fi, and it gives the viewer a chance to kind of connect with a well-known person. We call them "Hometown Energizers." There's not that distancing effect of seeing somebody super glammed up, because what we're trying to emphasize is the connectivity, the community aspect.
But I will say the thing that changed a little bit in the pandemic is that pre-pandemic, the excitement of seeing someone, like Connie Britton, in their living room was unusual. But once the pandemic hit, then everyone was used to seeing everyone in their living rooms. We had to come up with conceptually some things to make our content stand out. So that involves using some animation and graphics and online memes and little game show ideas and things like that.
SR: One of the things I noticed in your 2020 report was that a lot of these races were very close. The winners only won by several hundred votes. How did these videos impact turnout?
PS: Our objective from the beginning was to be involved in close races. We work with local partners to identify the races that they think are going to be tight, because we want to have an impact in potentially swinging a race. We know that the use of celebrity can appeal to atypical voters, and we've had a continued focus on learning from our past work, analyzing the data and refining our program accordingly. We are set up to gather a good deal of data this year as we go into 2022.
We've also seen how the videos boost morale among campaign volunteers and staff at a much-needed time, driving traffic to social media pages, and reaching key demographics. For us, to increase the name recognition of a candidate in the local race, get people excited about that candidate, [and] get the candidate excited, but also to encourage people to vote down the ballot and see a name that they recognize because they were served up some content by a well-known person—that's what we're driving toward.
We're not going to be out there knocking on doors. What we can do is we can make a video and raise that [candidate's] name recognition and also, quite frankly, bring excitement to the campaign. The amount of excitement that goes to their campaign is really fun to watch. The candidate feels really excited about it. The campaign staff does. The volunteers do. It really gives a boost to that campaign at a very crucial time, typically in the final stretch. So, there's the excitement factor. And more people are going to see content that has this candidate's name in it and has a few reasons why people with shared values would want to vote for them.
SR: Do the videos try to reach out to people in the political middle or to independents?
PS: We're trying to speak broadly to a broad section of the electorate. In general, we're not going for persuasion ads. We feel like using a Hometown Energizer in that context appeals to more people. We never, or very rarely will we, use the word "Democrat" within our ads. We're always speaking more to shared values and shared interests, and shared issues. And all of our content is positive. We never mention an opponent. We never mentioned anything in a negative context. We're simply talking about community and shared values and raising that candidate's name recognition. We're definitely going for people in the political middle and have an open mind to who they might vote for.
SR: You were involved in about 50 campaigns in 2020. There are statewide elections in Virginia and New Jersey this fall and municipal elections in swing states. What are you looking at?
PS: This fall, we're focused on Virginia. Despite our growth, we wished we had the bandwidth to be active nationally in terms of municipal elections. We're really trying to build toward that in 2022 and beyond. But for this year we're going to be involved in state delegate [legislative] races in Virginia. There's a narrow Democratic majority we're looking to preserve.
SR: Are the messages this fall different from a year ago?
PS: The pandemic last year influenced a lot of our content. Certainly, in our GOTV [get out the vote content] both in Michigan and Ohio. State Democratic parties wanted us to focus very early on the basics of how to vote in a pandemic: all the different deadlines, the different ways to vote. This year is a more typical year in terms of the themes that we'll be running on. Although, of course, I think that election integrity is something that we'll be talking about a lot in our videos that we probably didn't talk about in 2020.
SR: Let's go back to 2020 for a second. What were some of your highlights last year?
PS: Obviously this was a huge year for everyone involved in electoral politics. This was our first year working with a couple of state Democratic parties, which was an experiment for us. We had 20 well-known people from Ohio, including Sarah Jessica Parker, Molly Shannon, Phoebe Robinson, Ed O'Neill, and Yvette Nicole Brown, and many more, supporting local candidates. In Michigan, we had 11 well-known people supporting candidates. And we had folks from other states supporting candidates as well, including Jon Hamm in Missouri. And then we had people doing GOTV videos including Selena Gomez, who made a get out the vote for her home state of Texas. And we worked with Kerry Washington to create a video that emphasizes the importance of local officials and the decisions that they make and is not specific to one election or cycle.
And so that's kind of the meta theme of the Hometown Project… yes, we're trying to get local candidates elected, candidates that are responsive to their communities. But we are also trying to, in a larger way, emphasize the importance of local elections, and how local elections are often not something that everybody pays attention to, and it's tough to figure out what the different local officials do, but it's really important because the decisions that local officials make often affect us much more than what happens in Washington, D.C.
SR: That is what a lot of grassroots organizers that I met in Georgia in 2020 talked about. What was the best way to deliver the message that emphasized the importance of these posts?
PS: When people talk about local elections, or they talk about the decisions that local officials make, I think they don't quite realize the specific impact of those decisions. Some of these things have become clearer in the pandemic. If you're talking about mask mandates within your school system, those decisions are often made within your school district. Who's on your school board? And if it's deciding whether there's a Medicaid expansion within your state that's going to help hundreds of thousands of people. Well, one of the first things that the Virginia legislature did when they achieved a Democratic majority was to pass the Medicaid expansion, where I think over 400,000 people were now eligible.
For us, it's about the specificity. Just to say something is important without the actual examples of where that importance lies [isn't enough]. So, if we're talking about who you elect as a city councilperson, well, what are they in charge of? Are they in charge of making sure that your road has the speed bump that you want because your kids are going to be playing out there? Or are they in charge of the zoning regulations that determine whether or not a skyscraper is going to be built right next to your home?
It's the specificity of the issues which I think is lacking in this discussion. Anybody can be activated and become an activist when they feel personally involved in a particular issue. We can't just talk about local officials and why it's important in a general sense. We need to talk about the specifics of those decisions, how they impact you, and how to get involved, and have your voice be heard within a local context.