Wednesday Morning: Biden Well-Positioned, as Trump Prematurely Claims Win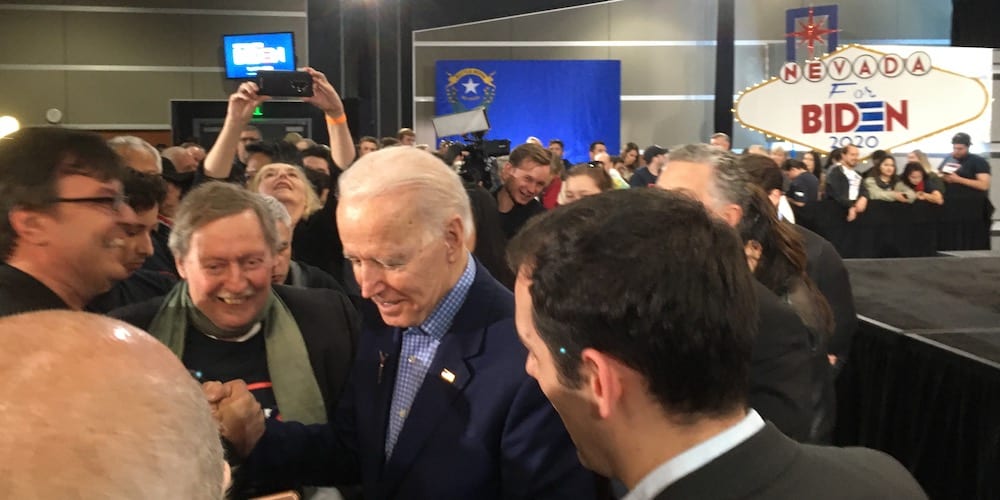 (Photo by Steven Rosenfeld)
As Wednesday morning broke, Democratic presidential candidate Joe Biden remained slightly ahead in the projected Electoral College count but not enough to win—while the remaining battleground states had very close margins that could possibly trigger a recount in at least one state, Wisconsin.
President Trump, as expected, attacked the vote-counting process in an after-midnight press conference, inaccurately declaring the process was a "major fraud" and pledging to pursue litigation that he said would hopefully end up before the U.S. Supreme Court, which he implied would award him a second term.
Beyond the predictable pushback from Biden, election officials, the political press and even statements from ambassadors to the U.S. from allies that Trump's claims were premature and unsupported, the 2020 presidential contest hinged on a few states where the counting was likely to end Wednesday or Thursday.
The largest blocks of vote counts that have yet to be reported in Arizona, Nevada, Michigan, Wisconsin, Georgia and Pennsylvania tend to be their urban areas, which are blue voter epicenters. While campaign managers for Biden and Trump expressed confidence early Wednesday that they would win, hard data about these likely votes—such as the party registrations of voters who requested those absentee ballots—favors Biden. That Democratic advantage is why the Republicans have filed suits, including two in Pennsylvania on Election Day, seeking to disqualify ballots.
As of noon EST, here's the breakdown, as updated on the New York Times interactive website. Biden has 227 Electoral College votes. Trump has 213. The winner needs 270 to secure the presidency:
• Nevada. (6 Electoral College votes) Biden leads by 8,000 votes, with 86 percent of the votes counted. State officials said they would not release any more results until noon on Thursday. Under Nevada law, the losing candidate can request a recount, but has to pay for it.
• Arizona. (11 Electoral College votes). Biden leads by more than 90,000 votes, with 86 percent of the votes counted. Under Arizona law, a recount is triggered only when the margin is less than one-tenth of 1 percent or 200 votes.
• Michigan. (16 Electoral College votes). Biden is ahead by 35,000 votes with 92 percent of the votes counted. The uncounted votes are mostly in the Detroit region, which had record turnout. State officials said the count would be completed late Wednesday. Under Michigan law, a recount is only triggered when the margin is under 2,000 votes—a threshold passed by the state's Republican majority legislature in response to the Green Party's 2016 presidential recount.
• Wisconsin. (10 Electoral College votes). Biden is ahead by 21,000 votes with 97 percent of the votes counted. State officials said they expect the first unofficial statewide results on Wednesday morning. A recount would be triggered if the margin was less than 1 percent of the total. The current margin is 0.7 percent. The losing candidate has three days to file for a recount.
• Georgia. (16 Electoral College votes). Trump is ahead by 104,000 votes with 92 percent of the votes counted. State officials say the counting will be finished on Wednesday. On Tuesday, polls in several of the state's biggest cities were kept open to accommodate voters in line, which suggests that Trump's lead will shrink as the final results are tallied. Georgia law allows a recount if the margin is under 1 percent, but the current spread is 2.2 percent.
• Pennsylvania. (20 Electoral College votes). Trump now leads by 535,000 votes with 78 percent of the votes counted. The majority of uncounted votes are, as of 2 A.M. Wednesday, were the 2.4 million absentee ballots. Among these ballots, statewide, Republicans requested 586,000 ballots, Democrats requested 1.6 million ballots and independents requested 260,000 ballots, according to the U.S. Election Project, which obtained its data from the state. This million-vote edge favoring Biden is why he is expected to win Pennsylvania. So far, the rejection rates for returned absentee ballots has been 0.1 to 0.2 percent, according to state data. A recount is triggered when the margin is 0.5 percent or less.
If Biden wins Nevada, Arizona, Michigan and Wisconsin, he has 270 Electoral College votes without awaiting Pennsylvania's votes. The New York Times also has not yet awarded Biden the vote from the Nebraska congressional district near Omaha, which would give Biden 271 votes. Nebraska is one of two states awarding presidential electors by congressional district.
These state summaries are based in the hard numbers so far: the first unofficial results in counties and states, and the party registrations of voters requesting an absentee ballot.
Beyond the public statements by both campaigns, the litigation landscape will be governed by Republicans seeking to disqualify absentee ballots via two claims.
The first Republican argument is that counties are not handling these ballots the same way, which is an "equal protection" argument that was the basis of Bush V. Gore, where the U.S. Supreme Court stopped Florida's presidential recount in 2000. That standard incorrectly assumes that every county has the same voting technology, same election office procedures, etc., as local officials implement election laws.
The second argument is only state legislatures can set the rules for elections with federal candidates—not state constitutions, state supreme courts, governors, secretaries of state or state election boards. That claim has been used to try to revoke absentee ballots return deadlines in Pennsylvania, North Carolina, Wisconsin and Minnesota.
In the past 24 hours, the state Supreme Court in Nevada rejected these kinds of claims in a GOP effort to halt that state's counting of absentee ballots. On the other hand, Republicans have filed two suits in Pennsylvania in federal court that claim Pennsylvania election officials allowed some counties to start processing their absentee ballots before the legislative-set starting line on Tuesday.
Apart from the presidential battleground states, the New York Times' interactive chart reveals that there are many states that are slower with counting their ballots than those under klieg lights—led by Michigan, Wisconsin and Pennsylvania.