Election Day Mostly Smooth, But Some Voter Intimidation in Battleground States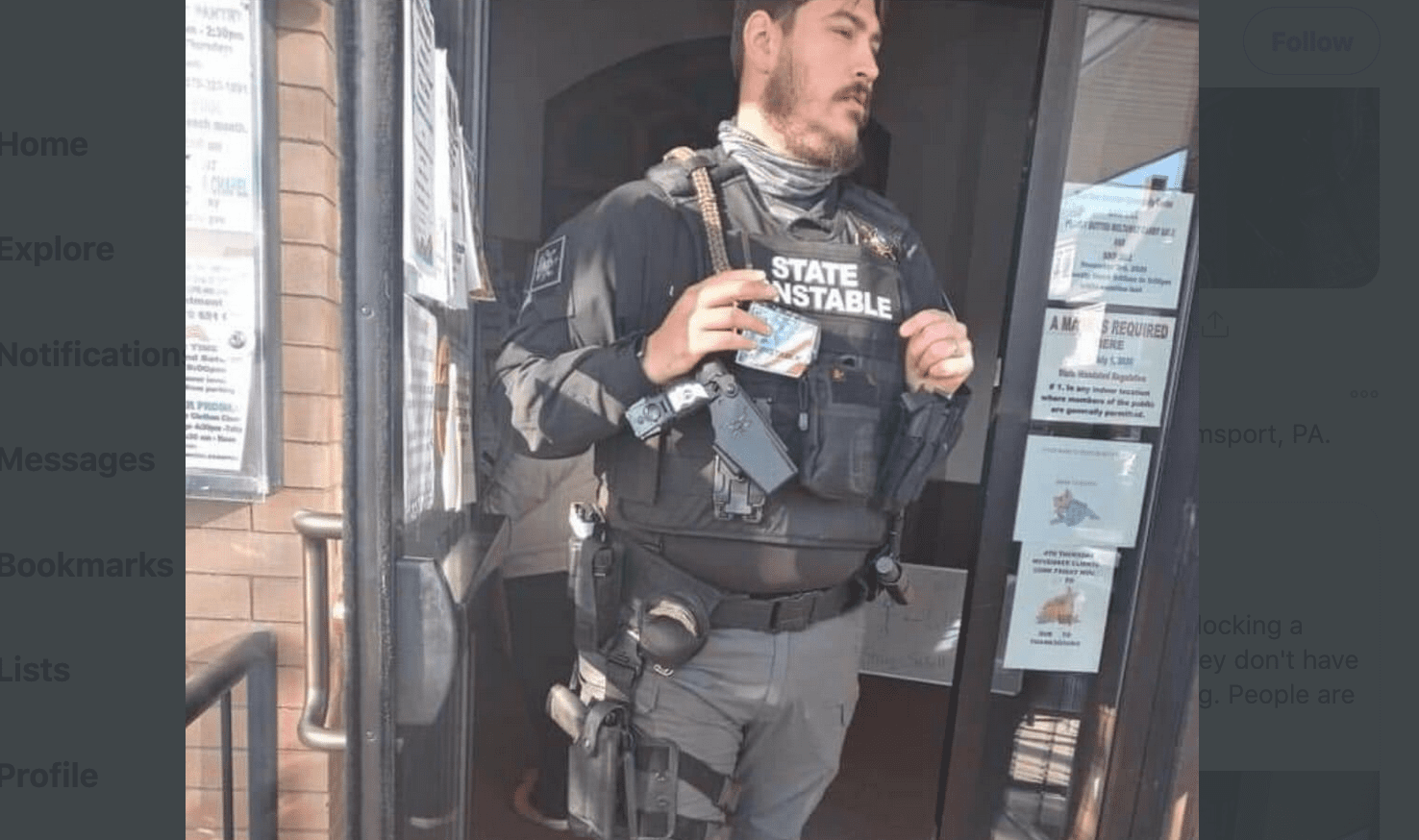 (Image: twitter.com/jr50903400/status/1323692968050610177/photo/1. A man posing as a law enforcement official blocks the entrance to a poll in Williamsport, PA.)
The county is having a "relatively smooth" Election Day, where there have been no systemic breakdowns but isolated incidents of voter intimidation, voting machinery malfunctions and other hurdles such as registration and voter ID issues, according to a series of election protection briefings by The Lawyers' Committee for Civil Rights Under Law.
"Today [is] a relatively smooth Election Day across the country," said Kristen Clarke, Lawyers' Committee president and executive director. "There indeed have been issues, and [there] may be issues as we move into the final hours of the Election Day. No doubt, we were bracing for the worst and have been pleasantly surprised to see elections in many parts of the country move rather smoothly and successfully."
"That said, the bad side is this is an election being carried out at a time in which the country is deeply polarized, and at a time in which we see signs of white supremacy," she continued. "The isolated incidents of voter intimidation have been problems that we cannot ignore. They have not been widespread and systematic, but they have been far greater in number than we have seen in recent elections and are a reflection of the dark times that we are in as a nation."
The Lawyers' Committee runs the nation's largest election protection hotline staffed by tens of thousands of volunteer lawyers who take calls from voters experiencing barriers to voting. Its Election Day briefings are a looking glass into larger trends in a country where the presidential election is actually comprised of 10,000 local jurisdictions overseeing the voting process.
During the last of three briefings held throughout the day, Clarke said the biggest problems facing voters—based on 30,000 calls to the 1-866-OUR-VOTE hotline—concerned voter ID and voter registration issues, voter intimidation and excessive electioneering, and malfunctioning voting equipment that lead to long lines and hours-long delays. The states with the most calls, in descending order, were Pennsylvania, Texas, Florida, New York and Michigan.
"The voter intimidation complaints that we received were at their height in Florida," she said. "There were some complaints in Pennsylvania, but no doubt [there were more] significant numbers of complaints of voter intimidation in Florida, including reports of trucks blocking access to a polling site in Palm Beach, among other incidents."
In some swing states, polling place hours were being extended, Clarke said, citing several Arizona counties where Native Americans had reservations, and several urban counties in Georgia where problems with pre-programming the voting systems led to delays for poll workers and voters. A handful of polling places in Texas and North Carolina also were extending voting hours.
Clarke also noted that the U.S. Postal Service did not obey a federal court order to sweep their facilities where absentee ballots had been observed awaiting processing and delivery to election officials. In many states, absentee ballots must be postmarked and delivered by Election Day, November 3, to be accepted and counted.
"We are very disappointed that the U.S. Postal Service failed to meet an order issued by a federal judge to confirm that they'd scan postal service facilities in several areas to ensure that there were no undelivered ballots," she said. "The U.S. Postal Service's failure to meet that court order may cast a cloud over ballots cast by eligible voters that don't arrive in the hands of election officials in the time required by state law or by court order."
The Lawyers' Committee, like many election experts, has been very concerned by President Trump's ongoing attacks on the legitimacy of the process—unless he won—as well as by his calls for supporters to mount vigilante-style roles policing the polls.
During three briefings over the course of the day, Clarke described isolated instances where individuals presented themselves as law enforcement at polling place entrances, waved pro-Trump flags and visibly carried guns (which is legal in many states) and intimidated others. However, these incidents were reported to police, she said, adding that there were fewer incidents than expected—based on Trump's calls to arms.
"This, in some respects, may be the calm before the storm," she said. "We know that a big part of this election will be proper handling and counting of absentee ballots, a process that does not get underway in many places until today—or until several days from now, depending on the deadlines that apply in particular states."
"We have seen, experienced and challenged nefarious attempts to disqualify and reject absentee ballots cast by eligible voters," Clarke continued. "And so we are bracing for the possibility of seeing attempts to challenge voters on the back end, as officials move beyond Election Day to the process of counting absentee ballots. We will see if today proves to be the calm before the storm."