Iowa and Georgia Lead State GOP Efforts to Roll Back Voting Rights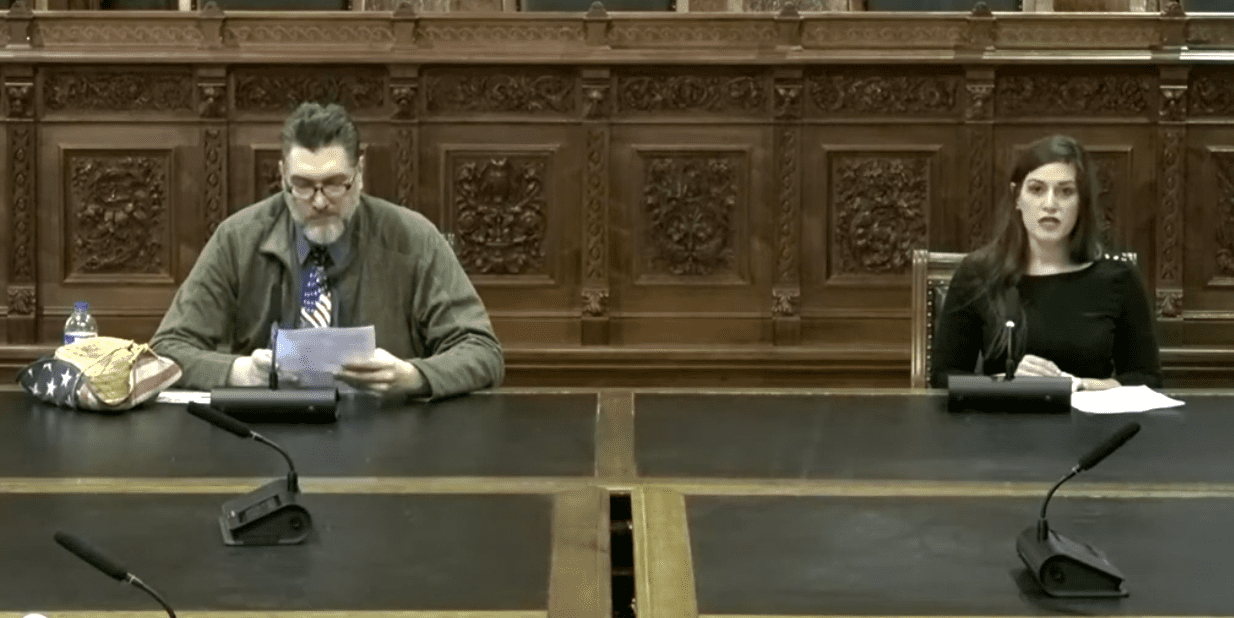 (Image: https://www.legis.iowa.gov)
On February 22, Iowa legislators held a one-hour public hearing on a Republican election reform bill that had been introduced just days before and could achieve what Donald Trump's campaign had failed to do during 2020's election—curtail voting options for perceived Democratic voting blocs.
Iowa's House State Government Committee's first witness was Alan Ostergren, a conservative lawyer whose views typified those backing the legislation.
"This bill has needed improvements," he said, referring to its rollback of early in-person voting (from 40 days last fall to 18 days), ban on election officials sending voters an absentee ballot application, $10,000 fines for county officials and poll workers who err, and harder ballot access thresholds for third-party candidates. "It's also not voter suppression. That's name-calling. … No one ever defines what that term means. It just means that somebody is upset."
The majority of those testifying, however, opposed the bill and were specific.
"The way the bill is currently written will limit the voting options of older Iowans, Iowans with disabilities, Iowans with chronic health conditions, Iowans working multiple jobs and Iowans without reliable transportation," said Amy Campbell, representing the League of Women Voters and Area Agencies on Aging. "The bill does not allow the voter to call the [county] auditor and ask for an absentee ballot request form to be sent to them. Not all Iowans have printers [at home] and have the ability to go to the county seat to request an absentee ballot."
"I'm concerned about the provision… which, in effect, threatens county auditors and ordinary co-workers with fines and jail time for merely asking a disruptive observer to stop interfering with the process," said Emily Silliman, an election observer last year. "I witnessed a serious attempt to shut down the process."
Iowa's legislation is one of the most aggressive responses to 2020's record voter turnout in the presidential election. Iowa saw nearly 76 percent of its voters cast ballots, including 1 million people who voted early or with a mailed-out ballot. Nationally, about two-thirds of voters cast mailed-out ballots (66 million people) or voted in-person before November 3's Election Day (36 million people.) But not every battleground state with a Republican-majority legislature is poised to pass draconian voting bills as Iowa is, where GOP legislators fast-tracked a bill that they expect to be signed into law days after the hearing.
"You heard the majority of the folks who testify asking us to rethink this; slow down," said Iowa Rep. Mary Mascher, the House State Government Committee's ranking Democrat, at the hearing's close. "This has been fast-tracked, and usually that occurs when the majority party decides that they want to push something through quickly without people being able to fully understand what is actually in the bill."
Across the country, as state legislatures approach crossover deadlines, where a bill must pass one chamber to stay in play, election bills—some curtailing voting, some expanding voting—have led to a flurry of activity in a few swing states.
Arizona, which was tagged by the Brennan Center for Justice at New York University School of Law as having the most anti-voter bills introduced in 2021, had seen the most extreme measures (voter purges, ending early voting, restricting mail ballots) proposed by Trump allies fall by the wayside. But on February 24, its Senate revived a bill that would purge about 200,000 voters from a list of automatic mail ballot recipients. It had failed one week before that when one Republican joined all Democrats in opposition.
Georgia, where two recounts affirmed Trump's loss and two Republican incumbent U.S. senators were defeated in January runoffs—giving Democrats full control in Washington—has also seen a spike in Republican bills to roll back voting options.
As the last week of February began, Georgia's Senate added a new ID requirement for returning a mailed-out ballot. By midweek, other measures with more sweeping restrictions began swiftly moving through its House and Senate.
The Georgia Senate passed a bill adding a voter ID requirement on February 23. That step, which adds work for voters and election officials, was backed by "91 percent of conservatives and 55 percent of liberals," according to a January poll by the Atlanta Journal-Constitution. But the later House and Senate bills are more punitive, such as imposing wider restrictions on absentee voting, limiting drop boxes for returning ballots, banning giving voters food or drinks as they wait outside polls, and disqualifying provisional ballots cast in the wrong precinct.
"Georgia Republicans once again showed their contempt for voters as two of the worst voter suppression bills since Reconstruction continued to move quickly through the state legislature," said a statement by Fair Fight, a Georgia voting rights group, about the new bills. "SB 241 would end no-excuse mail voting, implement new ID requirements, and add witness requirements for mail voters—in essence, creating one of the most restrictive absentee voting laws in the entire country and resulting in some of the worst voter suppression since Jim Crow."
No Single Republican Narrative
But outside of national battleground states, some GOP-majority legislatures are putting into law some of the same expanded voting options offered in response to the pandemic—the same voting options that are under attack in swing states.
Idaho, a deep-red state where in 2020 about 400,000 voters cast absentee ballots and another 100,000 people voted early, is not changing these voting options. A unanimously passed Senate bill allows local election officials to contact voters if there is a problem with a returned absentee ballot—to fix it. The bill also allows officials to start processing absentee ballots before Election Day, so results can more quickly be tabulated on election night.
In Kentucky, where the Republican-majority legislature recently overrode vetoes by Democratic Gov. Andy Beshear on bills stripping him of emergency authority (such as ordering state residents to wear masks in the pandemic), bills have been introduced to add four days of early in-person voting, but not to continue its pandemic response of suspending requirements to get a mailed-out ballot.
"I still call it a pro-voter bill. They are doing the best they can with the kind of support they can get, and I feel like they should be commended for that," said Audrey Kline, national policy director at the National Vote at Home Institute, which helps state and local officials to implement voting via absentee ballots. "Obviously, I'd like it if everybody voted like Colorado [with mailed-out ballots], but you have a lot of competing forces [in Kentucky], and some of them are town clerks. If a reform doesn't work for them, it isn't going anywhere."
Similarly, Indiana's House passed a bill to slightly expand early voting hours. (It also backed off a draconian reform: a Senate proposal to require proof of citizenship when registering to vote. It was withdrawn after Indiana's secretary of state, a Republican, determined that requirement was unconstitutional.)
In a handful of states with GOP-majority legislatures and Democratic governors—Pennsylvania, Wisconsin, Michigan and North Carolina—Republicans do not have sufficient members to override a gubernatorial veto. That means that passed bills rolling back voting options or adding bureaucracy will not likely become law. (Several just-introduced GOP bills in Wisconsin would face vetoes if passed by the legislature, local media has predicted.)
In Republican-led states in the Midwest and Plains, early and absentee voting options that may have been expanded in the pandemic are unlikely to become law, according to Electionline.org. In these states, Republicans who are seeking to roll back voting rights are meeting a mixed response.
The Arkansas legislature passed an anti-voter bill saying that voters who lack ID can no longer sign an affidavit swearing to their identity. That revision "would return us to the pure aspect of voter ID," a GOP lawmaker said. In contrast, in Nebraska, which has the country's only unicameral legislature, only one senator spoke in favor of a bill to curtail mailing out ballots and voting early.
Missouri, a red state where top officials reluctantly expanded absentee voting in response to the pandemic, is reverting to its pre-COVID-19 landscape. Secretary of State Jay Ashcroft said he expected this spring's municipal elections to take place without expanded no-excuse absentee ballots. "People want to vote in person," he said. But in St. Louis, the Board of Elections told reporters that some voters have asked if 2020's no-excuse absentee voting was still available. It's not.
Stepping back, the most restrictive election reforms appear to be concentrated in a few swing states—led by Trump-supporting legislators—not in all of the 23 states where Republicans control their state legislature and the governorship.
"None of these things fit into a tight neat narrative that Republicans are trying to destroy vote-by-mail," said Kline, when assessing the national reform landscape. "The states and the circumstances are just so unique. You cross the border from one state into another, and you're in a different ecosystem."
Democratic States Also Differ
Similarly, the notion that Democratic-led states are widely embracing an expansion of voting options following the pandemic is also not entirely accurate.
In progressive states like Maryland and Vermont, Kline said legislators have been studying options to expand early and absentee balloting. In Vermont, a Senate committee just passed a bill to mail all voters a ballot for all general elections In Maryland, lawmakers are considering a mix of expanded early and absentee voting.
In bigger states like New York, New Jersey and Massachusetts, post-2020 reforms are on a slower track. News reports from New Jersey and Massachusetts suggest that municipalities are transitioning back to narrower pre-pandemic voting options for elections this March and April—which is akin to Missouri. (In Massachusetts on February 24, the House Speaker said he would extend the deadline for expanded voting by mail to June 30, and supported making the option permanent.)
In Connecticut, the state's Constitution would have to be amended to expand voting by mail, a years-long process. Red-led Alabama, by contrast, will extend all pandemic-sparked voting options for all of 2021's municipal elections, including for mayoral elections in Mobile and Birmingham later this year.
So far, 2021 has seen a few local elections, even as most cities will hold primaries and mayoral elections this year. Michael McDonald, the University of Florida political scientist who tracked the daily turnout numbers for early and absentee voters in the presidential election, said that it was too early to know if 2020's embrace of absentee and early voting would continue after the pandemic.
"When it passes, do normal patterns restore? That's the big question," he said.
McDonald, who is finishing a book on 2020's voting patterns, said that legislatures now adopting aggressive election reforms were mistakenly assuming the way that people voted during the pandemic would be "how everything is going to work in the future, and we have to take preventative action to affect future elections."
Many Republicans voted in person after Trump attacked voting by mail, he said, because "if Trump [had] endorsed mail-in balloting, he [might have] had to admit that the pandemic was real." But there was a late surge of Republicans who voted with mailed-out ballots, he said, especially as Election Day approached.
Historically, the biggest impact of voting with mailed-out ballots is to increase turnout for local elections, McDonald said. Thus, legislation to roll back this option—such as in Iowa and possibly Georgia—could backfire on the GOP.
"Interestingly, when you look at the studies, this is where these efforts hurt Republicans to some degree," he said. "The studies find it is more affluent people, higher educated, whiter, who fit the Republican profile, and are the ones who are more likely to be stimulated to vote by all-mail-ballot elections."
Kline raised another issue that could backfire on legislators who are pushing bills to add 'security' measures to the processing of returned mailed-out ballots: those requirements would end up costing county officials more time and money.
"There are costs," she said, citing Florida legislation that would require voters who sign up to automatically receive mailed-out ballots to update their request every two years. (The current law is every four years.) About 5 million Floridians voted with absentee ballots in the presidential election. If it conservatively costs each county $1 to process an absentee ballot request, Kline said that potential mandate could foist millions in new costs onto counties.
"A longer or more complex process costs more money—period," she said. "A couple of years ago, if I could walk up to a Republican legislator and say, 'Hey, I can save you a couple of million dollars on running elections more efficiently,' they would say to me, 'Sign me up.'"
As Kline noted, every state is a different political ecosystem. While not every red state is following Iowa's footsteps, it remains to be seen how far Georgia's GOP legislators will go to subvert voting rights.
On February 24, Brad Raffensperger, Georgia's Republican secretary of state who resisted Trump's call to "find" votes and declare him the winner of its presidential election, tweeted his response to the GOP bills racing through its legislature.
"We are reviewing bills," he said. "Once we see something that prioritizes the security and accessibility of elections, we'll throw in support. At the end of the day, many of these bills are reactionary to a three-month disinformation campaign that could have been prevented."