GOP Lawsuits to Block Grants to Local Election Officials Called "Nonsense"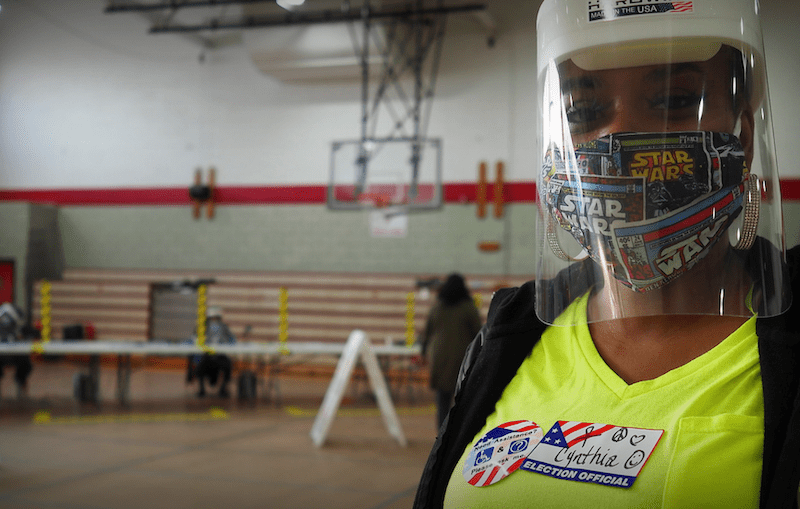 (Photo: Sue Dorfman / Zuma Press)
After local election officials from more than 1,100 jurisdictions in 40-plus states applied for private grants to better-run the presidential elections, a conservative public interest law firm has sued three midwestern swing states to block officials from using those funds, stating in their briefs that "they do not want progressive candidates to win."
In addition to alleging that county and local governments in Pennsylvania, Wisconsin and Minnesota lacked the authority to take the money from the Chicago-based Center for Tech and Civic Life (CTCL), the lawsuits from the Thomas More Society, the socially conservative firm, are claiming that the grants have a partisan benefit of favoring "progressive" candidates because some recipients included metro counties—which tend to be blue epicenters.
"To be sure, CTCL is free to spend its $250 million private federal election grant to fund get out the vote in Pennsylvania; but, federal election law leaves discretion to the 'states,' not the counties and cities, on how to implement federal elections," the group's Pennsylvania lawsuit said. "The plaintiffs are injured by CTCL's private federal election grants because they are targeted to counties and cities with progressive voting patterns."
Election experts said that the lawsuits seeking to block governments from using funds donated by Facebook founder Mark Zuckerberg and his physician wife Priscilla Chan stood little chance of success. But the suits typified the outbreak of partisan litigation in 2020 where Democrats have sought to make voting in the pandemic easier, while Republicans have opposed those efforts—most notably, blocking federal funding, which led to the Zuckerberg-Chan grants.
"The [lawsuits'] arguments are patent nonsense," said Justin Levitt, who was deputy assistant attorney general in the U.S. Department of Justice's Civil Rights Division during the Obama administration and now teaches constitutional law at Loyola Law School in Los Angeles.
"It's possible that there are limitations in state law that I don't know about. But the arguments based on federal law are simply embarrassing," Levitt said. "They're [suing] based on the presumption that Congress, in granting states money for election administration, meant to preclude any other entities from getting any other money from any other place."
"The biggest problem with that argument is Congress neither said nor implied that anywhere," he continued. "Nor would there have been any reason for Congress to say that they, and they alone, were the only possible sources of money for local governments to run elections."
Tammy Patrick, a former Arizona elections official, CTCL board member and now an advisor at the Democracy Fund, a bipartisan foundation, rejected the lawsuits' charge that the grants had a partisan agenda. Rather, the communities that were initially awarded funding were the cities and counties that had the hardest time this spring with holding an election in the pandemic. The metro areas saw the biggest disruptions, from exoduses of poll workers to last-minute polling place closures and relocations, to technical issues with new voting systems—all as record volumes of voters cast mail-in ballots for the first time.
"Those are locations that in this global pandemic are seeing some of the largest shifts in the way in which they are conducting their elections. And they were struggling the most in the primaries," Patrick said. "We all heard about Wisconsin. We all saw the things happening in those early primaries… That's really where the focus was for the first [grantmaking] phase. And the second stage is wide open to any jurisdiction and they now have heard from, and have [acted on] grant applications, in 40-some states."
Patrick was not surprised by the litigation, as the 2020 election has seen more aspects of the fine print of election administration become focal points of lawsuits than ever. The litigation has made the job of running an election amid a health crisis more difficult, she said.
"There is litigation being proposed in this country on absolutely any facet of the election administration process and voter access that people can write down on a piece of paper as a lawsuit," Patrick said. "We're seeing litigation around this situation [CTCL grants], where our [state and federal] governments have failed to fully and adequately resource local election officials to be able to service their voters in a pandemic. We see litigation around how many drop boxes can be allowed [in Pennsylvania and Ohio]. We see litigation around being able to have poll workers in a park in Wisconsin on a Saturday to allow voters to drop off ballots."
"One might expect [lawsuits] in a presidential election," she continued. "But when you layer in the additional complexity that we are in a global pandemic, and Republican and Democrat and independent secretaries of state, [and] local election officials are literally pleading with their state legislatures, with their governors, and legislative branches, and others, to allow them to service their voters well; to resource them properly; to allow them the policies they need in this moment; and [that the result] in too many places [is] they [local election officials] are being denied on all three of those fronts."
Jordan Shuber, the lead lawyer on the Pennsylvania lawsuit, directed all questions on the suits to Erick G. Kaardal, a Minnesota lawyer, who also signed the three states' complaints.
Kaardal did not respond to a phone call and email seeking comment. (The Minnesota group he represents has also sued to block a face mask requirement for the state's polling place voters. His firm was also involved in the failed effort to put rap star Kanye West as a 2020 presidential candidate on the Wisconsin ballot.)
Fortifying Election Preparations
The Zuckerberg-Chan donation of $250 million to CTCL for grants to local jurisdictions and an additional $50 million to the Center for Election Innovation and Research (CEIR) for grants to state election agencies was the highest-profile private effort to make up for a lack of federal funding to cover the unexpected costs of running an election amid a national health crisis.
An unprecedented number of local and state officials have embraced the funding. The CTCL grants, to 1,100 local government agencies that run America's elections, represent than one-tenth of the county's election offices. CEIR's grants, primarily for public education purposes, have gone to about half of the states.
Experienced administrators know what they want to do. As before the pandemic, they must offer a variety of voting options: voting with mailed-out ballots, and in-person voting, either early or on Election Day. In early September, the Wisconsin Elections Commission issued its presidential election readiness assessment that contained reports in its appendix from metro area officials on their plans. Those summaries listed needing more supplies, staffing, voting equipment, public education materials and postage to make voting efficient and safe. After Congress did not appropriate more funds for these purposes, the grants filled that void.
"The pressure these funds take off the shoulders of the front-line people trying to implement the law during this pandemic cannot be overemphasized," said one unidentified grantee in a September 25 program update on CTCL's website.
"Thank you so much. We are a small rural township, and this will be a huge help," said another grantee in that same September 25 update.
"Our job is to get funding into the hands of local election officials, then get out of the way," the update said. "We leave spending decisions to the discretion of each grantee jurisdiction, as long as the election activity falls under these four broad categories: Ensure Safe, Efficient Election Day Administration; Expand Voter Education and Outreach Efforts; Launch Poll Worker Recruitment, Training and Safety Efforts; [and] Support Early In-Person Voting and Vote by Mail."
Patrick offered more detail on how the funds would be spent. The grants were "not so much for large technology" acquisitions, she said, such as high-speed scanners for counting ballots or sorting returned absentee ballot envelopes—although some cities were using funds for that. Instead, most funds were "for the general support of hiring more poll workers than normal, hiring and having to pay for polling place facilities to be cleaned, and/or [renting] the facilities themselves because they have had so many denials [due to COVID-19 concerns]."
Still, Patrick said that some hardware to be acquired, such as a desk-size machine that opened envelopes and removed absentee ballots, would speed up the pre-ballot counting work.
"When you think of the alternative to a ballot extraction machine, it's two people, a Democrat and a Republican, sitting on either side of a table with letter openers opening up 10s, if not 100s or 1,000s of envelopes," she said.
The grants would hire more election workers to help with the routine tasks tied to sending out absentee ballots and processing them upon their return, Patrick said. Many of those tasks, unlike being a poll worker, did not require that much training because they were repetitive.
"Part of what some jurisdictions are using the additional funding for is to bring in more assistance, more physical human help, at every stage," she said. "It does allow them to move staff around so that they can have their permanent staff shift to the more complicated or complex jobs [such as authenticating voters or verifying signatures], and then have other individuals that don't have the same level of experience doing the more mundane tasks that our elections tend to rely upon, like taking a ballot out of an envelope and unfolding it."
Patrick said that it was not too late for local election officials to bolster their staffs and streamline their ballot handling and vote counting processes. The exception, she said, would be states that have already begun to process returned absentee ballots, as the equipment and the steps involved could not be altered once that process has begun.
But the Zuckerberg-Chan grants, if not blocked in court—which was unlikely—will help make Election Day and vote counting go more quickly and smoothly than many pundits are expecting.
"Naturally, my staff and I are going to have to go through some training, and then we will take our workers through training as well," said Inez Brown, the city clerk from Flint, Michigan, in an interview about its plan to buy a high-speed ballot scanner with some of its grant funds. "But 120 ballots a minute compared to 25 a minute is absolutely magnificent."
(This report was updated on September 30.)